Curator's Corner
Pride Month 2020, Part 2
---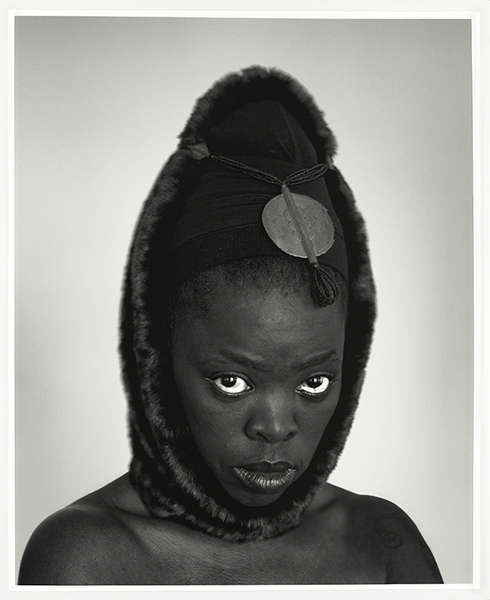 Zanele Muholi (born 1972, South Africa), Ntombi II, Paris, from the series Somnyama Ngonyama, 2014. Gelatin silver print on paper, 39 1/4" x 32 1/16" (99.7 x 81.4 cm). Philadelphia Museum of Art. © 2020 Zanele Muholi. (PMA-8819)
Muholi, an outspoken activist, created a series of self-portraits in 2014 titled Somnyama Ngonyama. In this series, which includes the work Ntombi II, Paris, they wear extravagant costumes and accessories that evoke stereotypes about Africa and femininity. The title Somnyama Ngonyama means "Hail the dark lioness" in Zulu. They also used a variety of shades of skintone to make them darker or lighter skinned in the series, emphasizing the cultural variety of South Africa.
The last fifty years have represented massive social and political change in South Africa. Since the end of apartheid in 1994, there has been a surge in the modes of expression, adaptation of contemporary trends, and personal narrative in Black South African art. Because of its mix of Black and European-ancestry cultures, South Africa has one of the most vital communities of contemporary art on the African continent. South African artists often juxtapose and combine elements from different cultures, races, and time periods in their art.
At the same time, South African artists explore a range of topics that reflect on their country's past and present, including the injustice and brutality of apartheid, influence of art on politics, and daily life. Artists also examine the idea of identity, such as the cultural identity of the country and how the human body can express ideas of marginalization, prejudice, and resettlement.
Muholi was born in Umlazi, Durban, South Africa. They studied photography at the Market Photo Workshop in Johannesburg, and completed an MFA in photography at Ryerson University, Toronto, in 2009. For years, the artist has documented the lives of the LGBTQI+ community in South Africa. Between 2006 and 2014, as a response to increased discrimination and violence faced by the LGBTQI+ community, they started the series Faces and Phases. Through dignified individual portraits of gay and trans people, Muholi sought to erase the negative perception of being gay in African society.
Muholi co-founded the Forum for Empowerment of Women (FEW) in 2002, and in 2009 founded Inkanyiso, a forum for queer and visual (activist) media.