Curator's Corner
Pride Month 2020, Part 1
To recognize and celebrate Pride Month, I am going to present LGBTQI+ artists who have made major contributions to my sanity during this dark period. Well, art history always does that, doesn't it? Jasper Johns is one of the most pivotal figures in American modernism, coming on the scene in the 1950s when Abstract Expressionism was dominating contemporary art. He is pivotal because he infused an interest in process with an interest in content, which represented elements from the real world, however banal they might be. I am personally not comfortable categorizing his work as Pop Art, even though he is unfortunately best known for his American flag and target series of works. He was truly an ingenious innovator at a time when the official "art world" had a mania for the (mostly straight male) stars of Abstract Expressionism.
---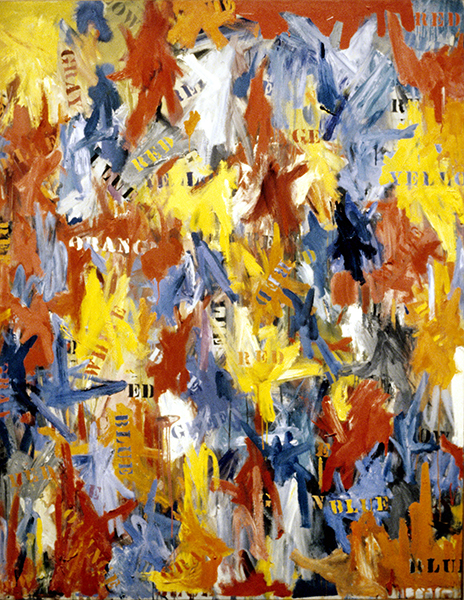 Jasper Johns (born 1930, U.S.), False Start, 1959. Oil on canvas, 67 5/16" x 54" (171 x 137 cm). Private Collection, Los Angeles. © 2020 Jasper Johns/Licensed by VAGA at Artists Rights Society (ARS), New York. (8S-27046jovg)
By 1959, Johns had presented some of his most iconic imagery, such as targets, maps, and numbers. False Start was a definite departure, because color was no longer defining form, but was becoming the form. Using the same palette of primaries as his recognizable forms, Johns's brushwork explodes across the canvas in False Start, dangerously reminiscent of the action painting of the height of Abstract Expressionism.
Johns reported that he was at a favorite bar when he saw a racing print titled False Start, which gave him the title for the painting. Feeling that there were certain limitations to his iconic imagery where color was positioned in a pre-determined way, he sought to apply color so that it would be perceived another way. His application of stenciled color names mismatched over painted colors was a nod to the title and to his connection with recognizable imagery.
Born in Georgia and raised in South Carolina, Johns spent three semesters at the University of South Carolina starting in 1947. Urged to move to New York to pursue his interest in art, he spent one year at the Parsons School of Design in New York in 1948. After service in the Korean War (1950–1953), Johns returned to New York, where he developed a relationship with another seminal artist of Pop Art, Robert Rauschenberg (1925–2008).
Rauschenberg ushered Johns into the art scene in New York, then dominated by Abstract Expressionism. The two artists worked together closely until the early 1960s, both acquiring from Abstract Expressionism the brush work of action painting, but little else. Little by little, in the 1950s their work moved away from Abstract Expressionism.
Of major impact on both their bodies of work was a viewing of Surrealist and Dada works—particularly the found object works ("readymades") of Marcel Duchamp (1887–1968)—at the Philadelphia Museum of Art in 1958. Johns's work expanded as he incorporated the painting technique of Abstract Expressionism and the incorporation of banal everyday objects into it.
From 1955 on, Johns explored a series of explicitly non-introspective encaustic works that explored the limitations of representation and the perception, and even importance, of meaning in a work of art.