Curator's Corner
Possibilities of Paper: Kim Hyung Joo
Contemporary interdisciplinary artist Kim Hyung Joo explores Korean culture in her artworks, including through papermaking and fiber arts. Means of communicating culture, such as traditional clothing and written language, as well as more universal human experiences are central themes of her art.
---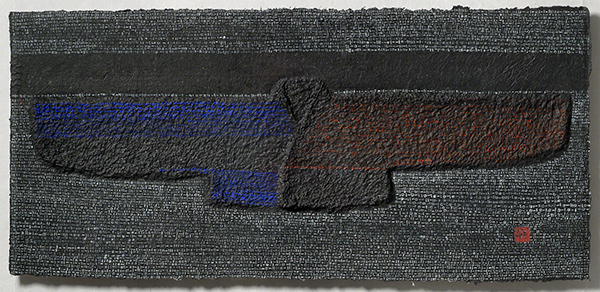 Kim Hyung Joo (born 1959, U.S., born South Korea), Record and Symbol, 2000. Ink on dyed mulberry paper, 16 ¼" x 34" (41.3 x 86.4 cm). Courtesy of the Philadelphia Museum of Art. © 2022 Kim Hyung Joo. (PMA-2552)
Kim incorporates a number of references to Korean culture in her artwork Record and Symbol. The work is made from mulberry paper, hanji, an artistic medium often used in Korean art. A chogori, a short-waisted jacket traditionally worn by women in Korea, forms the main image of the work in bas-relief. The blue-and-red color scheme refers to the Eum-Yang (Yin-Yang) symbol of the Korean flag. Rows of hangul—the Korean written alphabet—cover both the figure and ground.1
Modernism in Korean art is estimated by some scholars to have begun around 1909. This is when the first Korean painter to exhibit a Western-influenced style, Go Hui-dong (1886–1965), began studying oil painting at the Tokyo School of Fine Arts (Tōkyō Bijutsu Gakkō). Western-influenced art was called soyang-hwa ("Western painting"). Undoubtedly, the influence of Western art on Korean artists via Tokyo coincided with early years of the long (1910–1945) Japanese occupation of Korea.
Korean artists began to integrate certain ideas from Western modernism after World War II (1939–1945). However, at the same time, nationalism reemerged in the form of artists who resurrected distinctive Korean genre and landscape styles from the late Joseon dynasty (1392–1910). The painting style was influenced by classic Southern Song (1127–1279/1280) landscape painting from China.
Contemporary South Korean painting has followed a similar path to contemporary painting in Japan and China. Artists have adapted Western influences in media and style with a reassertion of some indigenous traditions, developing contemporary styles that are uniquely Korean.
Many contemporary South Korean painters express traditional art forms in a contemporary language. Some artists of the post-liberation period reflect on the rapid urbanization and modernization of Korea after the war. Other artists represent the complex social and political history of Korea, particularly the 35-year occupation by Japan. There is an unavoidable irony in the exploration of national Korean identity with the many periods in which either China, Japan, or the United States occupied the country.
Originally from Masan, South Korea, Kim now lives in Chicago, Illinois. She studied at Hongik University, where she earned a BFA from the College of Fine Arts (1987) and an MFA from the Graduate School of Applied Arts for costume design (1995). In addition to numerous international exhibitions and installations, Kim has taught costume design and fine art in South Korea, China, and the United States. In 1997 and 1998, she worked to develop the fiber art field of Intangible Cultural Assets of Korea.
1 Adapted from the Philadelphia Museum of Art collection record for Record and Symbol. https://philamuseum.org/collection/object/134746.
Correlations to Davis programs: Explorations in Art 2E Grade 5: 3.8, 3.9 studio; Beginning Sculpture: pp. 137-141