Curator's Corner
Importance of Portraits V
As the wrap-up to my "Ode to the Portrait" series, I couldn't wait to show you this image by the awesome contemporary artist Gillian Wearing. She is one of the so-called Young British Artists, and has an international reputation for her work in photography and video. Her work sort of sums up how far portraiture has come as a subject matter. Believe me, it has transcended by far the ancient notions of memorializing someone for posterity.
---
Compare this "self-portrait" to those of the Renaissance, or even better, to the portraits of ancestors from ancient Rome. In the 21st century, the idea of self has so far exceeded past conceptions, based, I think, on the extreme introspection of artists that we first saw in the early modernism period (think Picasso's self-portraits at the turn of the 20th century).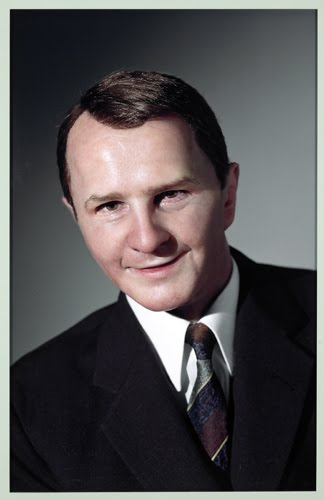 Gilliam Wearing (born 1963, Britain), Self-Portrait as My Uncle Bryan Gregory, from the series Album, 2003. Digital print, 48 ½" x 32 ½" (123.19 x 82.55 cm). Albright-Knox Art Gallery, Buffalo, NY. © 2010 Gilliam Wearing. (AK-652)
In the history of art, we can probably think of Neolithic humans' cave painting hand "self-portraits" as the earliest portraiture. In the West, we don't really see many self-portraits until the late Middle Ages (ca. 1000–1400) in manuscript illuminations. With the elevation in dignity and esteem received by artists during the Renaissance (1400–1600), self-portraiture came into its own. Down through the history of art, we can cite many famous artists who produced series of self-portraits: Rembrandt (1606–1669), Maurice Quentin de la Tour (1704–1788), Auguste Renoir (1841–1919), Pablo Picasso (1881–1973), Robert Mapplethorpe (1946–1989), and Gregory Gillespie (1936–2000).
The artists listed above produced self-portraits that were basically documents of themselves. Gillian Wearing's self-portraits, in the guise of family members, give new meaning to the notion of "family resemblance." Using special masks, wigs, body-suits and clothing (aided by artists from Madame Tussauds wax museum in London), she transforms herself into family members, her eyes being the only consistent feature. Based on family photographs, the recreations via elaborate costume and makeup present an eerie fascination with revealing her identity through her relatives.
Wearing's fascination with revealing people's often concealed inner identities brought her international acclaim when she created a 1992 series of photographs of everyday people, urging her subjects to write their innermost thoughts on pieces of cardboard. Her photographs explore human relationships and social behavior, extended to the private and personal. Her work is clearly influenced by documentary photography and film. Her combination of Snapshot Realism and a quest for plumbing psychological depths of an individual make her self-portraits and portraits of others truly a compelling example of portraiture in the 21st century.
Correlations to Davis Programs: Explorations in Art: 1 2.7, Explorations in Art: 3 1.1, Explorations in Art: 4 2.7, Explorations in Art: 5 1.1, A Personal Journey: 6.1, A Community Connection: 7.2, The Visual Experience: 9.6,The Visual Experience: 16.8, Discovering Art History: 3.1, Discovering Art History: 17.6, SchoolArts Magazine: Looking & Learning Oct 2010 - Commemoration, SchoolArts Magazine: Looking & Learning March 2011 - Fantasy, SchoolArts Magazine: Looking & Learning April 2011 - Transformation