Curator's Corner
Importance of Portraits I
It seems unbelievable, but there are only five more weeks before this blog reaches 100 posts. To celebrate the milestone, the next five entries will focus on an important subject taught in art classrooms: Portraiture. These entries will give an overview of the types of portraits produced from a variety of cultures and in a variety of art forms. Let's begin with American sculpture.
---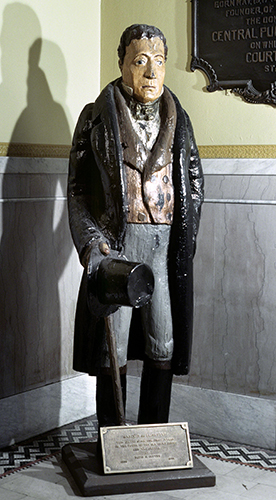 David Gilmour Blythe (1815–1865, US), Figure of Lafayette, from the Fayette County courthouse in Uniontown, PA, ca. 1840s/1850s. Painted wood, height: 8' 2" (248.9 cm). Photo © Davis Art Images. (8S-27670)
Portraiture is one of the oldest types of subject matter in the history of art. Even prehistoric cave painters represented themselves by registering their presence in their paintings by blowing paint over their hands, creating a unique signature (actually, quite eerie). I make it a point to do a self-portrait of myself every couple of years just to keep in practice, although I stink at portraits of other people (just ask my sitters). David Gilmour Blythe has piqued my interest for some time after reading 1800s newspaper articles about his antics. Apparently he was quite an eccentric, but, what is fascinating about him is his absolute conviction about the importance of art and its connection to American society. His veneration of the French hero of the American Revolution, the Marquis de Lafayette, in the years leading up to the Civil War (1861–1865) is quite revealing of his reverence for the new republic and just how art fit in as an important component.
Fine art during the Colonial period consisted almost entirely of painting. In the early colonial period, painting was confined to signs, mantle overpaintings, carriage decoration, and advertising. When the colonies began to be prosperous, and up until the Revolution, portraiture was the primary subject matter of painting. This was due in large part because of the colonists' aspirations to demonstrate their prosperity in the same way as their English forbearers through commissioned art.
Sculpture was limited to architectural ornament, as well as gravestone and sign carving. After the Revolution, the influence of the Neoclassical style in European art helped encourage an increasing appreciation of sculpture in America among the growing, affluent middle class. While most of the sculpture produced in the first half of the nineteenth century consisted of neoclassical portrait busts and allegorical and mythological figures, a vein of naïve, self-taught sculpture did exist. Like naïve painting, many of these sculptors were self-taught.
Blythe was born to immigrant parents on the Ohio frontier. He showed an aptitude for art at an early age, producing portraits of family and neighbors, caricatures, and satirical depictions of local events. At sixteen he was apprenticed to a wood carver and produced whittled emblems and architectural decoration. A restless romantic, Blythe spent years thereafter wandering the length of the Ohio River valley as an itinerant portrait painter. He eventually settled for some years in Uniontown, Pennsylvania.
Blythe's skill as a portraitist earned him the commission to carve a figure of Lafayette (Marie Jean Paul Joseph Roche Yves Gilbert du Motier, Marquis de Lafayette, 1757–1834) for the Fayette County courthouse in Uniontown. He carved the figure of the Revolutionary War hero using an adze which gives it the rough-hewn quality. Although the figure is well-proportioned, it is stiff and lacking the refinement of Blythe's contemporaries, such as Clark Mills, Hiram Powers, or even William Rush. The rigid pose is reminiscent of the formality of ancient Egyptian figures.