Curator's Corner
Porcelain in the West
What do you think of when I say "porcelain"? "American" is probably not the first word that springs to mind when paired with "porcelain." We all know that China developed porcelain by the 600s or 700s CE and perfected it during the Song Dynasty (960–1279/1280 CE). The formula for porcelain (secret ingredient kaolin, a clay mineral derived from feldspar) was transmitted to Korea during the Goryeo Kingdom (918–1392) and then to Japan from Korea during the 1600s.
---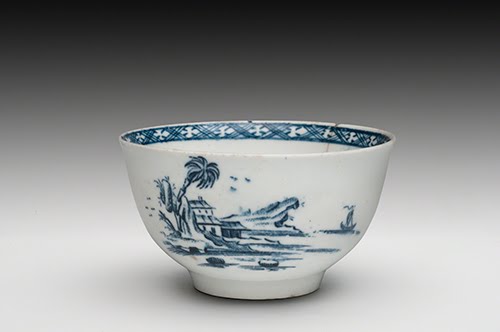 John Bartlam Factory (Bartlam 1735–1781, born Britain, factory 1765–1770, Cain Hoy, South Carolina), Teabowl, 1765–1770. Soft-paste porcelain with underglaze blue hand-painted (interior) and transfer-printed (exterior) decoration, width: 3" (7.6 cm) at rim. © 2018 Philadelphia Museum of Art. (PMA-8202)
Porcelain was introduced to Europe soon after the Portuguese trading post was established in Macau in 1557. The translucent, thin-walled nature of porcelain immediately appealed to Europeans, whose earliest efforts in the medium were in the late 1500s. They did not understand that kaolin made Chinese porcelain special and tried all manner of additives to clay.
The British initially added ground bone and ground glass (frit) to produce porcelain results that they called "China." Ultimately, European makers discovered the secret of kaolin, which was subsequently mined in Europe as "china stone" or "china clay." Staffordshire, England became a center of porcelain production when kaolin (or "Staffordshire clay") was discovered in the early 1700s. In the 1730s, the earliest experimentation with porcelain was begun by André Duché (dates unknown), who introduced "Cherokee clay" to Europe in his attempt to secure funding to produce his porcelain.
It's amazing to me that there was true porcelain being produced in the US already in the mid-1700s. This shouldn't have surprised me, though, because some of the entrepreneurs in the US were originally from Staffordshire. Many of the techniques they used, particularly for decoration, came from their experience in Britain. John Bartlam (1735–1781) and American China Manufactory (1770–1772) were the leaders in porcelain production during the pre-Revolutionary (1775–1783) period.
Bartlam settled in South Carolina in 1763 to exploit the abundant varieties of clay found in that state, extending down into Georgia. He was producing soft-paste porcelain as early as 1765 in Cain Hoy (north of Charleston) and then in Charleston until 1773. Teabowls are one of the signature forms made by Bartlam. They were a combination of painted and transfer decoration. Bartlam himself may have overseen the transfer printing of the porcelain, as he was a skilled copper engraver himself. The exterior decoration of this teabowl was laid down from a stiff tissue to which an oil-inked design had been transferred from a copper plate. Many of the artists ("transferrers") who did this tedious work were young women.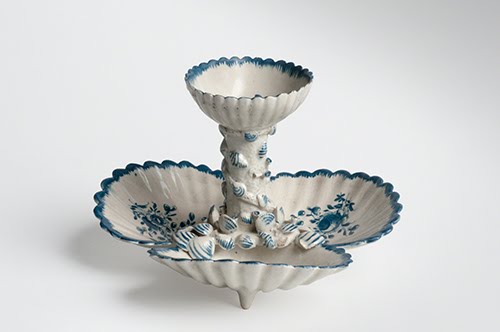 American China Manufactory (firm 1770–1772, Philadelphia), Pickle Stand. Soft-paste porcelain with underglaze blue decoration, 5 1/8" x 7" (13 x 17.8 cm). © 2018 Philadelphia Museum of Art. (PMA-8500)
American China Manufactory was formed by Gousse Bonnin (ca. 1741–1780, France) and George Antony Morris (1742/1745–1773). They formed the company at an opportune time after the Nonimportation Act of 1760, secessionist fever leading up to the Revolution, and a newly wealthy merchant class that wanted the same luxuries as their British counterparts. The team even lured away skilled porcelain artists from the Bow factory in London. Their standout product is this pickle stand, the likes of which were sold as far north as Albany, NY and as far south as Charleston.
The great British ceramic guru Josiah Wedgwood (1730–1795) was sufficiently worried about the competition in the colonies that he conspired with the East India Company (a "trading" outfit) to flood the American market with cheap British porcelain in 1771. This violation of the Nonimportation Act was a catalyst for the revolution to follow. Unfortunately, it led to the demise of both Bartlam and American China Manufactory, ending a truly unique period in American ceramic history.
Well, porcelain manufacture in the US did not just wither completely. By the 1880s, the American Art Pottery movement reinvigorated the production of native porcelain in kilns throughout the country.
Mary Louise McLaughlin (1847–1939, US), Vase, 1900–1903. Porcelain, height: 5" (12.4 cm). © 2018 Worcester Art Museum, Worcester, MA. (WAM-747)
Mary Louise McLaughlin was a pioneer in art pottery. She studied furniture carving during the late 1860s in a studio in her native Cincinnati, a class that also introduced her to pottery painting. Ceramics thereafter dominated her interest. Her book entitled China Painting: A Practical Manual for the Use of Amateurs in the Decoration of Hard Porcelain sold 23,000 copies, indicating the growing popularity of art pottery in the US.
Porcelain is not going anywhere in the 21st century either, with many contemporary artists working in the medium in both utilitarian and non-utilitarian forms.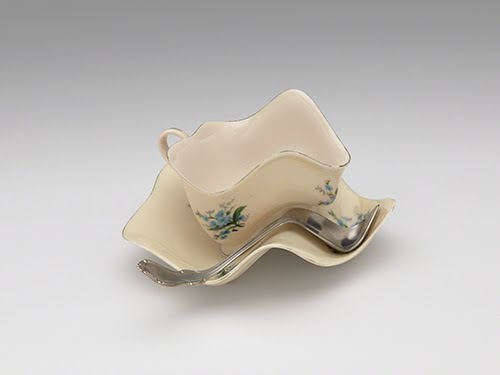 Robert Lazzarini (born 1965, US), Teacup, 2003. Gilt porcelain, stainless steel spoon, assembled: 3 1/2" x 6 1/4" x 7" (8.9 x 15.9 x 17.8 cm). Philadelphia Museum of Art. © 2018 Robert Lazzarini. (PMA-8709)
Robert Lazzarini is primarily a sculptor. He achieved a BA from the School of the Visual Arts in New York in 1990. One of the main focuses of his art is the disruption of the viewer's normal perception of everyday objects. He does not always do this with unusual materials foreign to the subject. In Teacup, Lazzarini has exploited the normal material used in tea cups to create an uncomfortably distorted, yet fascinating play on a common object. Take that Andy Warhol (1928–1987), it's more interesting.