Curator's Corner
Art at the Beach
This week I present you with one of the more witty aspects of Pop Art. Pop Art parodied American culture in all of its aspects. Naturally, beach culture and tanning would be one of them. And naturally, in Tom Wesselmann's aesthetic, he's not going to show a hairy male ankle and foot sticking in the sky. Too much detail to deal with!
---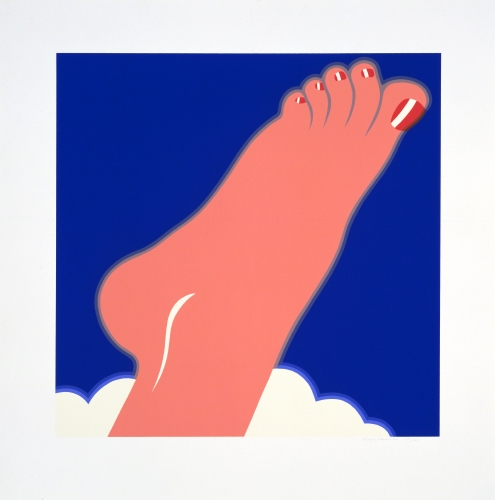 Tom Wesselmann (1931–2004, United States), Seascape, from the portfolio Edition 68, 1968. Screenprint on paper, sheet: 24" x 23 9/16" (60.9 x 59.9 cm). The Museum of Modern Art, New York. © 2013 Estate of Tom Wesselmann / Licensed by VAGA, New York. (MOMA-P3312wsvg)
Like other artists of the Pop Art movement, Wesselmann began his training as a comic artist, first in Cincinnati and then in New York. Although influenced by Roy Lichtenstein (1923–1997, United States), Wesselmann worked in a style of simple, flat areas of color that have the spirit of comic-book art, with minimal shading and formal concerns. Like Lichtenstein's work, they reflect the flat, generalized coloring of billboards, posters, and other popular culture advertisement.
Roy Lichtenstein, Girl with Ball, 1961. Oil and synthetic polymer paint on canvas, 60 1/4" x 36 1/8" (153 x 91.9 cm). Museum of Modern Art, New York. © 2013 Estate of Roy Lichtenstein. (MOMA-P2959)
What is interesting about Wesselmann's work is the goal. Is he objectifying women, like Playboy did? Or is he simply reflecting that objectification in American society during the 1960s? In a (much) broader sense, is he reflecting the new power of women in American society, albeit in crass terms? Anyone who knows Wesselmann's work knows about his aggrandizing of elements of the female anatomy. In this is he saying something about the American obsession with sexuality? It certainly looks that way if you review his Great American Nude series. In that series, he often surrounds the nude with consumer items, in keeping with the Pop Art aesthetic.
I like Wesselmann's Seascape series because it is the least offensive objectification of women. He obviously redefined seascape.
What is interesting to me, as a painter, is the way he reinterprets the subject matter to conform to his chosen genre, e.g. the female form. There are many artists who take traditional subjects and mold them to fit their objective interest. In essence, he projects a symbol of a seascape that is entirely new.
Sylvia Sleigh (1916–2010, Wales/United States) was interested in reinterpreting the Western ideal of the female nude by painting numerous male nudes with extreme detail. She often used religious and ancient mythological sources as her jumping off point: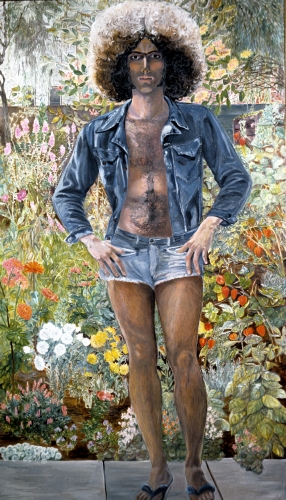 Sylvia Sleigh, Annunciation: Paul Rosano, 1975. Oil on canvas, 90 1/8" x 52" (229 x 132 cm). Photo courtesy of the artist. © 2013 Estate of Sylvia Sleigh. (8S-18364)
Studio activity: Represent a physical location—such as a city, countryside, mountain range, etc.—with a symbolic drawing. Using colored pencils, think of a place of importance (such as Mount Rushmore), and create a work of art that sums up the location with one symbolic object. For instance, Mount Rushmore could be symbolized by a depiction of the White House, since all four faces on Mount Rushmore were presidents. A hometown artwork could symbolize a school, a city hall, the police, or the location of the town. Do a drawing first in pencil, sketch out the plan, and then fill it in with colored pencil.
Correlations to Davis programs: The Visual Experience: 16.7, Discovering Art History: 17.2