Curator's Corner
What's Old is New Again
One of my greatest treats is to show you art that is a little bit of a surprise, whether it be subject matter, style, period, whatever. It tickles my art history bone to be able to show you works of art that are totally fresh, and yet produced by an ages-old process. I really have to love when contemporary artists use old processes and come up with something so awesome and individual. Such is the work of this artist: Barbara Ess. And, need I add, that Ess's work is proof that photography is a fine art!
---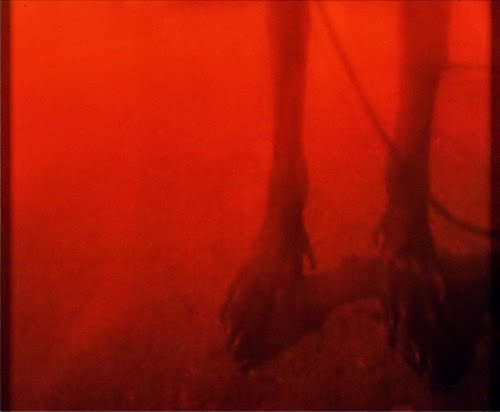 Barbara Ess (born 1946, US), No Title (Dog's Feet), 1985. Chromogenic print, 20" x 20 1/16" (50.8 x 51 cm). Philadelphia Museum of Art. © 2010 Barbara Ess. (PMA-3996)
Much of Ess's work is produced with a pinhole camera. The simplest type of pinhole camera is a light-proof small box or container with a hole in the middle of one side and a black interior. On the inside of the box, opposite the pinhole, a piece of photographic, light sensitive paper is placed to receive the image. Earliest mention of the inverted image resulting through a pinhole was in the 400s to 300s BCE in ancient Greece and China. Study of this phenomenon led to the development of the camera obscura, basically a pinhole camera fitted with a lens over the pinhole to magnify the image. During the Renaissance and Baroque periods, the camera obscura was used by artists to aid them in capturing perspective and landscape details accurately for their paintings. The camera obscura led to the development of photography.
For two decades, Barbara Ess has become renowned for her pinhole camera photographs. She uses a simple cardboard box with a minute aperture. Because of the limited available light and short depth of field, her photos are always dark and misty, often silhouetted around the sides. Everything is slightly out of focus except for the very center of the subject. The photographs are made on black-and-white negatives and printed on colored papers, whose tones become delicately nuanced by the scant light afforded by the camera. Ess focuses less on technique rather than on unique subject matter, such as this view of a dog's front legs. The extremely limited field of vision creates a stark, dreamlike print in which Ess explores the ambiguity of perceptual boundaries in often intimate compositions.
Does anyone teach using pinhole cameras? I would love to hear about your/your student's experiences.