Curator's Corner
Pictorialist Photographer
One of my favorite periods in the history of photography is from the early period, when there was a debate in artists' circles as to whether or not photography was "fine art." Ironically, when photography first emerged in the 1800s, some painters latched onto it as a way of providing studies that would make their work more realistic. Then, there were the Impressionists who painted directly outdoors to capture every nuance of light and color—essentially their eyes were the camera.
---
At the same time, there was a strong trend in photography to imitate painting, in an effort to be accepted as "fine art" (traditionally a term reserved by academics for painting—but, only certain subject matter of course—and sculpture). As was true in most avant-garde movements, women were pioneers of the new medium.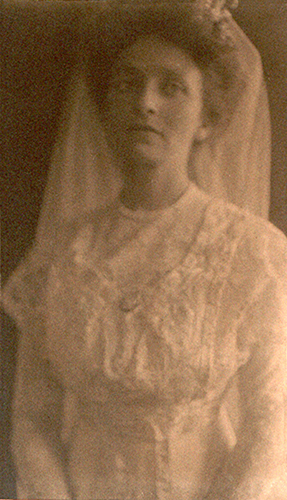 Gertrude Käsebier (1852–1934, US), Portrait of Charlotte S. Albright in White Dress and Veil. Gelatin silver print on paper, 6" x 3 ½" (15.24 x 8.89 cm). © Albright-Knox Art Gallery, Buffalo, NY, Gift of Langdon Albright, Jr. (AK-172)
In the late 1800s, women in Europe and America were encouraged to take up photography as an art form because the medium did not require women to enroll in academies or take up life drawing classes. By the 1880s in the United States, the National Federation of Women Photographers had formed and urged women to choose photography as their avocation. Aesthetic photography, called Pictorialism because it imitated painting, was a reaction by certain photographers against the prevailing trend in nineteenth century photography that emphasized a scientific approach. Aesthetic photographers avoided a wealth of detail capable in photographs, considering it stale and unimaginative. They sought to elevate photography to pure art.
Gertrude Käsebier was trained as a painter in Paris before becoming interested in photography around 1894. By 1897 she had opened a portrait studio. In both her manner of composing the sitter, and manipulating the negative, she intended for her photographic portraits to vie aesthetically with painted ones. She worked with the negative to diminish the amount of detail and imitate a painted surface. At the time she was considered by other aesthetic photographers to be a master at presenting the personality of the sitter.
This is a portrait of the wife of one of the leading patrons of the Albright-Knox Art Gallery in Buffalo, NY. Charlotte Spaulding Albright herself was briefly involved in an aesthetic photographic career before she married in 1910. The softened contours of the portrait come from Käsebier's washing of the negative with water and then using a brush, pencil, or eraser in order to alter the background, erase detail, or reduce the surface to the tonality of a charcoal drawing.
Käsebier was instrumental in forming, along with photographer Alfred Stieglitz (1864–1946), the group Photo-Secession. This group was dedicated to aesthetic photography. Their shows in New York, starting in 1905, paved the way for the beginning of Gallery 291. This gallery, although originally exhibiting only avant-garde photography, soon displayed the work of early American modernists. It was responsible for introducing abstract European art to America.
View a nice selection of Käsebier images.