Curator's Corner
Photography in 21st Century
With the Davis Art Gallery doing a show of contemporary photography coming up on November 3rd, I decided to introduce you all to a photographer whom I've come to appreciate in the last year or so: Zoe Strauss. I believe she is Philadelphia-based, but takes her subject matter from far and wide.
---
What's fascinating to me is how photography, as an art medium, has basically come full circle from the earliest period. It was originally conceived of as a method of recording reality—i.e., documentary— but subsequently went through convulsions of format, style, and subject, because it was not considered a fine art. Well, in the 21st century, we consider do photography a fine art. The medium has an immense range now, and ironically, documentary photography is back as one of the primary styles.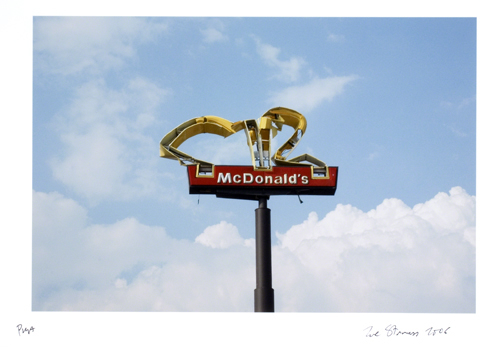 Zoe Strauss (born 1970, US), McDonald's, from the New Gulf series, 2005/2006. Inkjet print, 11 11/16" x 16 ½" (29.7 x 41.9 cm). Philadelphia Museum of Art. © Zoe Strauss. (PMA-4078)
There are currently a variety of photographers who shoot the American scene, some in the "snapshot aesthetic" and others in a more pictorialist way. Strauss' photographs are definitely in the snapshot aesthetic. This style emerged in the late 19th century as cameras became more commonplace among amateurs and middle class families. The style is characterized by an unposed, candid, spur-of-the-moment photograph of an event or place. In the 1960s, interestingly, the idea became refined into a style of photography that, while mimicking the off-handed shots of amateurs or "mom photographers," it revealed a deeper psychological investigation by the photographer.
Nothing could have interested photographers more than Hurricane Katrina in 2005. The vastness of human suffering and property damage begged to be documented, if only so that the breadth of the catastrophe could have an impact on those viewing the photographs. Strauss went to Gulfport and Biloxi in Mississippi in late September 2005, spending her time with a group of doctors and nurses distributing ice, water, and generic medicines. While there she took dozens of photographs with her digital camera.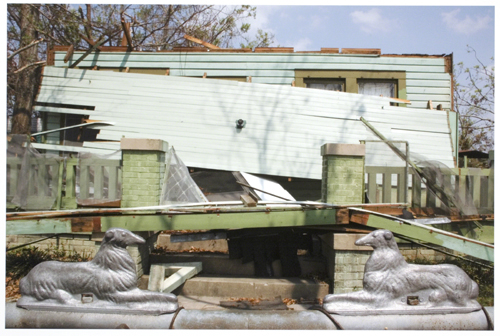 Zoe Strauss, Green House with Roof Collapse, from the New Gulf series, 2005/2006. Inkjet print on paper, 9 3/8" x 14" (23.7 x 35.7 cm). Philadelphia Museum of Art. © Zoe Strauss. (PMA-4077)
Strauss was born in Philadelphia and received her first camera when she was 30. She began to photograph life around her in the less well-off areas of Philadelphia, and then broadened her scope to the circumstances of everyday life among the under-privileged around the world. While largely self-taught, her photographs display an amazing monumentality and formality that play on elements of design such as positive and negative space, symmetrical balance, and emphasis. Her image of a devastated MacDonald's sign speaks volumes to the destruction of Americans' comfort zone with the material life, and how quickly it can be swept away by the power of nature.
Correlations to Davis Programs: A Personal Journey: 4.1, 6.1; A Community Connection: 7.2; The Visual Experience: 9.5; Discovering Art History: 14.5