Curator's Corner
Ode to Wood
The Davis Art Gallery just opened a show called All About Wood. In that spirit, I'm showing you one of my favorite wood pieces. Several years ago at a Christmas party we played an art history game (yes!) where we had to do charades of an iconic work of art. My friend Christine got this work as was immediately guessed right for her impersonation of Baby Girl. I love Marisol's work because it combines sculpture with painting.
---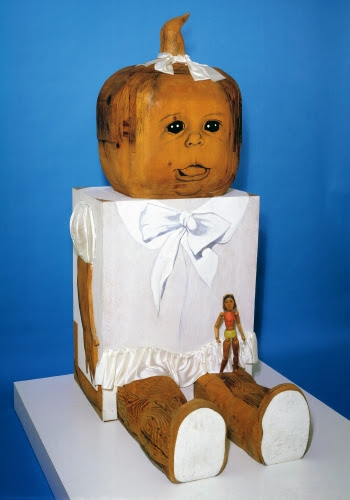 Marisol (Marisol Escobar, born 1930, United States, born Venezuela), Baby Girl, 1963. Wood and mixed-media, 74" x 35" x 47" (187.96 x 88.9 x 119.38 cm). Albright-Knox Art Gallery, Buffalo, NY. © 2014 Marisol/Licensed by VAGA, New York. (AK-158esvg)
The Pop Art movement in the 1960s arose in reaction to the domination of Abstract Expressionism in American art. The movement parodied modern American commercial culture. Marisol's sculptures are often associated with Pop Art because of her witty renditions of everyday American life and her political statements.
Marisol was raised in Caracas, Venezuela, and when 11 years old, attended boarding school in New York. After studying art in Los Angeles and Paris, she settled in New York permanently. New York at the time was the center of the Pop Art movement's exploration of American popular culture. Marisol originally studied painting, but dropped it as her emphasis after seeing rough wooden folk sculpture in Maine. Her work of the 1960s was composed of rough-hewn wooden cores, incorporating everyday objects and painted surfaces.
In 1958, Marisol had her first one-person show at the Leo Castelli Gallery in New York, a major representative of many Pop artists. She also showed regularly at the Estudio Actual in Caracas. In 1963 her work was included in the exhibit "American 1963" at the Museum of Modern Art in New York. While some critics perceived her work as Pop Art, it involved sophisticated carving and painting. It was evident to other critics that her works were less satirical and superficial than the Pop artists.
Baby Girl is part of a series of works Marisol did on the family theme.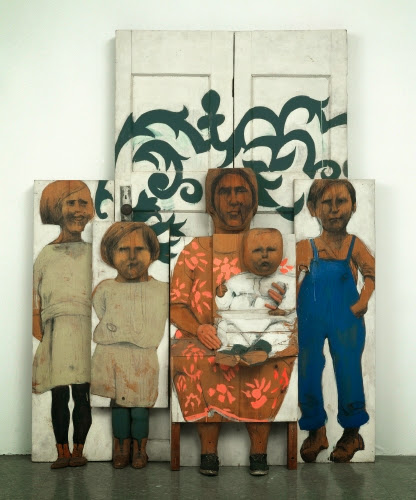 Marisol, The Family, 1962. Painted wood and other materials, 82 5/8' x 65 ½' x 15 ½' (overall 209.98 x 166.3 x 39.3 cm), in three sections. The Museum of Modern Art, New York. © 2014 Marisol / Licensed by VAGA, New York. (MOMA-S1000esvg)
In part, the series was meant to explode the myth put forward in American advertising about the "dream" American family. Although the wood mass recalls American folk sculpture, it also strongly recalls the carved stone stelae of Central American Mayan culture in Mexico, Guatemala, and Honduras. The verticality and mass of these pieces give Marisol's work gravity not evident in much of Pop Art imagery.
The gently satirical nature of Baby Girl can be linked to the tradition of satire in the penny press throughout Latin America in the late 1800s and early 1900s. Like many of Marisol's works, Baby Girl represents the common people and reflects the artist's connection to the Latin American tradition of creating art the public is meant to understand.
Correlations to Davis programs: Explorations in Art Grade 1: 9-10 studio; Explorations in Art Grade 5: 6.3-4 studio; A Global Pursuit: 5.5; The Visual Experience: 10.2, 10.13; Discovering Art History: 17.2: Beginning Sculpture: 5, 6