Curator's Corner
November Birthday of a Brilliant Artist
I have come to the point where I no longer like to designate artists to any particular medium. This is due to the fact that so many artists do not confine their interests to a single medium. All the same, there are some artists who are pioneers in certain media, which I feel I must mention when discussing their work. Neda Al-Hilali, a sculptor and installation artist as well as a painter, is definitely an artist you should you know about when the subject of the fiber arts renaissance of the 1970s comes up.
---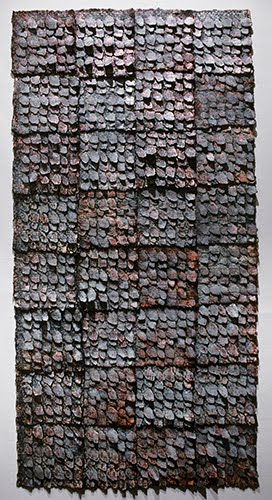 Neda Al-Hilali (born 1938, US, born Czechoslovakia), Atlantis, 1976. Cast paper, 14' x 8' 9" (427 x 249 cm). Image courtesy of the artist. © 2018 Neda Al-Hilali. (8S-19419)
The first recognition of fiber arts as a fine art form in the West came with the Arts and Crafts movement that developed in the 1860s in England and spread throughout Europe and the US. The next revolution in fiber arts came with the Bauhaus in Germany (1919–1933) under the leadership of Anni Albers (1899–1994). The Feminist Art Movement of the 1960s and 1970s reinvigorated fiber arts under such renowned artists as Claire Zeisler (1903–1991), Magdalena Abakanowicz (1930–2017), and Miriam Schapiro (1923–2015). In the 2000s, fiber arts are more vibrant than ever.
Al-Hilali participated in the landmark "fiber" show Deliberate Entanglements in 1971 at UCLA Galleries. For her, it was the culmination of years experimenting with textiles that led to room-sized fiber installations, such as Nar in the Deliberate Entanglements show. Like many of the artists working in textiles and textile techniques at the time, Al-Hilali did not want her work to be confined to wall hangings and other stereotypes of fiber art. Early on in her studying textile arts at UCLA (1961–1965), she searched for ways to make traditional textile arts into three-dimensional art forms. The fact that fiber pieces are such obvious references to textiles led her to explore the three-dimensional possibilities of paper.
Al-Hilali experimented with knitting with paper, as well as manipulating paper into constructible pieces by running it through a printing press. Because the printing press she was using was only three feet (91.4 cm) long, she began to plait together sections of manipulated paper such as is seen in Atlantis. This piece explores the pressing of the paper until it becomes glossy, to which Al-Hilali added paint. In Atlantis, Al-Hilali explored a variety of textures and a range of painted designs, all unified within a "knitted" grid of individual paper sections.
Al-Hilali was born in November 1938 in Czechoslovakia during World War II (1939–1945). Clothing privations meant that she learned from her mother how to take old materials or garments and create something new. She also learned how to knit. While living in Baghdad, she was fascinated with the numerous types of embroidered textiles she saw in the market, and gradually decided that pursuing textile arts was her passion. This came to fruition when she moved to California in 1961 and began studying weaving at UCLA. From there, she went on to teach at Scripps College in Claremont, California, where she continued to pursue her passion for textile art, combining it with installation and painting.
Atlantis is composed of hundreds of fragments from pressed out paper that is shaped and painted. Al-Hilali referred to the individual pieces creating the surface texture as "tongues." Her exploration of paper culminated in a giant installation called The Beach Occurrence of Tongues (1975), the first installation that relied on paper as the primary medium. Atlantis certainly depicts the idea behind the Tongues works.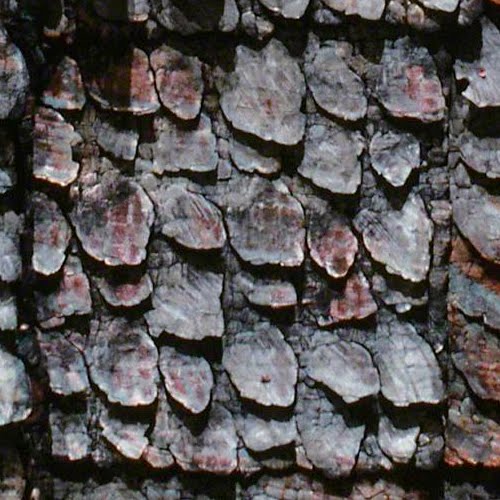 Neda Al-Hilali, Atlantis, detail, 1976. Cast paper, 14' x 8' 9" (427 x 249 cm). Image courtesy of the artist. © 2018 Neda Al-Hilali. (8S-19419)