Curator's Corner
Celebrating Back-to-School
My nieces and nephew return to school this week, and I thought we should celebrate with an image of school in American art. With a twist, of course. I've written about Winslow Homer before in this blog, but, I'd like to focus on his work as a phenomenon common in the US in the latter half of the nineteenth century: the idea of the "good ol' days."
---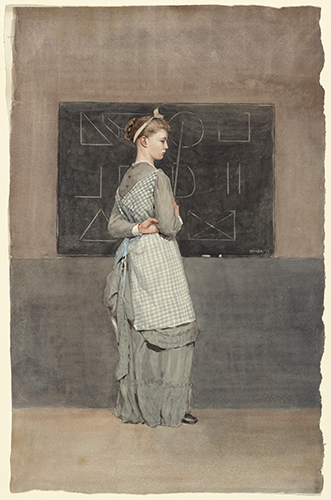 Winslow Homer (1836–1910, US), The Blackboard, 1877. Watercolor on paper, 19 3/4" x 12 3/4" (50.2 x 32.4 cm). © National Gallery of Art, Washington, DC. (NGA-P0889)
Nostalgia is a strong ingredient in many periods of American art. Americans had their vision of the "idyllic" days of the early American republic after the Revolution (1776–1783) shattered by the Civil War (1860–1865), which injured and killed hundreds of thousands of Americans and caused massive destruction. In the decades following that war, American artists tried to recapture the essence of "innocent" America, something that patrons wanted to see.
Homer was already renowned as an oil painter by 1873. In that year he became interested in experimenting with watercolor. By the 1880s he was exhibiting with the American Watercolor Society. By the time of his death he had produced over 700 watercolors. This painting is one of a series he did on schools and school children. As in many works like this, the painting has the air of being an illustration due to the anonymity of the figure and undetermined location. It does, however, indicate Homer's keen observation of the human figure and the nuances of indoor lighting. This scene is thought to depict an art lesson, in which the students learned how to construct forms using lines in different configurations.
This painting is a scene of everyday life (genre) without any obvious moral message. However, Homer's series on the common activities of rural public schools emphasized a return to normal life after the horrors of the Civil War. The simple fact of a basic art lesson has been elevated to iconic value in a society attempting to heal. Ironically, by the mid-1880s Homer had abandoned figures almost altogether in order to focus on scenes that represented the power and drama of nature.
Two other Homer school scenes: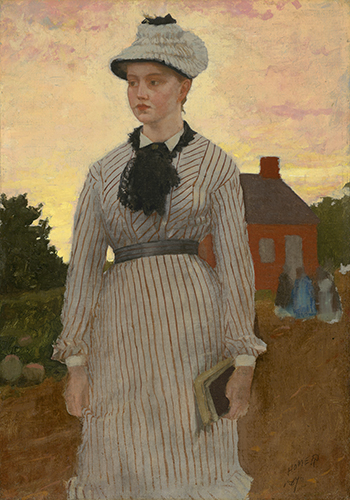 Winslow Homer, The Red School House, 1873. Oil on canvas. National Gallery of Art, Washington, DC. (NGA-P1082)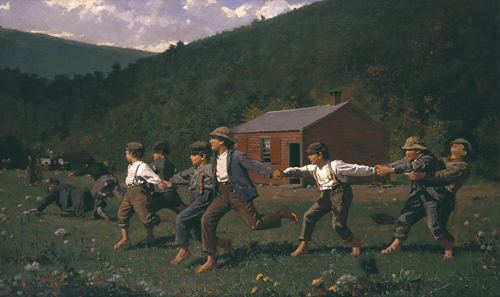 Winslow Homer, Snap the Whip, 1872. Oil on canvas. Butler Institute of American Art, Youngstown, OH. (BIAA-24)
Other American artists in the Good-ol'-Days mode: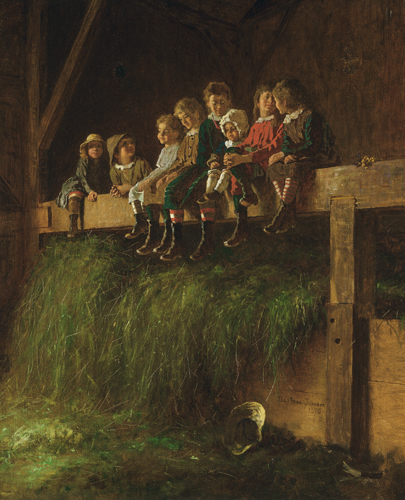 Eastman Johnson, Barn Swallows, 1878. Oil on canvas. Philadelphia Museum of Art. (PMA-1732)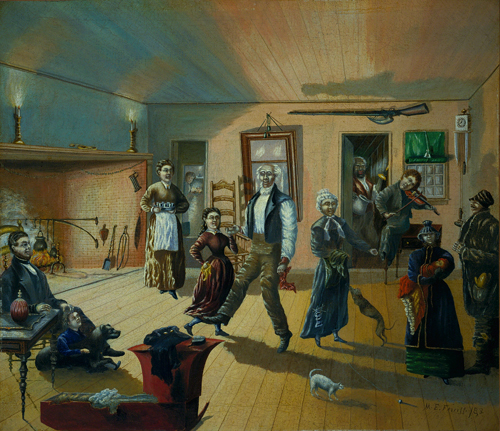 Martin Edgar Ferrill, Country Dance, 1883. Oil on canvas. National Gallery of Art, Washington, DC. (NGA-P1077)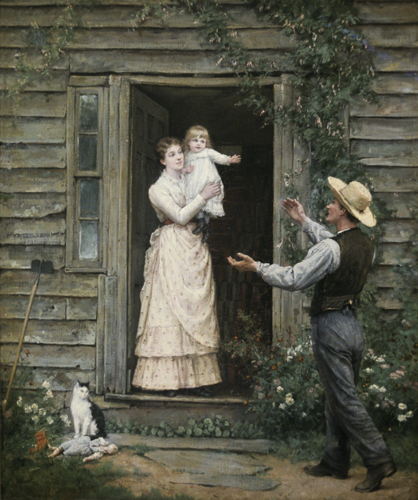 Jennie Augusta Brownscombe, Homecoming, 1885. Oil on canvas. Photo © Davis Art Images. (8S-13338)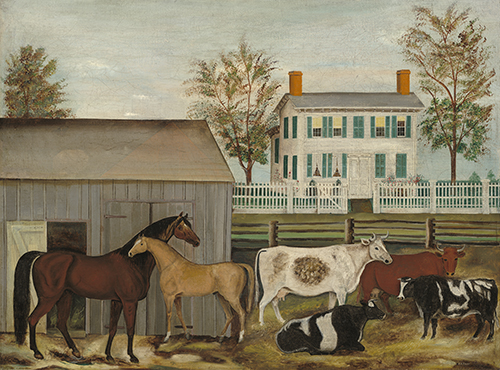 Amzi Emmons Zeliff, The Barnyard, late 1800s. Oil on canvas. National Gallery of Art, Washington, DC. (NGA-P1067)
Activity: A scene of everyday life. Have students create genre paintings about their life using watercolor, markers, or colored pencils. Emphasize complementary colors (those colors opposite each other on the color wheel). In the scene of everyday life, emphasize lines and shapes. Plan colors by writing down pairs of complementary colors.
Correlations to Davis programs: Explorations in Art Grade 1: 5.25, 5.27; Explorations in Art Grade 3: 3.15; Explorations in Art Grade 5: 1.6; Explorations in Art Grade 6: 1.3; A Personal Journey: 2.1, 2.4; Exploring Visual Design: 10, 7; Discovering Art History: 12.3