Curator's Corner
A Texas Original
I absolutely love walking around any city I visit and trying to guess the dates of the buildings I encounter (can't fight the art historian in me!). The revival of past styles was the hallmark of 180s architecture in the West. But when have styles not been based on past styles in the West? Ancient Rome emulated Ancient Greece; Medieval, Renaissance, Baroque, 1700s, and 1800s architecture harked back to both ancient Greece and Rome; and postmodern architecture harked back to 1800s architecture. Stop the madness!
---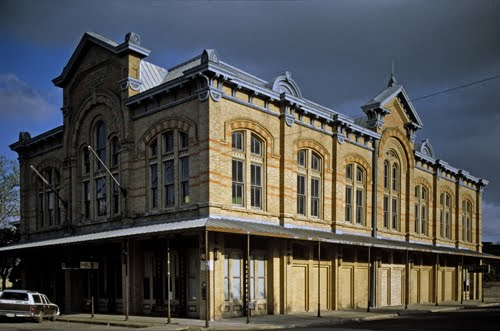 Nicholas Clayton (1840–1916, Ireland/US), Stafford Opera House, Columbus, TX, 1886. Photo © James Coberle/Davis Art Images. (8S-28579)
Although Texas was its own country (1836–1846), it clung to the American fascination with European styles. Obviously, it was because the people who immigrated to Texas were from all the major European migrant groups who had populated the East Coast. Interestingly, many of the Mexican-Americans who are natives of Texas pre-date American immigration into the state. (Immigration was opened to Americans in 1821. By 1836, there were 38,000 settlers).
Nicholas Clayton was born in County Cork, Ireland, and immigrated to Cincinnati in 1848. As a young adult he worked as a plasterer in Cincinnati, New Orleans, Louisville, Memphis, and Saint Louis. He was listed in Cincinnati as a marble carver and architectural draftsperson in 1871. In 1872 he established an architecture firm in Galveston after having visited Houston the previous year. He was influenced by all of the revival styles fashionable at the time, including the Queen Anne movement of the 1880s, Richardsonian Romanesque of the 1880s and 1890s, and the Renaissance revival of the 1870s and 1880s. His first known independent work was a church in Austin (1873). However, Clayton was responsible for so many major public, commercial, residential, and religious buildings during his lifetime that some art historians refer to the period between 1880 and 1900 as the "Clayton Era."
The Stafford bank and opera house was named after its founder Robert Stafford. In its illustrious history it hosted such renowned entertainers as Lillian Russell and Houdini. Clayton designed it in the then-fashionable Italianate style, a rectangular interpretation of Italian Renaissance villas. Key details of the style are pronounced moldings, string course, prominent façade bays with triangular pediment, and running first floor porch/overhang. This type of Italianate façade appeared on commercial buildings in almost every American city.
Correlations to Davis programs: Explorations in Art Grade 1: 1.1, 2.12; Explorations in Art Grade 2: 6.31, 6.32; Explorations in Art Grade 3: 4.20, 4.21; Explorations in Art Grade 4: 3.16, 3.18; Explorations in Art Grade 5: 2.11, 2.12; A Personal Journey: 8.1; The Visual Experience: 11.1