Curator's Corner
Native American Heritage Month: Marcus Amerman
The Choctaw band is descended from the Mississippian culture (Mound Builders), which had villages throughout the region of the Mississippi River across the Deep South. They are thought to have been a branch of the linguistically related Chickasaw band. Allied with the French and then the Americans in wars against the British, they were unfortunately later rewarded for their service in the Revolution with the Treaty of Rabbit Creek (1830). This specifically called for the removal of the Choctaw to a reservation in Oklahoma.
---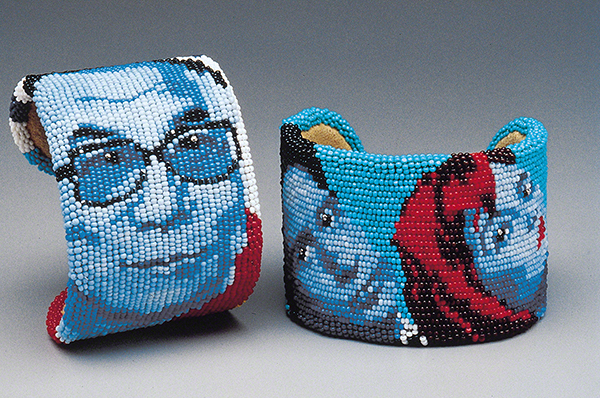 Marcus Amerman (born 1959, Choctaw Nation, Oklahoma), Dalai Lama Cuff Bracelet and X-Files Cuff Bracelet, 1999. Glass beads, leather, and brass, each 2 ¾" x 2" x 2 ⅜" (each 7 x 5.1 x 6 cm). Courtesy of the Mint Museum, Charlotte, North Carolina. © 2021 Marcus Amerman. (MIN-240)
Contemporary Choctaw artist Marcus Amerman attributes his love and the perfection of his beadwork technique to his association with the Umatilla band in Pendleton, Oregon. He first learned to make beaded regalia for his family and beaded jewelry to sell at powwows. He immediately made the beadwork art form his own, innovating a new genre of bead artistry in which beads are stitched down, one by one, to create realistic, pictorial images, rather than traditional geometric patterns.
Amerman's aesthetic, which he calls "Photo-Beadalism," has been emulated by many other First Nations bead artists. As his skill evolved, he incorporated a broad range of imagery, including political and social themes, as a tribute to his ancestors and works that reflect a Pop Art sensibility, a style he learned about in college.
Born in Phoenix, Arizona, and raised in the Pacific Northwest, Amerman is an enrolled member of the Choctaw Nation. He received a BA from Whitman College, Walla Walla. Amerman eventually settled in Santa Fe, New Mexico, doing further study at the Institute of American Indian Arts. Although he is best known for his beadwork, he is also a multimedia artist, painter, performance artist, fashion designer, jewelry maker, and glass artist. Amerman now lives on the Nez Perce Reservation in Idaho.
More First Nations art in Davis Programs: Explorations in Art 2E Grade 2: 5.7; Explorations in Art 2E Grade 3: 6.7; Explorations in Art 2E Grade 4: Unit 5 Intro; Explorations in Art 2E Grade 5: 2.5; Explorations in Art 2E Grade 6: 2.8, 3.8, 4.4, Unit 5 p. 151; A Community Connection 2E: 1.4; A Global Experience 2E: 2.5; Beautiful Stuff from Nature: Section 3 p. 48; Experience Clay 2E: Chapter 2 p. 32, Chapter 5 pp. 147 and 180; Exploring Visual Design 4E: Chapter 11 p. 211