Curator's Corner
Native American Heritage Month: Fritz Scholder
Artist Fritz Scholder was in the forefront of First Nations modernism starting in the mid- to late 1900s. The groundwork for the recognition of modern Native American art was laid by the Institute of American Indian Arts, founded 1962 in Santa Fe, New Mexico, ironically on the site of the erstwhile Santa Fe Studio School, a Depression-era (1929–1940) effort to introduce the U.S. to living First Nations artists. The mindset of owning self-determination that characterized the 1960s (e.g., the Civil Rights Movement, Feminist Movement, Brown Power Movement) was integral in designing a curriculum to promote indigenous ways of teaching about contemporary Native art. Scholder was among one of its most important teachers.
---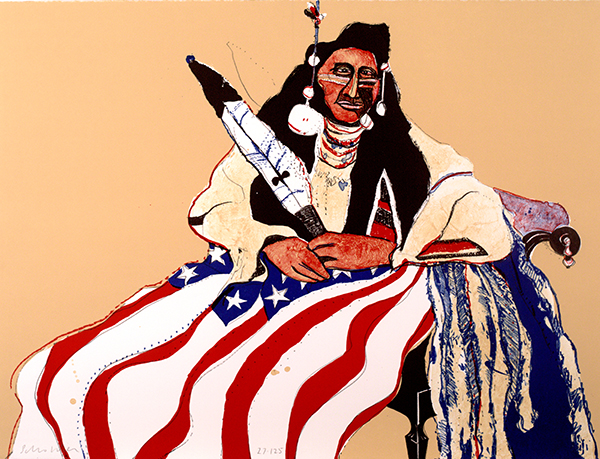 Fritz Scholder (1937–2005, Luiseño Culture, California), Bicentennial Indian, from the Kent Bicentennial Portfolio: Spirit of Independence, 1975. Color lithograph on paper, 23 1/8" x 29 5/8" (56.8 x 75.2 cm). Courtesy of the Albright-Knox Art Gallery, Buffalo, New York, Gift of Lorillard Company, 1975, P1975:9.12. © Estate of Fritz Scholder / P. Lorillard Company. (AK-624)
While Scholder dealt with recognizable imagery, he flattened and compressed figures, objects, and space, qualities visible in Bicentennial Indian. The balanced, triangular composition reflects Scholder's academic training. At the same time, the distortion of the figure and its isolation reflect the influence of the expressionistic abstract figuration of Francis Bacon (1909–1992).
Bicentennial Indian is an ironic commemoration of the birth of a country that oppressed Native peoples. His Pop imagery, including a European chair and U.S. flag rather than saddle blanket covering, make a stinging mockery of the title of the series Spirit of Independence. It is clear that the U.S. flag does not include independence for all Americans, especially those forced onto reservations by the U.S. government.
Scholder was born in Breckenridge, Minnesota. His paternal grandmother was a member of the Luiseño band of Mission People of California. His first artistic training was under the famous Yankton Sioux painter, Oscar Howe (1915 –1983). Howe was almost single-handedly responsible for breaking the domination of the Santa Fe Studio School style of indigenous painting. He introduced Scholder to the idea that First Nations artists need not confine their work to traditional subject matter.
With Indian No. 1 in 1967, Scholder established his own distinctive style while studying under Pop realist artist Wayne Thiebaud (born 1920). He is considered by many First Nations artists to have been the leader of the new American Indian art movement. The movement was characterized by modern, almost abstract styles, combined with Native subject matter or symbols.
Correlations to Davis programs: A Community Connection 2E: 1.4; The Visual Experience 4E: 4.10; Discovering Art History 4E: 4.10