Curator's Corner
National Women's History Month 2016
To celebrate National Women's History Month I would like to introduce you to a woman who is not in many history books about Europe: Queen Anna Jagiellon. However, she played a very important role in her home country of Poland at a time that was crucial in Polish history. Additionally, she was a massive patron of the arts.
---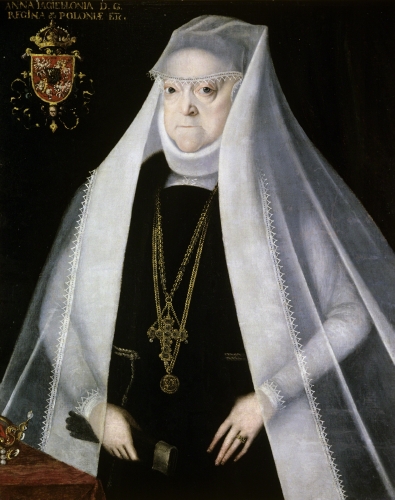 Poland, Portrait of Queen Anna Jagiellon, ca. 1586. Oil and tempera on wood panel. © Czartoryski Museum, Cracow, Poland. (8S-5778)
Poland's long history, like that of many of the lands in the post-Roman Empire world, was fraught with divisions, takeovers, and territorial partitioning up until the 1800s. Poland's establishment as a kingdom is traditionally linked to the Piast dynasty established ca. 966 CE by Mieszko I, the first ruler of the Polanie mentioned in written records.
Although Polish rulers tried to establish Poland as a major north-central European power in the Western mode, it was made difficult by the constant interference of the popes, the Holy Roman Empire, Bohemia, and later Russia. Between the late 1300s and mid-1400s, Poland realized a period of relative autonomy and power with its partnership with Lithuania. The long reign of Casimir IV (1447–1492) marked the age of one of the new monarchies of Western Europe. Poland became involved in international affairs, and by the end of the 1400s, Casimir's heirs were elected kings of Hungary and Bohemia, and grand duke of Lithuania.
Into the "golden age" of the period of the Sigismunds came Anna Jagiellon (1523–1586). She was the daughter of Casimir IV's youngest son, King Sigismund I the Old (reigned 1506–1548). On the death of her brother Sigismund II (reigned 1548–1572), who had no heirs, Anna became the first woman to be the monarch of Poland. In the days when who ruled a country often was determined by the stupid idea of arranged marriages between ruling families, Anna married (1576) later in life to Stephen Bathory (1533–1586), Prince of Transylvania, who became her co-regent.
While queen, Anna was responsible for ushering in the Northern Renaissance into Poland. She sponsored several major building projects, including the Royal Castle in Warsaw. This portrait, very possibly the work of a German or British artist, depicts a strong, independent woman whose reign and family were responsible for effecting a closer relationship between Poland and Western Europe.
Correlations to Davis programs: Explorations in Art Grade: 3 1.1, 1.2, 1.3, Studio 1-2; Explorations in Art Grade 4: 1.2; Explorations in Art Grade 5: 1.1; Explorations in Art Grade 6: 1.1, 1.2, Studio 1-2; A Community Connection: 6.2; A Global Pursuit: 4.4; Experience Painting: 2, 6; Exploring Painting: 4, 6; The Visual Experience: 9.3, 15.9