Curator's Corner
National Plant a Flower Day
Not only is it National Women's [Art] History Month, but Monday is National Plant a Flower Day. Due to the two major nor'easters that have rocked the Northeast, I would like to feature a hope for spring on flower planting day. No one needs to see works of art about snow right now!
---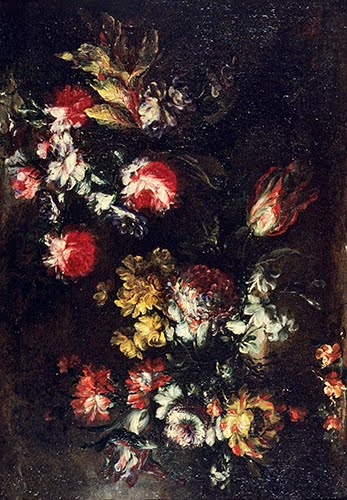 Margherita Caffi (ca. 1650–1710, Italy), Still Life with Flowers, ca. 1680. Oil on canvas, 16 15/16" x 3 3/16" (43 x 59 cm). Private Collection. Image © 2018 Davis Art Images. (8S-21985)
Little is known about Margherita Caffi's life (ca. 1650–1710). Caffi was the daughter of Francesco (or Vincenzo?) Volo, who was a still-life painter, and Veronica Volo. She also married a still-life painter, Ludovico (Lodovico?) Caffi (ca. 1641–1695), in Cremona in 1668. She may have apprenticed in Vincenzo Volo's—either her father or another relative—workshop as "Vicencina" or "Vincencina" are added to her signature in some paintings. She was patronized by the Medici in Florence and the Hapsburg rulers in Madrid, Spain and Innsbruck, Austria. She is thought to have lived in Innsbruck for a time. Thirty paintings are firmly attributed to her. Caffi died in Milan and was awarded a funeral that celebrated her life as an artist.
Compared to Francesco, Caffi's still-life works are infinitely more dramatic and interesting compositionally. Her still-life works often include two arrangements of flowers in an open, asymmetrical composition. The extreme tenebrism (stark contrasts of dark and light) often obscures the vessel holding the flowers.
Between the 1400s and 1700s, education and training of women did not markedly improve. Women with the drive to be artists had to train under fathers or male relatives who were established artists. Women were denied membership in the guilds, which ensured continual patronage to artists. Because of the restrictions in their training as artists (such as studying anatomy), many women artists specialized in still-life and portrait subjects. The rise in status of still life as a stand-alone genre in painting coincided with the increased education of women artists and their establishing successful careers as painters.
And, for those of you who miss snow because we had two nor'easters within a week, here's a beautiful work by American Impressionist Helen Hamilton (1889–1970):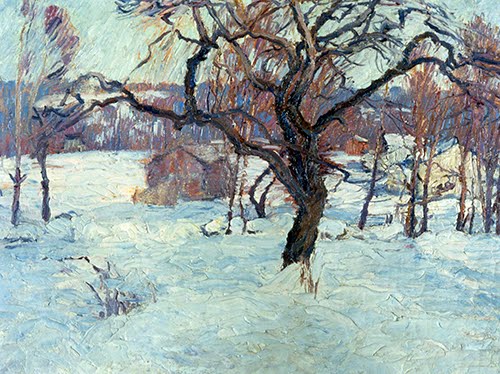 Helen Hamilton (1889–1970, US), Winter Afternoon. Oil on canvas, 18 1/8" x 24" (46 x 61 cm ). Image courtesy of R.H. Love Gallery, Chicago. © 2018 artist or artist's estate. (8S-27000)
Hamilton was active in New York and New England. Her father, Hamilton Hamilton (believe it or not) (1847–1928), was a pseudo-American Impressionist. At age nineteen, her family moved to Pasadena, California, and her father trained her in the Impressionist technique on the spot in the Sierra Nevada Mountains. By 1910, the family was back in New York, and Helen took part in the active American Impressionist art scene, including the Silvermine art colony in Connecticut. In 1913, she discovered the work of Vincent van Gogh (1853–1890) at the famous Armory Show. After that, her paintings became active surfaces with slashing brushstrokes of pure color. She delighted in the depiction of rushing water and waterfalls.
Correlations to Davis programs: Explorations in Art Grade 4: 6.36; Explorations in Art Grade 5: 2.8; A Personal Journey: 2.6; Discovering Drawing 3E: 4; Experience Painting: 9; Discovering Art History 4E: 7 Activity 2