Curator's Corner
National Pear Month
In 2004, the U.S. Department of Agriculture declared December as "National Pear Month." I did not realize that pears have as much potassium as bananas. And they are certainly interesting as subjects in still-life paintings. I have an abiding love of Baroque still-life painting, mostly because my personal still-life paintings are rather lackluster compared to artists like this week's star: Luis Egidio Meléndez! His works are so rich with implied textures.
---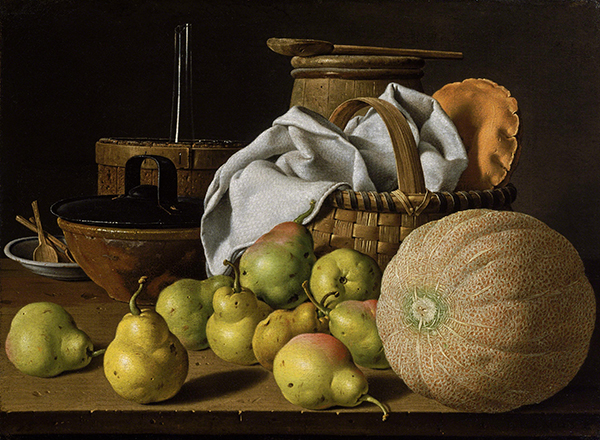 Luis Meléndez (1716–1780, Spain), Still Life with Melon and Pears, ca. 1770. Oil on canvas, 25 1/8" x 33 ½" (63.8 x 85.1 cm). © 2020 Museum of Fine Arts, Boston. (MFAB-106)
Meléndez rendered still life with exacting detail and dramatic lighting. His works recall the tenebrism—use of shadow and extreme contrast—of Bartolomeo Caravaggio (ca. 1590–1625) and the exacting replication of nature of the finest of Dutch Baroque painters. His horizontal format reflects a Dutch influence, as well, particularly in the trompe l'oeil effect of the ledge on which the objects rest. His vertical formats, sometimes with landscape background, are more traditionally Spanish in presentation. The foods do not seem to be self-consciously symbolic of any religious or moralistic meaning, but the drama of their presentation sometimes intimates that this is an artist who was straining to be a grand history painter.
For all intents and purposes, the Spanish Baroque style in painting endured as the major aesthetic factor in Spanish painting until the very last twenty years of the 1700s. The tenebrism of Mannerism was maintained not for theatrical purposes, but for elevation of spiritual intensity. Influenced by Northern Renaissance painting, Spanish Baroque painters also concentrated on meticulous replication of details from nature as much for the sake of virtuosity as for emphasis on the flawed nature of the physical world.
The fascination with the painting from the Netherlands and Flanders that began in the 1500s persisted through the 1700s. The Spanish kings were major collectors of Flemish and Dutch painting. It is little wonder, then, that the organization of highly detailed still-life painting originated in Spain in the early 1600s, based closely on that genre from the Lowlands.
Meléndez was the son, nephew, and brother of painters. He was born in the Spanish colony of Naples and his family moved to Spain soon after. His first teacher was his father, Francisco Meléndez de Rivera Diaz (1682–after 1758), who was one of the founding members of the Royal Academy in Madrid. He briefly was the pupil of Louis-Michel van Loo (1707–1771), the French portrait painter to the Spanish king. Meléndez was a promising Academy student until 1746, when a dispute with academy officials caused both father and son to be expelled. They were subsequently relegated to painting portrait miniatures.
Meléndez is now regarded as the leading still-life painter of 1700s Spain, a tribute that would, during his lifetime, no doubt have not satisfied him. At the time, just as in France and Britain, still life and genre subjects were at the lowest register of the academic subjects list, below even landscape. Although Meléndez aspired to fame as a history painter, he never realized the goal.
Correlations to Davis Programs: A Personal Journey 2E: 2.6; Exploring Painting 3E: chapter 9; Explorations in Art 1E Grade 1: 1.4; Explorations in Art 1E Grade 2: 5.27; Explorations in Art 1E Grade 4: 6.36; Explorations in Art 1E Grade 5: 2.8; Explorations in Art 1E Grade 6: 1.6; Explorations in Art 2E Grade 1: 1.5; Explorations in Art 2E Grade 2: 5.4; Explorations in Art 2E Grade 4: 6.8; Explorations in Art 2E Grade 5: 2.3; Explorations in Art 2E Grade 6: 1.8; Discovering Drawing 2E: Chapter 4; Discovering Art History 4E: Chapter 13 activity 1