Curator's Corner
National Jewish Heritage Month: Miriam Schapiro
---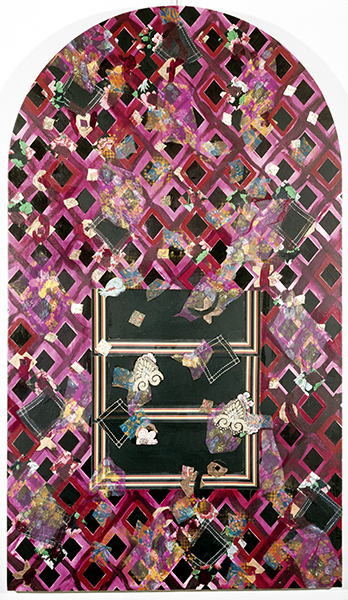 Miriam Schapiro (1923–2015, U.S., born Canada), Cabinet for Fall, 1974. Acrylic and fabric collage, 70" x 40 1/8" (178 x 102 cm). Image courtesy of the late artist. © 2022 Estate of Miriam Schapiro/Artists Rights Society (ARS), New York. (8S-18296srars)
In 1972, Schapiro worked on a collaboration coming out of the Feminist Art Program called Womanhouse, an old house converted by women artists into a repository of artworks that expressed women's frustrations and fantasies. It involved research into the long traditions of craft—quilts and other forms of anonymous and unrecognized art made by women through the ages.
Returning to her own painting, Schapiro introduced elements of fabric, moving to a completely new style. The works were dubbed femmage, a reference to the historical perception of fiber art as "women's work," in combination with the modernist practice of collage. In Schapiro's personal work, the elevation of pattern and decorative arts—historically considered an "appropriate" domain for women artists—became the primary focus. Cabinet for Fall comes from a group of four femmages entitled Cabinets for All Seasons.
By the mid- to late-1960s, art movements began to reflect the collapse of the mainstream American art world dominated by the market-driven, commercially oriented, male-dominated Abstract Expressionists. The 1970s marked the beginning of the feminist movement in art. The questioning of the political, racial, and social status quo led women in increasing numbers to protest against gender inequality. Several books, including The Feminine Mystique by Betty Friedan (1963) and The Female Eunuch by Germaine Greer (1970), helped raise women's awareness.
Women artists, art historians, and critics began to organize and protest the discrimination against women artists. They formed cooperative galleries, university feminist art programs, and coalitions that published art journals and reviews of women's art. These efforts were complimented by a widespread public desire to see more open, pluralistic, and humanistic art. In 1972, the Women's Caucus for Art was formed by a group of women artists. The group gave women a forum to explore issues surrounding women artists and art history.
This newfound awareness of self gave many women the confidence to work in radical styles and subject matter previously considered improper for women. For the first time in history, many women were producing issue-based art concerning the repression and lives of women. The proliferation of styles helped educate the art world and give it a broader frame of reference for art criticism and acceptance.
Schapiro was born in Toronto, Canada, to a family of Russian-Jewish heritage. Her father, Theodore Schapiro, was an artist and industrial designer who encouraged Schapiro in art, giving her weekly art lessons beginning at the age of six. She studied at the Museum of Modern Art at 14 and attended Federal Art Project classes. Studying printmaking, she attained a BA and MFA from the University of Iowa (1945, 1946, 1949). When she moved to New York in 1951, her developed style was Cubist-influenced. That soon changed under the influence of Abstract Expressionism's dominance during the 1950s, when she adopted a similar painterly style.
Starting in 1960, Schapiro gradually discarded the Abstract Expressionist painterly mode for variations on a so-called Shrine series (1963–1965), which featured framed compartments containing feminine symbols, often self-referential to gender. This series would have major stylistic impact on much of her mature work.
Between 1967 and 1970, Schapiro began to experiment with computer-aided design to Hard Edge-type paintings. In 1971, along with Judy Chicago (born 1939), who shared her feminist sensibility, she founded the Feminist Art Program at the California Institute of the Arts, Valencia.
Correlations to Davis programs: A Community Connection 2E: 1.3; A Global Pursuit 2E: 8.6; Explorations in Art 2E Grade 2: 4.7; Discovering Drawing 3E: pp.78–79; The Visual Experience 4E: 8.5; Discovering Art History 4E: 2.2