Curator's Corner
More Wearable Art
You may remember that I introduced you to the fiber art of Korean artist Jeung Hwa-Park, whose work is fabulous, back in 2009. Now I've discovered this wonderful Japanese artist who bowls me over by the beauty of her textile designs just the same! Reiko Sudo is my favorite artist of the week. The complexity of her aesthetic vision, design, and production processes is truly inspiring. As I've said before (I think I did), if I wasn't a painter I'd want to be a ceramic artist, and if I wasn't a ceramic artist, I would want to design and make fabulous textiles.
---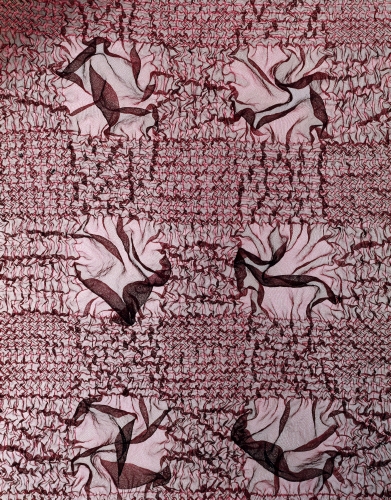 Reiko Sudo (born 1953, Japan), Jelly-Fish Fabric, ca. 1994. Polyester, 20'9" (overall) x 2'8" (637.5 overall x 86.4 cm). Image © The Museum of Modern Art, New York. Work © 2015 Reiko Sudo. (MOMA-D0609)
Like many of Sudo's fabrics of polyester, the Jelly-Fish pattern textiles relies on the technique of scrunching and binding with thread. The fabric is dyed and then the folds are heat-set.
Reiko Sudo just does the neatest things with fabric. Sudo originally wanted to become a designer of kimonos, but failed the entrance exam. She went on to study textile design at Musashino Art University. In 1984 she and Jun'ichi Arai (born 1932) started NUNO Corporation, a company that produces textiles with an emphasis on unusual combinations of materials and techniques. The company was founded in order to produce textiles with traditional Japanese aesthetics in an eco-friendly manner. In 1987 she took over full leadership of the NUNO design team.
Sudo's designs combine technology/industry and artistry. She gains influence for the development of new techniques from articles on Japanese industrial development. The preferred materials at NUNO are silk, polyester, cotton, nylon tape, and hand-made paper. One of Sudo's earliest personal experiments in novel materials was the manipulation of plastic. In an effort to reduce the company's ecological footprint, NUNO always uses leftover scraps of materials in unusual combinations. Technologies used by NUNO adapted from Japan's traditional "crafts" culture include salt shrinking, mud-dyeing, rust-dyeing, caustic burning, fatiguing by hand, chemicals or machine, and graffiti decoration.
NUNO means "cloth" in Japanese. The materials produced by Sudo and NUNO are not mass-produced, but combine hand-manipulation with industrial milling that keeps costs low. The fabrics can serve a variety of uses, from clothing to interior design.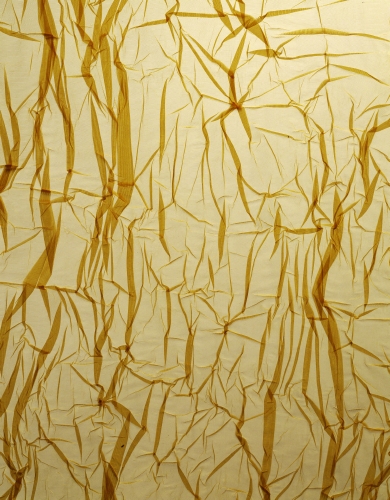 Reiko Sudo, Mica Fabric, ca. 1994–1995. Polyester, 19''7" (overall x 2'9" (600.1 overall x 83.8 cm). Image © The Museum of Modern Art, New York. Work © 2015 Reiko Sudo. (MOMA-D0617)
Sudo designed the Mica pattern in 1995. The semi-transparent and plain-woven polyster is wrapped into a tight ball. Heat-setting the materials results in randomly pleated surface. This is a perfect example of the combination of industrial woven fabric manipulated by hand.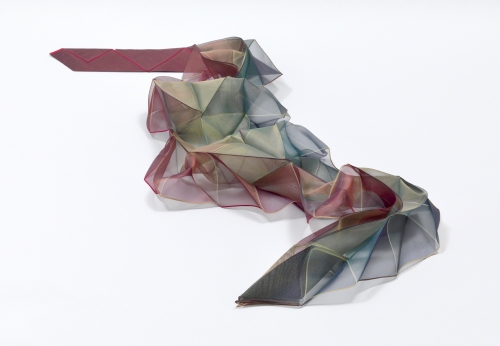 Reiko Sudo, Origami Pleats Scarf, 1997. Polyester, 17 1/4" x 59" (43.8 x 149.9 cm). Image © The Museum of Modern Art, New York. Work © 2015 Reiko Sudo. (MOMA-D1251)
The Origami Pleats textiles technique was developed by Mizue Okada. 100 percent polyester organza was folded repeatedly at sharp angles and then permanently heat-pressed. Color was added to suggest depth.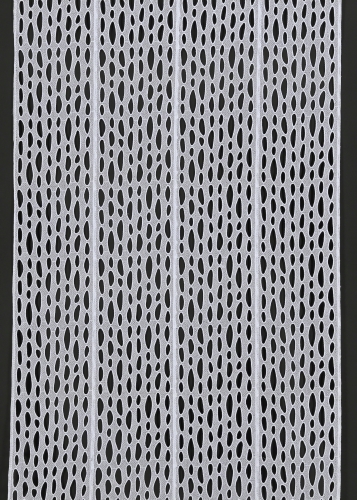 Reiko Sudo, Kinugasa Mushroom, 2007. Cotton and rayon, 130'4" overall x 3'3" (614.7 overall x 101.6 cm). Image © The Museum of Modern Art, New York. Work © 2015 Reiko Sudo. (MOMA-D1317)
This lacy, web-like fabric imitates the lacy veil on the Japanese kinugasa mushroom. It is made with a special steering wheel embroidery machine, where most functions are controlled by the feet allowing the operator to manipulate the needle to produce the repeated circular perforations.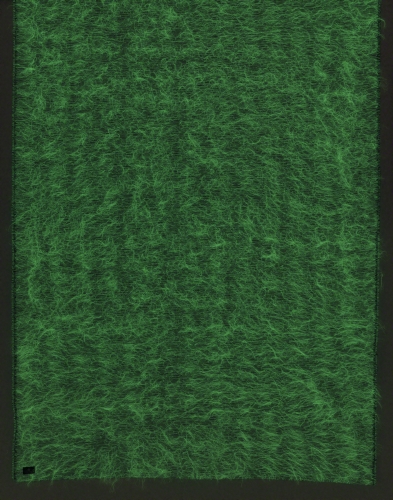 Reiko Sudo, Baby Hairs, 2007. Cotton and saran (strontium aluminate-impregnated nylon), 20'9" overall x 2'8" (632.5 overall x 86 cm). Photo © The Museum of Modern Art, New York. Work © 2015 Reiko Sudo. (MOMA-D1315)
I'm not sure how this material is produced. The saran has a phosphorescent quality that can be seen in close-up.
To see more fabulous fabrics designed by Reiko Sudo and NUNO, visit their website: www.nuno.com. They have nice close-up views of some of their textiles.
Correlations to Davis Programs: Explorations in Art Grade 2: 6.36; Explorations in Art Grade 3: 6.31; Explorations in Art Grade 4: 5.27; Explorations in Art Grade 5: 2.10; Explorations in Art Grade 6: 4.23-24; A Community Connection: 5.2; A Personal Journey: 3.1, 3.4; A Global Pursuit: 7.5; Exploring Visual Design: 6, 11; The Visual Experience: 10.8, 13.5; Discovering Art History: 2.2, 4.4