Curator's Corner
Modern Furniture Design
When I was in graduate school, I was extremely fortunate to be a TA (teaching assistant) to the Furniture art historian. What a learning experience that was! As an art history major, I tended to think only painting, sculpture, and architecture had any relevance to history and society, in the West or anywhere else. Wrong!
---
"TAing" (can that be a verb?) in a Furniture History course opened up my frame of reference in the world of art history, and showed me what a lively and integral part all of the so-called "decorative" arts are in the history of art and culture around the world. I personally prefer to call "decorative" arts the "miscellaneous arts." Never call them "crafts" around me!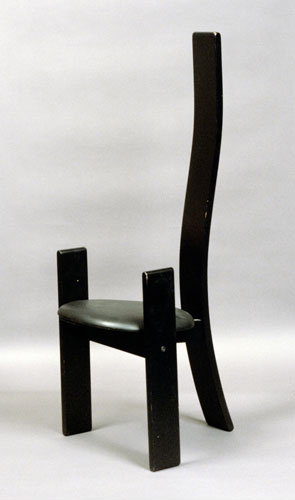 Vico Magistretti (1920–2006, Italy), Golem Chair, 1969. Lacquered wood, 49 ¾" x 19 ¾" x 21 ½" (126.4 x 50.2 x 54.6 cm). © Cleveland Museum of Art. (CL-492)
Since its production first began in the ancient world, artists designed furniture to conform to the human body and the way it was attired, all in forms that could be pleasingly decorated. Just think of the gorgeous examples from Egyptian and Chinese tombs. The idea of designing furniture to conform to society and the human form remained constant through the 1800s. This is true even after the Industrial Revolution of the early 1800s saw the advent of mass-produced, machine-made furniture. After the Arts and Crafts Movement of the late 1800s—which stressed the return of hand-crafted furniture as an important art form—the idea of creating furniture for reasons other than comfort and utility was born.
Italian designers after World War II have been very influential in contemporary furniture design. They are known for their willingness to design dramatic, often seemingly impractical pieces. Vico Magistretti established himself as a master of simple, even understated design solutions.
Trained as an architect, he began to design furniture in avant-garde forms during the late 1940s. Key to many of his designs was taking common forms from everyday life, such as ladders, and adapting their shapes to his furniture. He was also a pioneer in the use of plastic, tubular steel, and polyester resin in his designs. Magistretti's goal was to produce simple, elegant furniture that would aesthetically co-exist in an interior that also contained antiques.
The Golem Chair is an example of Magistretti's love of using an S-curve in his furniture. The back of this simple, three-legged chair is a graceful, elongated S. In spirit, furniture like this fits the aesthetic expressed by the architect of glass-box skyscrapers Ludwig Mies van der Rohe who said "less is more." The Golem Chair is certainly a stripped down version of common seating (compare it to Charles Eames's three-legged side chair). Although an elegant design, it does not really conform to the common perception of "comfortable seating." Indeed, this piece could almost be perceived as sculpture. Many pieces of contemporary furniture design defy the idea of practicality and become stand-alone artworks simply because of the extraordinary inventiveness of materials, decoration, and design.