Curator's Corner
Whose Mod Is It?
---
Having been a child during the late 1960s, I can vouch for the fact that some of what was designed was incredibly hideous. But, there are some "mod" designs that are truly tasteful and elegant. The Pucci dress is an example (which I'm sure very few women could afford). But, oh look, there's a similar vertical pattern in the early 1900s kimono! Do we call that "mod" too?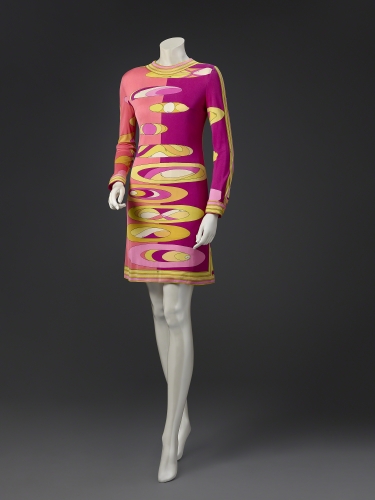 Emilio Pucci

(1914–1992, Italy), Dress, late 1960s. Printed silk knit, height center back: 33" (83.8 cm). Image © 2018 Philadelphia Museum of Art. (PMA-8695)
This elegant dress, which probably cost hundreds in the 1960s (a lot of money back then), is the epitome of 60s mod. Pucci was once dubbed the "prince of prints" because of his designs. He introduced abstract patterns based on contemporary art into fashion in the 1950s. The 1950s were the "Leave it to Beaver" era!
Pucci is such an interesting artist. He studied agriculture at the University of Milan in the 1930s, the got an MS in social science from Reed College in Portland Oregon. He also received a doctorate in science from the University of Florence. I'm not sure where design came into the mix, but he was first noticed designing ski fashions for the Reed College ski team in 1947.
Pucci's ski fashions inspired him to introduce his own line in 1948 in Capri. He initially designed ski wear and swimwear. His experimentation with bold and bright colors led him to designing scarves, which ultimately led him to designing women's fashions. By the 1960s, his designs were popular with such heavy-weights as Marilyn Monroe (1926–1962). Pucci's abstract designs started to be featured in women's clothing in the 1950s, at that time a real novelty. He was inspired by Southeast Asian batik, African motifs, Sicilian mosaics, and heraldic motifs.
As a colorist, Pucci was inspired by the landscape of the Mediterranean, and also from Southeast Asian countries he visited. I think we can see that the result of all of his influences is this sophisticated abstraction that reminds one of a Hans Hofmann (1880–1966) painting. His designs also have the sense of landscape. Again, Hofmann!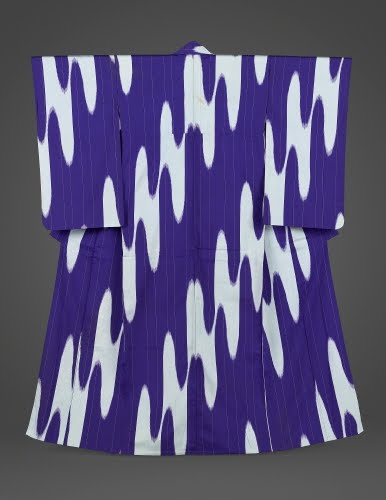 Japan

, Kimono, 1920s–1930s. Silk plain weave with stencil-printed warps and wefts, height center back: 63" (160 cm). © 2018 Philadelphia Museum of Art. (PMA-8691)
Interestingly, the same thing (landscapes) inspires kimono patterns in Japan. Any doubts? Look at this screen by Ogata Korin. Tell me there isn't abstraction in this painting!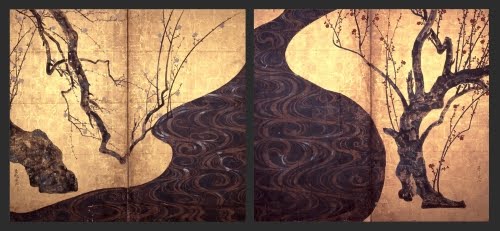 Ogata Korin (1658–1716), Red and White Plum Blossoms, ca. 1710–1716. Ink, watercolor, and gold leaf on paper mounted on wood, 61 3/8" x 67 ¾" (156 x 172.2 cm). © 2018 Museum of Art, Atami, Japan. (APAH-210)
Kimonos evolved during the Heian Period (794-1185 CE) in Japan. It became fashionable at that time to layer up to thirteen(!) silk kimonos of differing patterns and colors as a sign of social status or seasons. After the forced opening of Japan to Western trade by the US in 1853, there was the inevitable introduction of Western fashion, which ultimately doomed the kimono as everyday wear. By the time of World War II (1939–1945) to the present day, kimonos have been worn a lot for special occasions.
In many Japanese art forms, pattern is a key element. Japanese art informed the Arts and Crafts Movement, Art Nouveau, and Impressionism in the West. I would like to think that this kimono from the 1920s or 30s would fit right in on a 1930s Art Deco movie set as a nice contrast.
You can delve into the history of art as I leave you with this question: Where (precisely) do you see abstraction in art?