Curator's Corner
Eye Candy for August
I can't think that anybody doesn't find the work of Louis Comfort Tiffany and his designers to be absolutely beautiful specimens of glass art. Seeing some of his windows recently in Boston reignited my admiration for what that artist achieved. More are currently on view at the museum here in Worcester.
---
Tiffany did not have a simple path to enacting his artistic vision, either. The son of Charles Tiffany (1812–1902), the founder of Tiffany and Company jewelry store in New York, he relied time and again on his father's company to keep his studios solvent. And thank goodness for that!
Louis Comfort Tiffany (1848–1933, US) for Tiffany Studios (1902–1932, Corona, NY), Vase, designed ca. 1900. Green glass with gold leaf, height: 10" (25.4 cm). © 2018 Brooklyn Museum. (BMA-5549)
Tiffany's studio system was not a simple one. Under his scrutiny, his team of talented designers and artists translated his overarching vision to produce fabulous blown glass objects. He publicly credited individual designers, which included many women artists such as Lydia Emmet (1866–1952), Agnes Fairchild Northrop (1857–1953), Alice Carmen Gouvy (1870–1924), and Clara Driscoll (1861–1944). Keep in mind that these artists were often replicating designs conceived of by Tiffany in their own interpretations. All of the pieces in this post contain the LCT initials on the bottom. Whether that was reproduced from an original Louis design, I'm not sure.
Tiffany learned the techniques involved in high-end jewelry and tableware production from his wealthy father's firm. Initially, he studied painting. His travels through North Africa exposed him to exotic subject matter, but more importantly, decorative motifs in ceramic tile, mosaics, and wall paintings in non-Western styles. After that trip (1870–1871), he turned away from painting to interior design and decoration. His first stained glass project that emerged in 1878 already contained unconventional techniques.
Between the 1880s and 1890s, Tiffany experimented with numerous techniques in glass, mosaics, and tile work. Around 1892 or 1893, he built a glass studio in Corona, NY, where he helped develop colors of glass by blending different colors in a molten state. He achieved subtle effects of shading and texture that Tiffany subsequently called Favrile. Favrile was based on an old-English word for hand-built (fabrile). Tiffany trademarked the name in hand-blown works such as the following objects: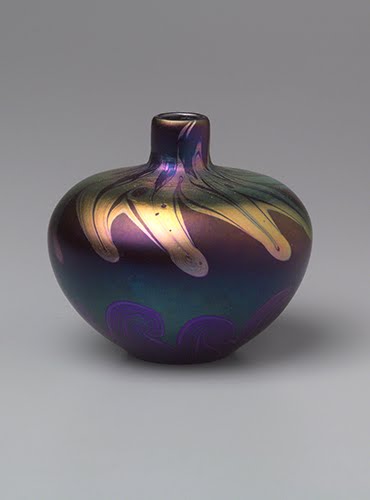 Louis Comfort Tiffany for Tiffany Studios, Flower Vase, designed ca. 1900. Favrile glass, height: 2 7/8" (7.3 cm). © 2018 Brooklyn Museum. (BMA-5509)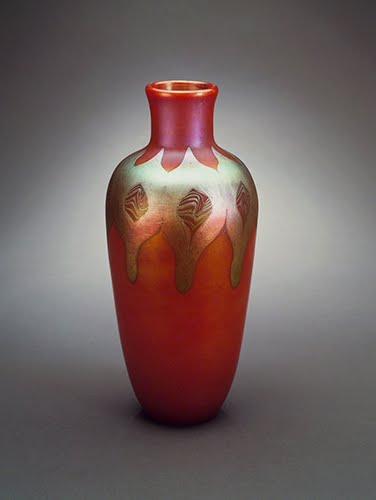 Louis Comfort Tiffany for Tiffany Studios, Flower Vase, designed 1900–1910. Favrile glass, height: 11" (27.9 cm). © 2018 Brooklyn Museum. (BMA-5510)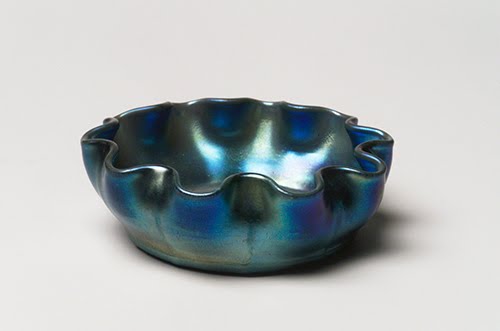 Louis Comfort Tiffany for Tiffany Studios, Salt Cellar, designed 1896–1919. Opalescent glass, width: 2 7/8" (7.3 cm). © 2018 Brooklyn Museum. (BMA-5553)
I'm not really sure of the difference between the opalescent glass and the Favrile. Tiffany described Favrile as an imitation of the iridescent colors on the wings of butterflies or feathers of a peacock.
I have a feeling that if Tiffany constantly sought his father's help for solvency since the numerous incarnations of his glass studios were based on financial circumstances.
Here are the companies that he instituted:
Louis C. Tiffany and Company (1878–1885)
Tiffany Glass Company (1885–1892)
Tiffany Glass and Decoration Company (1892–1900)
Allied Arts (1900–1902)
Tiffany Studios (1902–1932)
Tiffany Furnaces (1902–1919) and Louis C. Tiffany Furnaces (1920–1928) helped support the other studios by producing the metal frameworks for lamps, desk sets, and other items that combined glass with metal.
I'm not really interested in why he had so many different entities, because the result was so many beautiful works of art, and that's the important thing.