Curator's Corner
LGBTQI+ History Month: Harriet Hosmer
Before the 1900s, it was hard enough trying to become a professional artist as a woman. It was even more difficult finding acceptance if one was gay. Harriet Hosmer managed to overcome both of those barriers and became a successful professional artist, as well as experiencing rewarding relationships in her personal life.
---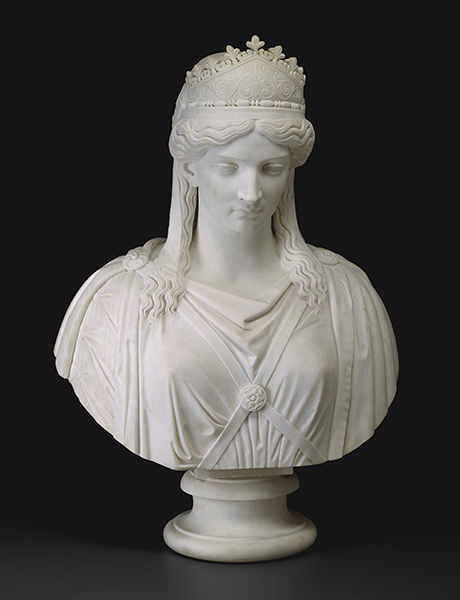 Harriet Hosmer (1830–1908, U.S.), Zenobia, Queen of Palmyra, ca. 1857. Marble, 34" x 22 ½" x 12 ½" (86.4 x 57.2 x 31.8 cm). © 2021 Art Institute of Chicago. (AIC-278)
Hosmer's work frequently addresses the theme of strong, independent women who are ultimately punished for seeking a level of power and ambition thought to be inappropriate (at the time) to their gender. This portrait depicts Zenobia (240–274 CE), the queen of Palmyra, who ruled the Syrian city after her husband, Odenathus (220–267 CE), died. Zenobia conquered Egypt and much of Asia Minor before her defeat by the Roman emperor Aurelian (214–275) in 272 CE. Portraying the queen at the moment of her capture, Hosmer emphasized Zenobia's dignity, remarking, "I have tried to make her too proud to exhibit passion or emotion of any kind; not subdued, though a prisoner; but calm, grand, and strong within herself." (Art Institute of Chicago)
Sculpture of the 1800s was primarily Neoclassical in style. It was a persistence of the aesthetic qualities of ancient Greek and Roman sculpture. Because sculpture was considered inferior to painting in European and American academic teaching, style in sculpture did not vary greatly for most of that century. For women, sculpture was a hard field in which to find study. The medium was considered "unladylike," and very few art schools admitted women.
By the 1820s, there was a large community of American artists living in Rome, seeking inspiration in ancient and Renaissance art, particularly ancient Greek and Roman sculpture. By the 1850s, Rome was also home to a large community of women sculptors from the U.S., seeking the greater freedom to be artists and the cheaper marble. These women sculptors almost invariable all worked in the Neoclassical style.
Hosmer is considered by many scholars to have been the first professional woman sculptor in the U.S. She was the first woman to break into the all-male world of Neoclassical sculpture, a shocker at the time. She was raised in Watertown, Massachusetts. Encouraged in physical fitness by her father, doing exercises usually reserved for young men, she developed a very independent and unorthodox personality in both demeanor and dress. She attended a private liberal arts school in Lenox, Massachusetts, where her friends encouraged her to become an artist in sculpture.
Studying sculpture in Boston, Hosmer also privately studied anatomy in Missouri, as it was considered inappropriate for female students at the time. A Neoclassical bust of Hesper (Hesperia, goddess of the evening star) that Hosmer created in 1852 earned her praise, encouraging her to go to Rome. She enrolled there with John Gibson (1790–1866), a British Neoclassical sculptor. Hosmer became hugely successful and received many commissions from European royalty.
Hosmer was part of the so-called Spanish Steps Intellectuals, which included Elizabeth Barrett Browning (1806–1861), Nathaniel Hawthorne (1804–1864), and sculptors Anne Whitney (1821–1915), Edmonia Lewis (ca. 1844–1907), and Emma Stebbins (1815–1882). Many of the women of the circle were gay, what at the time was called "independent women." Hosmer's most intense, long-term relationship was with a Scottish woman, Louisa Ashburton (1827–1903), to whom she signed her letters "wedded wife."
Correlations to Davis programs: Explorations in Art 2E Grade 5: 1.6; Explorations in Art 2E Grade 6: 6.5; A Personal Journey 2E: 4.4; Beginning Sculpture: Chapter 5; Discovering Art History 4E: 12.3; The Visual Experience 4E: 10.1, 10.2, 10.3