Curator's Corner
LGBTQ History Month, Artist Recognition
October is LGBTQI+ History Month. I can't think of a better way to mark the occasion than by featuring the work of an African American artist who is truly historic for his accomplishments in the cut-throat world of fashion design.
---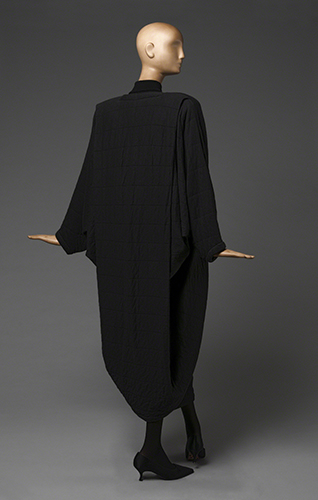 Patrick Kelly (1954–1990 US), Woman's Coat, 1985. Black cotton knit, center back length: 52" (132.1 cm). Image © 2019 Philadelphia Museum of Art. (PMA-8764)
Paris has had a history of being a more accepting environment for African American artists, performers, and writers dating back to the 1800s, when such renowned artists as Henry O. Tanner (1859–1937), William H. Johnson (1901–1970), and Lois Mailou Jones (1905–1998), among others, settled there. In 1988, it was fashion designer Patrick Kelly who made history as the first American to ever be accepted into the Chambre Syndicale du Prêt-à-porter, the influential French ready-to-wear association. His signature aesthetic of eccentric, colorful, and often dramatically body-conscious collections won acclaim and transcended racial bias throughout the fashion world.
Kelly was born and raised in Vicksburg, Mississippi, during the period that was on the cusp of the Civil Rights Movement. He began designing and sewing clothes as a teenager. He moved to Atlanta at eighteen to work with a tailor in the Yves Saint Laurent Boutique, his first experience with high fashion. He studied art history and black history at Jackson State University, and fashion design at the Parsons School of Art in New York.
The designer tried making it in New York, however, at the time, his race may have prevented him from getting a foothold in the fashion industry. He was forced to market his own creations with only a modicum of success. Ultimately, groundbreaking African American supermodel of the mid-1960s to 1970s, Pat Cleveland (born 1950), bought him a plane ticket to Paris.
In Paris, he initially struggled, but soon his creativity and career flourished. He sold some of his creations in Benetton, and also designed for Le Palais nightclub. After presenting his designs to the Victoire boutique, he became the first American designer sold by that retailer. That led to his recognition by ELLE magazine, which sponsored his very first fashion show in 1985. In the few years of success before his tragic early death, Kelly's fashions were bought by many celebrities, including Princess Diana, Naomi Campbell, Madonna, and Grace Jones.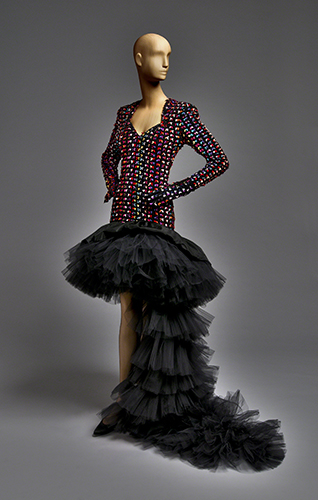 Patrick Kelly, Woman's Evening Dress and gloves, fall/winter 1988. Black nylon plain weave, machine embroidery over multicolored acetate plain weave ribbons, black triacetate taffeta and polyester net, center back length: 100" (254 cm). Image © 2019 Philadelphia Museum of Art. (PMA-8517)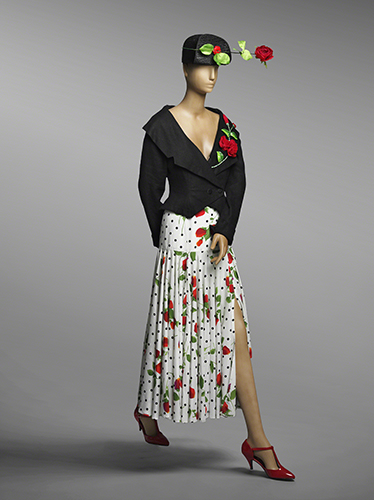 Patrick Kelly, Woman's ensemble of jacket, skirt and hat, spring/summer 1989. Jacket: black cotton and linen plain weave, red silk chiffon, green plastic, green synthetic raffia; skirt: printed silk faille; hat: bradied synthetic straw, plastic, silk chiffon, jacket center back height: 20" (50.8 cm), skirt height: 40" (101.6 cm). Image © 2019 Philadelphia Museum of Art. (PMA-8521)
Huge buttons, asymmetrical-cut dresses and skirts, flounces, and brilliant colors were all trademarks of Kelly's designs. He was greatly influenced by antique fashion, but incorporated these influences with a modern aesthetic. One of my favorite pieces he designed are these gauntlet gloves (a throwback to the 1940s), with pink plastic heart buttons as fingernails.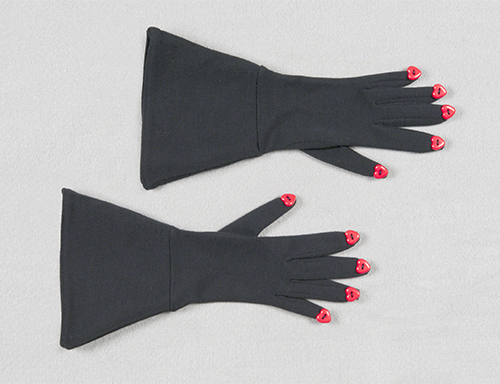 Patrick Kelly, Woman's gloves, 1988. Wool knit, plastic buttons, each 7 ¼" x 13 ½" (18.4 x 34.3 cm). Image © 2019 Philadelphia Museum of Art. (PMA-7869)
Correlations to Davis programs: A Personal Journey 2E, 3.1, 3.3; Exploring Painting 4; The Visual Experience 3E 12.4