Curator's Corner
The Simplified Landscape
The genre of the simplified (abstracted) landscape has been around a loooonnnnnng time. In particular, I think of the dreamy, suggestive landscapes of Chinese artists from as early as the Song dynasty (960–1079 CE). However, I never tire of introducing an artist whose work I've seen for the first time who just strikes a different cord in my appreciation of art. My own landscapes tend to be representational, but I still appreciate a strikingly different take on landscape. No matter how different the approach stylistically, I always feel that all landscapes are a response from the artist's taking joy in nature. What better way to celebrate the advent of May than with a gorgeous landscape?
---
Warren Rohrer (1927–1995, US), Untitled (May 23, 1981), 1981. Conté crayon on wove paper, 19" x 26 1/4" (48.3 x 66.7 cm). Philadelphia Museum of Art. © Estate of Warren Rohrer. (PMA-4038)
As is true with many landscape artists, Warren Rohrer was creating works of art that expressed his response to the natural world, not necessarily a precise map of a specific place, as is seen in Hudson River School artists. Rohrer, a ninth generation native of Pennsylvania, chose as his subject matter the landscape of the area in which he grew up (Lancaster County). Raised as a Mennonite, he opted to study art rather than become a farmer. He studied art at Penn State University. Early in his study of art he painted outdoors, eventually developing a grid-like approach to depicting a landscape.
The grid technique gradually evolved into this heavily layered technique. This work reflects the luminous nature of his landscapes of the 1980s. His use of conté crayon on textured wove paper is reminiscent of the experiments of Georges Seurat (1859–1891) to simulate luminous aspects in nature. This untitled May landscape definitely defines a foreground, middle ground, and background.
Here are some other artists' works that remind me of Rohrer's, whether they were influenced by landscape or not:
Mark Rothko (1903–1970, US), Ochre and Red on Red, 1954. Oil on canvas, 92 5/8"x 63 3/4" (235.3 x 161.9 cm). Phillips Collection, Washington, DC. © Estate of Mark Rothko / Artists Rights Society (ARS), New York. (PC-350rkars)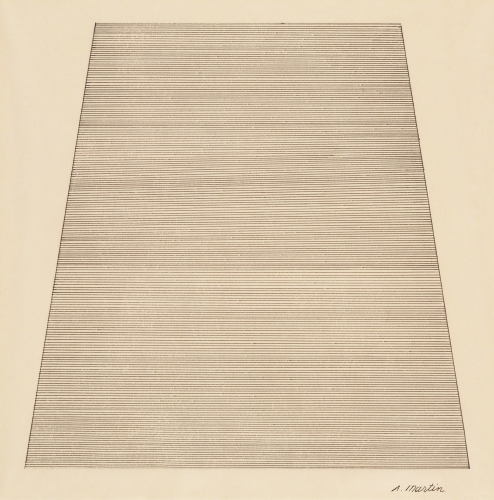 Agnes Martin (1912–2004, US), Mountain, 1960. Ink and pencil on paper, 9 1/2" x 11 7/8" (24 x 30.2 cm). Museum of Modern Art, New York. © Estate of Agnes Martin / Artists Rights Society (ARS), New York. (MOMA-P1490mtars)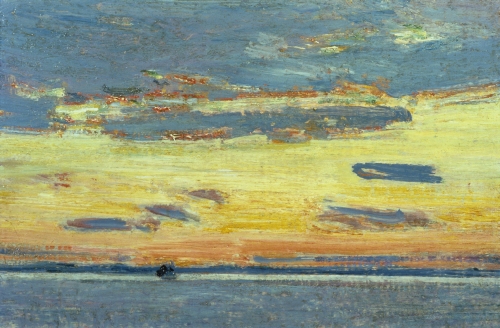 Childe Hassam (1859–1935, US), Sunset on the Sea, 1908. Oil on wood panel, 6 5/8" x 9 1/2" (17 x 24 cm). Photo courtesy Richard H. Love Gallery, Chicago, IL. (8S-26592)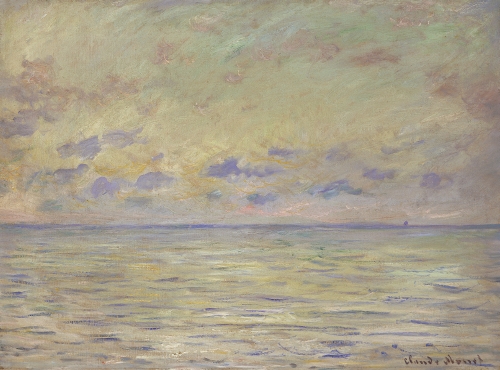 Claude Monet (1840–1926, France), Marine at Étretat, 1882. Oil on canvas, 21 5/8"x 29 1/8" (55 x 74 cm). © Philadelphia Museum of Art. (PMA-1061)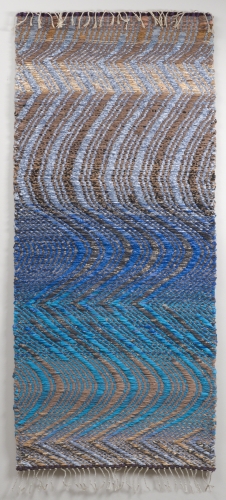 Ted Hallman (born 1933, US), The River, 2006. Cotton twill, 92" x 36" (233.7 x 91.4 cm). Philadelphia Museum of Art. © Ted Hallman. (PMA-4218)
Gerhard Richter (born 1932, Germany), Woods (12), 2005. Oil on canvas, 77 5/8" x 52" (197.2 x 132.1 cm). Museum of Modern Art, New York. © Gerhard Richter. (MOMA-P1345)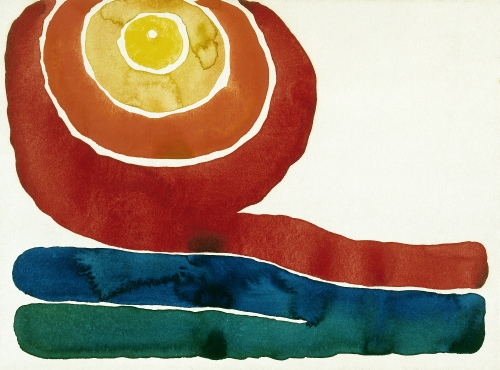 Georgia O'Keeffe (1887–1986, US), Evening Star III, 1917. Watercolor on paper, 9 x 11 7/8" (23 x 30 cm). Museum of Modern Art, New York. © Estate of Georgia O'Keeffe / Artists Rights Society (ARS), New York. (MOMA-P2503okars)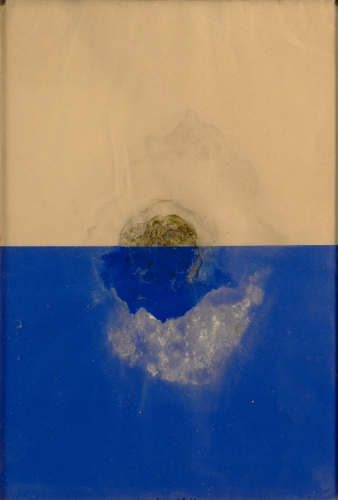 Dieter Roth (1930–1998, Switzerland), Big Sunset, 1968, published 1970. Sausage on card in plastic cover, 37 3/8" x 25 1/2" (95 x 65 cm). Museum of Modern Art, New York. © Estate of Dieter Roth. (MOMA-P0660)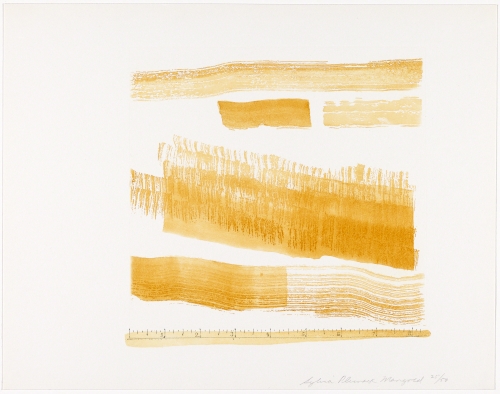 Sylvia Plimack Mangold (born 1938, US), Untitled, from the portfolio Aquatint, Sugarlift, and Golden Changes, 1977. Etching and aquatint; composition: 8 1/2" x 8 5/8" (21.6 x 21.8 cm), sheet: 10 7/8" x 13 7/8" (27.6 x 35.2 cm). Museum of Modern Art, New York. © Silvia Plimack Mangold. (MOMA-P3658)

Shi Zhong (1438–1517, China), Snowscape, 1504. Handscroll: ink on paper, 9 5/8" x 10' 5 5/8" (24.6 x 319 cm). © Museum of Find Arts, Boston. (MFAB-651D)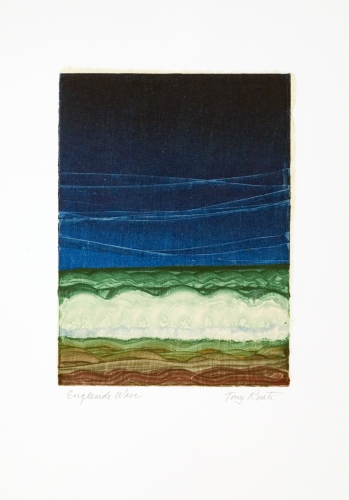 Tony Rosati (born 1947, US), Engleside Wave, 2003. Monotype, 8 1/8" x 6" (20.6 x 15.2 cm). Philadelphia Museum of Art. © Tony Rosati. (PMA-4043)
Check out more of Rohrer's work at the Locks Gallery.
Studio Activity: An abstract landscape. Using rough-textured paper and colored chalks or crayons, create a landscape of a familiar place devoid of any fussy detail. Reduce it either to basic geometric shapes or layers of texture. It can be either horizontally or vertically oriented, but be sure to avoid any physical details such as individual trees, bushes, or grass. The landscape can start with a grid, or a series of abstract shapes that merge together.
Correlations to Davis programs: Exploration in Art Grade 1: 4.21; Exploration in Art Grade 2: 1.4; Exploration in Art Grade 4: 1.5, 4.22; Exploration in Art Grade 5: 6.32; A Personal Journey: 5.4; A Community Connection: 4.2, 4.4 studio time; Exploring Visual Design: 4, 5, 6, 8