Curator's Corner
An Art Ode to Labor Day Week, part 5
I'm pretty certain that all of us have felt like this guy looks at one time or another after a long, hard day at work. What I'd like to show with this artist—through his image of a hard-working African American man—is a facet of Eldzier Cortor's art of which many people are not aware. Cortor is mostly represented in books about African American artists for his depictions of elongated, beautiful African American women, often in drab surroundings. However, a larger portion of his oeuvre of paintings and prints was a document of everyday life among African Americans. I'm pretty fond of his work because he developed as an artist in Chicago, my hometown.
---
Labor Day Week continues with the work of Eldzier Cortor.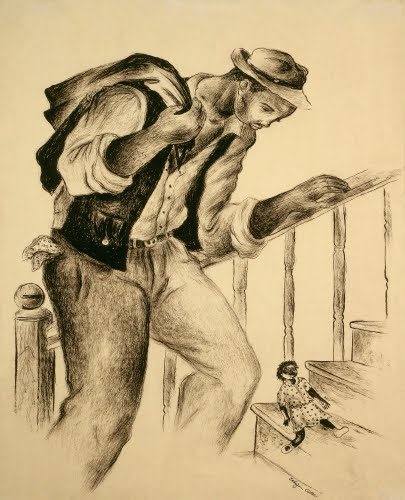 Eldzier Cortor (1916–2015, US), Coming Home from Work, 1938/1943. Black ink on paper with pink fibers, 20 7/16" x 17 11/16" (52 x 45 cm). Art Institute of Chicago. © 2017 Estate of Eldzier Cortor/Artists Rights Society (ARS), New York. (AIC-285corars)
Although the Harlem Renaissance of the 1920s and 1930s has gotten far more attention as the premier African American artistic and cultural movement of the 1900s, Chicago, too, had a dynamic aesthetic movement that included an influential renaissance in art, dance, and, especially, jazz music. By 1960 (considered the last year of the second wave of the Great Migration), the African American population in the city had increased from almost 300,000 to 813,000.
Already in the 1930s African American artists such as Margaret Burroughs (1917–2010) and Charles White (1918–1979) had helped form a vibrant community of exhibiting African American artists, quite of few of them educated at the School of the Art Institute of Chicago. Many of these artists established community groups of Chicago's great South Side: The Art Craft Guild (1932), which taught lessons from the SAIC, and the South Side Community Arts Center, which had the support of the Federal Arts Project during the Depression (1929–1940).
Eldzier Cortor, born in Virginia, was a painter and printmaker who studied painting and drawing at the School of the Art Institute. He joined the easel painting section of the Federal Arts Project in 1938, and spent five years painting social realist murals and scenes of Chicago's South Side neighborhoods. In 1946, he was awarded a scholarship to study art and culture on the islands off of South Carolina and Georgia. There, the strength and nobility of the women he met there inspired his famous series of African American women in interiors.
Cortor was the first African American artist to use the beauty of African American women as a primary theme. He first received recognition when his painting Southern Gate (1942–1943)—now at the Smithsonian American Art Museum—was featured in Life magazine in 1946. Another fellowship in 1949 enabled him to study art further in Cuba, Haiti, and Jamaica. His stay in Jamaica inspired a series of non-objective and abstract prints that reflected political violence in Haiti.
Correlations with Davis Programs: A Personal Journey: 2.3; Exploring Visual Design: 12; Discovering Art History 4E: 15.4