Curator's Corner
June is Busting Out All Over
I guess Memorial Day is the official "beginning" of outdoor grilling season in the US. I don't really know the "official" date because I've lived in apartments all my life. But, what better way to mark the presumptive occasion than by featuring an interesting artist and a special frock just for grilling? We used to eat at a picnic bench in the back yard of our duplex during the summer. My mother wore dresses serving from the apartment (of course), but I don't think I've ever seen any active grill-person wearing a frock and pumps to turn the chicken wings and veggie burgers!
---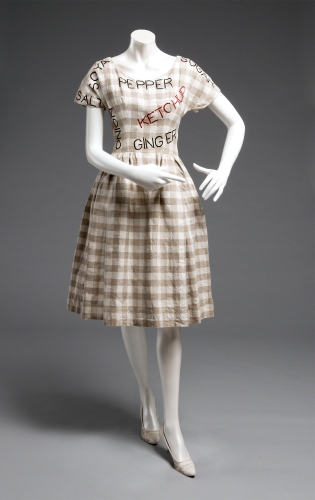 Tina Leser (1910–1986, US), Summer Dress, 1960. Linen plain weave, flocked synthetic applied text, height: 40 ½" (102.9 cm). Philadelphia Museum of Art. (PMA-6999)
One of the great things I've learned about Tina Leser is that she had an energetic, optimistic world view. As a result, she incorporated influences from around the world in her clothing designs. At the same time, she reveled in the simplicity of everyday American aesthetics, creating clothing that would have been considered "casual" during the 1940s and 1950s, but today look quite sophisticated.
She was born in Philadelphia, and—before she even went to art school at the Pennsylvania Academy of Fine Arts and the Sorbonne in Paris—visited Asia, Europe, and Africa as a child. She even lived in India for a time, which had an enduring impact on her designs.
She began designing clothes—sportswear, day wear, and evening gowns—in a shop in Honolulu (1935). While she referenced Filipino and Hawaiian fabrics, she also relied on US conventions, making, for example, attractive versions of the coveralls worn by women factory workers in flannel and plaid. She closed her Honolulu shop in 1942 after Pearl Harbor and moved to New York.
In New York, she designed sportswear for Foreman from 1943 until 1953. She also designed beachwear and sundresses for the firm Gabar Swimsuits in the late 1940s. She was the innovator of a bathing suit with a single strap. Other innovations, or perfections, by Leser included the slim toreador pants of the 1950s (shorter and usually embroidered, in comparison to "capri pants"). She also designed the first dress-length cashmere sweater—the inception of the sweater dress—in 1957.
Leser enjoyed confounding people's perceptions casual and formal fabrics. For example, she would use a gingham cotton tablecloth and make a cocktail dress out of it, such as this look. While the dirndl-type dress pattern is conventional, she made it "fun" with the use of applied words appropriate to the outdoor grill. The idea of "fun" with a dress designed to wear while at the backyard grill is just quirky enough to make Tina Leser a true American original.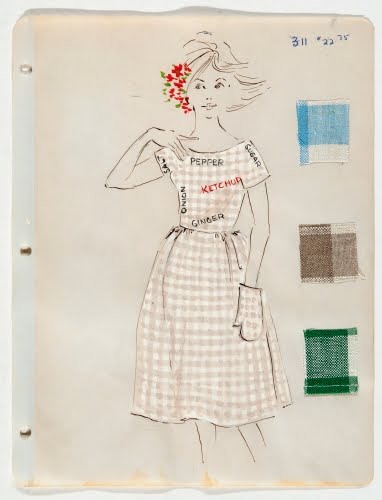 Tina Leser, Study from designer's sketchbook Summer 1960. Ink, watercolor, fabric swatches on paper, 11 ¾" x 11 1/8" (29.8x 28.3 cm). Philadelphia Museum of Art. (PMA-7044)
Correlations to Davis Programs: A Personal Journey: 3.1, 3.3; Experience Painting: 4; The Visual Experience: 12.4