Curator's Corner
Art on the Body: Jewelry
Jewelry is one of those art forms that had previously been lumped under the designation "craft," which you all know I hate, or decorative arts (not much better). The consideration of jewelry as fine art began during the Art Nouveau movement (flourished ca. 1885–1920) through the period of the Bauhaus in Germany (ca. 1919–1933). It blossomed during the mid-1900s when artists such as Pablo Picasso (1883–1971) and Alexander Calder (1898–1976) designed jewelry.
---
Art Nouveau emphasized the merging of art with design, and Bauhaus continued that idea. The period of Picasso and Calder was a time when "fine" artists branched out in all directions. Jewelry artists finally achieved status as "fine art" in the 1950s and 1960s, the same period when ceramics and textiles also became recognized as something more than "craft."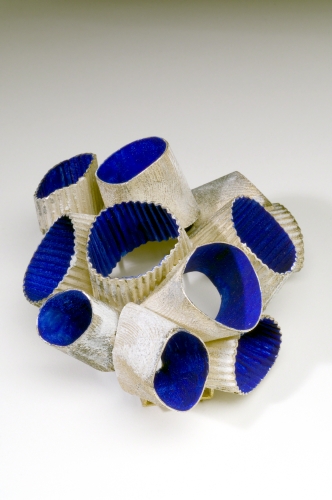 Annamaria Zanella (born 1966, Italy), Brooch, 2006. Enameled silver, 1 1/2" x 1 1/2" x 1" (3.81 x 3.81 x 2.54 cm). Mint Museum of Art, Charlotte, NC. © 2013 Annamaria Zanella. (MIN-63)
In the mid-1900s, in Padua, Italy, a school of goldsmiths and jewelers developed that eventually attained international renown for its avant-garde designs. While the "school" was rooted in Renaissance ideals of geometry and formal and technical emphasis, its training accommodated those artists who wanted to expand on the foundation of its teachings. Annamaria Zanella, trained in Padua as a sculptor, also studied in Pforzheim in Germany, where she learned enameling.
Although Zanella has used the geometric emphasis of Paduan design, she creates Deconstructivist works that defy the logic and symmetry of classical design. Deconstructivism is a term used for works of art and architecture that defy the classical norms of balance, symmetry, and geometry that was so pounded into everyone's head during the Renaissance. Interestingly, Zanella's work reflects a similar aesthetic to that of Frank Gehry (born 1929, a Deconstructivist architect) in his architecture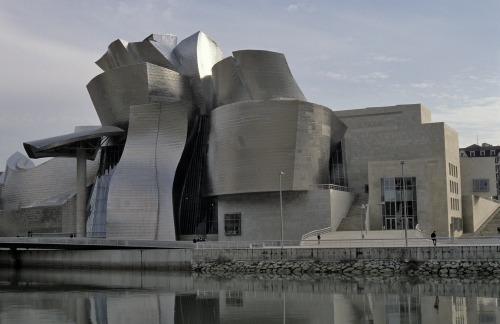 Frank Gehry, Guggenheim Museum, 1991–1997. Bilbao, Spain. © 2012 Frank Gehry. (8S-29748)
When you think about the classical ideals of balance in nature being rooted in basic geometric shapes, and how that has carried through many periods in Western art, Zanella's pieces art not that radical. They are beautifully rational and pleasing. The artist also uses many types of discarded materials, including garbage, tin, paper, etc.
Studio activity: Design and make a pendant. Using cardboard, aluminum foil, glitter, glue, and markers, make an abstract pendant to wear. Think of a design for the pendant, either geometric or organic, and draw the design on the cardboard, cutting out the shape with scissors. Cut out shapes in different colors of construction paper and aluminum foil to decorate it. Finish decorating by coloring areas with markers.
Correlations to Davis programs:; Explorations in Art Grade 2: 2.11, Explorations in Art Grade 3: 4.1