Curator's Corner
Japanese Porcelain Tradition
Stop me if you've heard this before, but I'm absolutely bonkers about ceramic art, and particularly Japanese and Chinese. This piece especially garnered my attention because it combines respect for traditional methods of decoration with a modernist form. AND, I love the deep cobalt blue underglaze in between each seeming separate lozenge shape.
---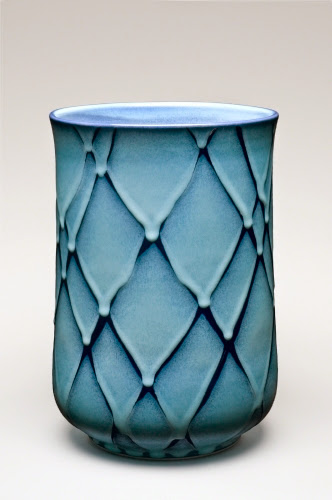 Shōmura Ken (born 1949, Japan), Vase, ca. 2001. Porcelain with blue underglaze, height: 14 1/2" (36.8 cm). Philadelphia Museum of Art. (PMA-5168)
This vase represents the traditional idea of the aizome type of porcelain glaze (derived from the idea of indigo blue dyeing of fabrics). In the past, it was one of the two main types of porcelain gazing along with benizome (red dyeing), which characterized Arita ware in Japan. Ken is from the fifth generation working at the Banko kiln in Arita. Early Arita ware was dominated by the underglaze blue on white ground, which is the best known Chinese / Japanese color scheme in porcelain.
The blue and white format came to popularity during the Ming Dynasty in China (1368–1644). Porcelain developed to fruition during the Yuan dynasty (1280–1368), during which Ching'pai milky white porcelain of the late Song period was modified with cobalt blue underglaze called Shu Fu ware, which became the blue-and-white imperial ware of the Ming dynasty. Ceramic artists who migrated to Japan in the early 1600s transmitted this Chinese style to Japan. It was during this century that the Japanese developed their own porcelain. For the first half of the 1600s, Arita's kilns (founded in 1616) produced predominantly the blue and white wares.
Ken first worked with white and blue wares. He soon developed techniques in the aizome and benizome. He attributes this to his work with stoneware and the exploration of its glazes, which was a brief period in his career. This vase is a masterful contemporary interpretation of the indigo blue underglaze of centuries old porcelains from both China and Japan. Sometimes visible in early blue and white wares is a running and thinning of the blue underglaze. Ken has exploited this aspect in his use of various values of the underglaze indigo blue. The darkest value of indigo blue is seen between each of the leaf-like shapes.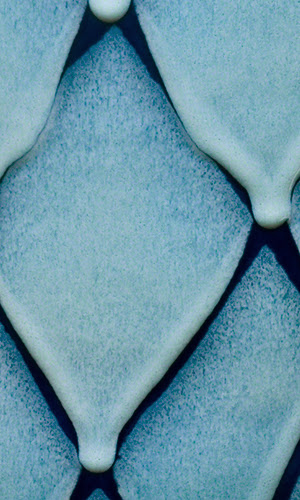 Shōmura Ken (born 1949, Japan), Vase, detail, ca. 2001.
Each section of glaze is overlapped like scales or roof shingles.
Studio activity: Design a ceramic vessel with blue on white decoration. Using warm grey numbers 1 to 4 color pencils, design a ceramic vase or other type of vessel. Make the shape bold, indicating either texture or bold geometric shapes. Use the varying degrees of warm grey pencils to indicate shading of the texture or forms. Use indigo, cobalt, or dark blue color pencils to create the design.
Correlation to Davis programs: Explorations in Art Grace 2: Studio Exploration 17–18; Explorations in Art Grade 3: 6.35; A Community Connection: 2.6, 5.2; A Personal Journey 3.5; Experience Clay: Chapter 4; The Visual Experience 10.6