Curator's Corner
Late Summer Strolls
As autumn is right around the corner, my mind drifts back to one of my favorite pastimes in my hometown, Chicago. I would walk for hours in the various neighborhoods near where I lived looking at the gorgeous late-1800s architecture.
---
During the 1980s, there was a boom in restoring historic properties. I lived about seven blocks north of this house, which I often walked by and loved. If it is true that eight blocks in Chicago equals a mile, then I must have walked thousands of miles in my life there, and saw so many wonderful, restored old houses. This posting will feature the "Italianate" revival style.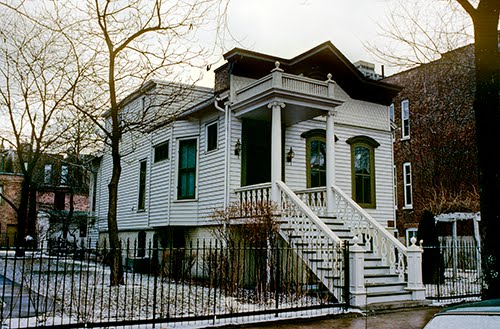 William Boyington (1818–1898, US), Bellinger House, 2121 North Hudson Avenue, Chicago, late 1860s. Image © 2018 Davis Art Images. (8S-13810)
I'm pretty sure I walked by the Bellinger House dozens of times in my Chicago period. I asked an art historian friend once about the entrance on the "second floor," and he told me that it was routinely done in Chicago neighborhoods before the storm drains were perfected. This way, only the kitchen and storage would be flooded when the sewers would inevitably back up. Hence, also the reason for the raised sidewalks of wooden planks at the time.
This house was named for the guy who commissioned it, a Chicago police officer named Richard Bellinger. There is a story about how he saved his house from the Great Fire in October of 1871. Since the fire burned all the way from De Koven Street to Fullerton Avenue (just north of Bellinger House), a lot of buildings around the house were destroyed. Bellinger supposedly saved his house by first dousing it with water from his well. When that ran out, he supposedly used cider from his cellar. He also tore up the wooden sidewalk and patted out sparks.
The Italianate style was popular in the US between the 1840s and 1880s. Before the fire, Chicago homes in the style were block-like residences like the Bellinger House. The style was meant to emulate an Italian "country villa," though I'm hard-pressed to see that in this building. Stylistic features in Chicago included decorative hoods on the windows, an accentuated verticality, decorative balustrades, and restrained classical elements like the Ionic capitals on the porch.
The architect of this house, William Boyington (1818–1898), was conversant in numerous revival styles for his designs. Born in Southwick, Massachusetts, he trained initially, as many American architects did during the 1800s, as a carpenter. He then apprenticed in a New York architecture firm before moving to the quickly growing metropolis of Chicago in 1853. Because of the lack of architects in the city, he was able to get commissions all over the upper Midwest. Aside from Italianate, he designed many private homes in the Gothic Revival, Romanesque Revival, and Beaux-Arts Classicism (Second Empire Baroque).
Boyington's most enduring monument in Chicago is the Water Tower (Romanesque Revival), which survived the Fire and still bears some burn marks.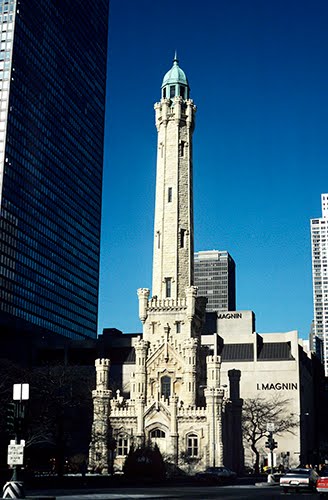 William Boyington, Water Tower, Chicago, 1869, from south. © 2018 Davis Art Images. (8S-13806)
Here are some variations on the Italianate style. There are a lot of examples in Charleston, South Carolina, because, fortunately, the city was not messed up to the extent of cities like Atlanta during the Civil War (1860–1865).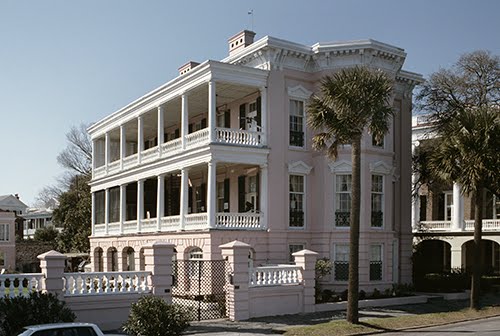 Unknown architect, John Ravenel House, 5 East Battery Street, Charleston, SC, 1847–1849. Image © 2018 James Coberle, Davis Art Images. (8S-28662)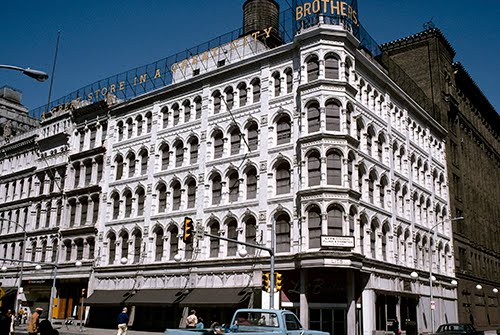 Charles Autenrieth (1828–1906, US) and Edward Collins (1821–1902, US), Lit Brothers Department Store (now Mellon Independence Center), Philadelphia, 1891. Image © 2018 Davis Art Images. (8S-14712)
This Autenrieth and Collins design is still preserved in downtown Philadelphia, although the Lit Brothers stores went under in 1977. In 1979, the building was placed on the National Register of Historic Buildings. This gorgeous building is a combination of cast iron with a facing of glazed brick and terracotta window surrounds.