Curator's Corner
Impressionist Armand Guillaumin
I very often come across an artist that I don't know that much about and think "Wow! I really like this painter's stuff!" Such was the case years ago when I first saw the gorgeous landscapes of Jean-Baptiste Armand Guillaumin.
---
I became reacquainted with his work recently when I read somewhere that he was a "fringe Impressionist." Perhaps his name is not mentioned in the same breath as Monet, Renoir, Degas, and Sisley, but his work is absolutely stunning, and I think it should be featured as part of every serious study of the Impressionism movement.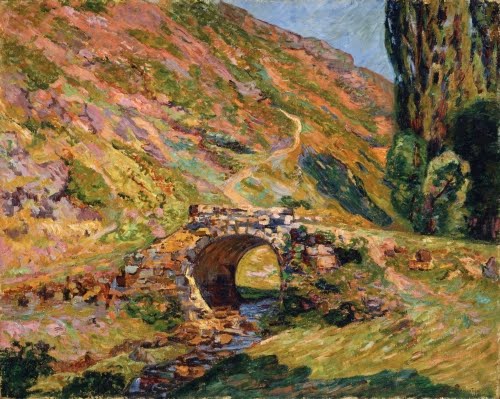 Jean-Baptiste Armand Guillaumin (1841–1927, France), Bridge in the Mountains, 1898. Oil on canvas, 25 3/4" x 32 1/4" (65.4 x 81.9 cm). © Museum of Fine Arts, Boston. (MFAB-1210)
Armand Guillaumin was born in Paris. Going to school in Moulins, surrounded by mountainous landscape, inspired his interest in being an artist. After studying a while under a sculptor in Paris, he studied painting at the Swiss Academy where he met Paul Cézanne (1839–1906), who would be a lifelong friend, and Camille Pissarro (1830–1903). Influenced by the Realist artists' (such as Courbet) interests in painting directly from nature, he joined Cézanne, Pissarro, Renoir, and Monet in the first Salon des Refusés.
It's interesting that at that time the Impressionists were considered part of the Realist school, but it does make sense, since many of the Impressionists were influenced to paint outdoors by artists such as Charles Daubigny (1817–1878) of the Barbizon school. Guillaumin's Impressionist works of the 1870s and 1880s look initially like the direction Édouard Manet (1832–1883) took the Impressionist movement, with thick, fluid brushstrokes in a muted palette, and then in the direction of Frederic Bazille (1841–1870) with sun-dappled landscapes in a brighter palette.
I like the style he developed in the 1890s, after he had befriended both van Gogh (1853–1890) and Gauguin (1848–1903), and the budding Symbolist and Neo-Impressionist movements in the 1880s. It was in the mid-1880s that Guillaumin met Paul Signac (1863–1935), the most enthusiastic painter who embraced Seurat's ideas about color and developed the pointillist style to perfection. The high key colors in this painting surely show the influence of van Gogh's joyous colors, but the composition is solidly constructed, reminding me of Monet's "Valley of the Creuse" series (and a gorgeous one it is).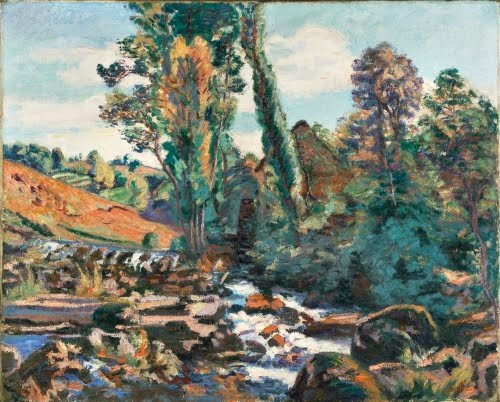 Jean-Baptiste Armand Guillaumin,The Bouchardon Mill, Crozant, ca. 1894. Oil on canvas, 25 7/8" x 31 7/8" (65.7 x 81 cm). © Philadelphia Museum of Art. (PMA-4635)
I can't help but feel, even though Guillaumin never achieved the notoriety of some of the Impressionists, that he was an important link between them, and the modernism that would bud in French painting in the first ten years of the 1900s. We already know that Henri Matisse (1869–1954) was greatly influenced by Signac's essay "From Eugene Delacroix to Neo-Impressionism" (1898), in which he expounded on his and Seurat's color theories. Matisse briefly flirted with Pointillism!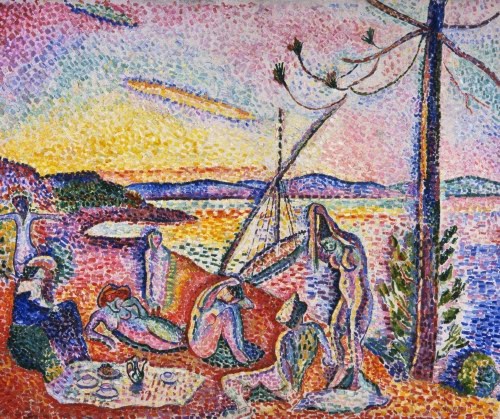 Henri Matisse (1869–1954), Luxe, Calme et Volupté, 1904. Oil on canvas, 38 3/4" x 46 5/8" (98.5 x 118.5 cm). Musée d'Orsay, Paris. Photo © 2016 Dr. Ron Wiedenhoeft / Saskia, Ltd. (PFF-0620mears)
I like to think we can see a little bit of Guillaumin influence in this virtually contemporaneous work by Matisse!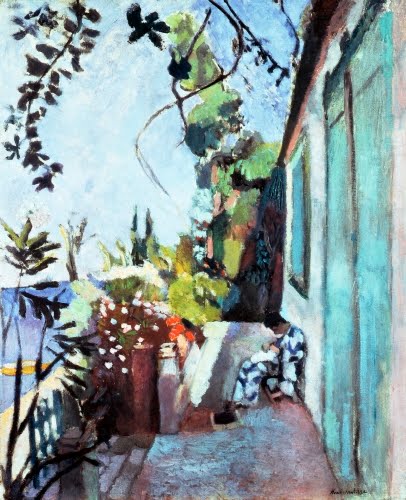 Henri Matisse, The Terrace at Saint-Tropez, 1904. Oil on canvas, 28 3/8" x 22 13/16" (72 x 58 cm). Isabella Stewart Gardner Museum, Boston. © 2016 Succession H. Matisse / Artists Rights Society (ARS), New York. (GM-32mears)
It's unfortunate that art history relegates some artists to the sidelines and makes "star artists" out of others. Guillaumin, in his quiet way, I think, anticipated the Fauves big time! His work was given major retrospectives in the 1920s when it was shown a little more appreciation by critics.
And how could any artist be sidelined in art history when he produced such a gorgeous self-portrait? This is the look I give after five cups of coffee. The palette and brush work are so Manet-esque!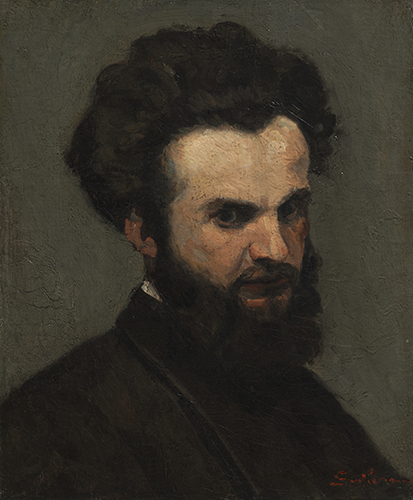 Jean-Baptiste Armand Guillaumin, Self-Portrait, ca. 1872–1874. Oil on canvas, 17 7/8" x 17" (45.4 x 43.3 cm). © Cleveland Museum of Art. (CL-541)
Correlations to Davis Programs: Explorations in Art Grade 1: 4.Connections; Explorations in Art Grade 2: 1.3, 1.4, 4.19; Explorations in Art Grade 4: 1.3, 1.4, 1.5, 4.22, 4.21; Explorations in Art Grade 5: 4.19; Explorations in Art Grade 6: 1.5, 2.7, 2.9, 2.Studio 7-8; A Personal Journey: 5.4; A Community Connection: 6.2; A Global Pursuit: 7.2, 7.4; Experience Painting: 6; Exploring Painting: 11; Exploring Visual Design: 4; The Visual Experience: 9.3, 16.4; Discovering Art History: 13.1