Curator's Corner
Illuminated Manuscript Obsession
I've posted about manuscripts previously, because I LOVE THEM! That love has since extended to myriad cultures around the globe that produce such artworks. Therefore, in this post I won't blah blah too much about the evolution of the genre. What I find fascinating, after coming across this example, is the wide variety of approaches in different cultures!
---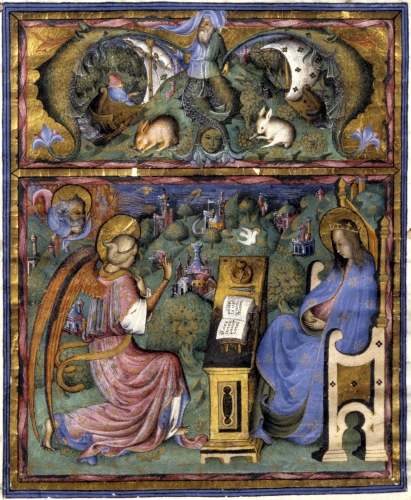 Belbello da Pavia (Luchino di Giovanni Belbello, active by 1430, died after 1473, Italy), Annunciation in an initial M(issus est), excised section of an antiphonary, 1440–1450. Ink, tempera, and gold leaf on parchment, 7 3/4" x 6 1/2" (19.7 x 16.5 cm) (excised piece of page). © Cleveland Museum of Art. (CL-578)
Belbello da Pavia was a very busy manuscript illuminator in the mid-1400s in northern Italy. What I find fascinating is that, at a time when Lorenzo Ghiberti (1378–1455) and Fra Angelico (1387–1455) were actively employing the recently "discovered" one-point linear perspective, Belbello worked in his own charming, yet naïve interpretation of this element of design.
Lorenzo Ghiberti, Baptistry, Gates of Paradise, Solomon panel, detail: Solomon and Queen of Sheba, ca. 1425-1452. Gilt bronze, 31 1/2" x 31 1/2" (80 x 80 cm). Photo © Davis Art Images. (8S-5861)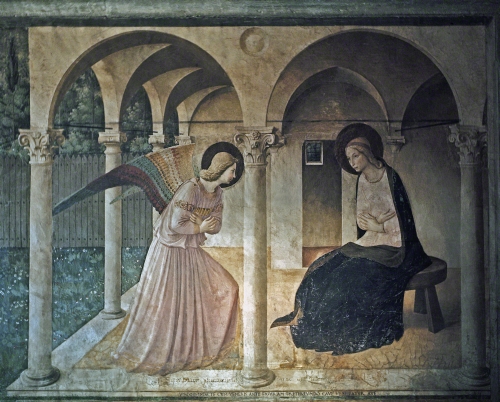 Fra Angelico, Annunciation, ca. 1440-1445. Fresco, 85" x 128" (215.9 x 325.2 cm). Photo © Davis Art Images. (8S-29464)
One can see a partial understanding of the idea of recession to a vanishing point in Belbello's work, but the piled up landscape is far more like the medieval idea of vertical perspective, in which layers of "depth" simply fall on top of each other in a composition.
Belbello was not satisfied having a studio in only one city. At one time he had workshops in Mantua, Milan, and Ferrara. He settled permanently in Pavia in about 1461. He was famous for his use of strongly modeled figures, another attribute of Renaissance painting, and the use of strong colors such as blues, pinks, and yellows (the primaries!). Late in his career he collaborated on manuscripts with such famous Renaissance masters as Andrea Mantegna(1431–1506) and Girolamo da Cremona (active 1450–1485).
This image from the Cleveland Museum of Art shows how whoever inherited this manuscript page cut it out from the whole, abandoning not only the text which accompanied this initial, but also the beautiful floral borders for which Belbello was also renowned.
Here are some other manuscript illuminations from the same period that show a somewhat naïve concept of space, but are nonetheless beautiful for their jewel-like color and detail: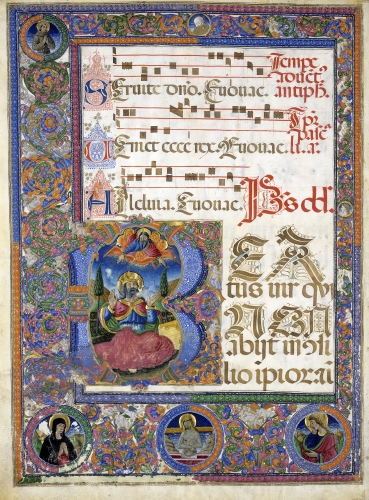 Attributed to Giacomo Caporali (active by 1450, died 1478, Italy), Bifolium from a dispersed Antiphonary: The Prayer of King David in an initial B(beatus), ca. 1450. Ink, tempera, and gold leaf on vellum, page: 23" x 17" (58.6 x 43 cm). © Worcester Art Museum, Worcester, MA. (WAM-423)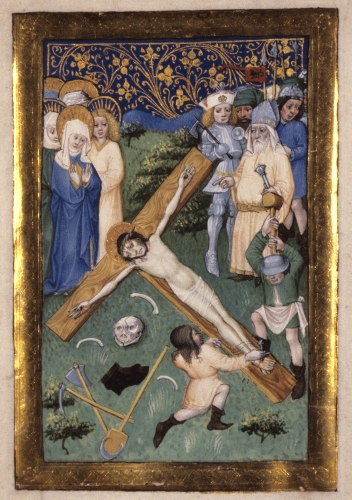 Master of the Maximilian School of Books (15th century, Vienna, Austria), from a Book of House, full-page minitare, Christ Nailed to the Cross, ca. 1465. Ink, tempera, and gold leaf on vellum, 4 3/4" x 3 1/4" (12 x 8.3 cm). © Cleveland Museum of Art. (CL-286)
Islamic manuscripts were influenced by European examples from earlier periods. They show the same type of vertical recession. This beautiful Iranian work is a really good example of vertical perspective: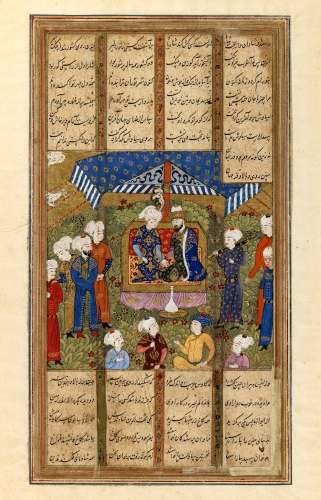 Unknown. Timurid Dynasty or Safavid Dynasty (1350-1736, Iran), folio from a dispersed Shahnama (Book of Kings), A King and Visitor with Attendants, from Shiraz, late 1400s or early 1500s. Opaque watercolor, ink on paper, 9 1/2" x 5 1/8" (24.13 x 13.14 cm). © Brooklyn Museum, Brooklyn, NY. (BMA-2246)
Studio activity: Make an illustration of a favorite event in a favorite book. Using markers, colored pencils, or crayons, purposely depict the scene in the idea of vertical perspective, by piling on one layer of depth on top of another. Begin with a pencil drawing to get the ideas down, and practice with sketches beforehand.
Correlations to Davis Programs: Explorations in Art Grade 1: 1.6, 2.9; Explorations in Art Grade 2: 1.3, 5.25, 5.26; Explorations in Art Grade 3: 1.3, 3.14; Explorations in Art Grade 4: 1.2; Explorations in Art Grade 5: 1.5, 5.26; A Personal Journey: 1.1, 4.2; A Global Pursuit: 2.2, 4.1, 4.2; The Visual Experience: 9.3, 15.8; Discovering Art History: 7.4