Curator's Corner
HIV/AIDS Awareness Month: Keith Haring
During the 1980s AIDS epidemic, LGBTQ+ subject matter in art became more mainstream. The acceptance of such subject matter faced backlash, but the movement has endured into the 2000s. Indeed, LGBTQ+ artists play a more significant role in the "art world" than they ever have in history. Keith Haring, among a number of other artists, was instrumental in bringing that about.
---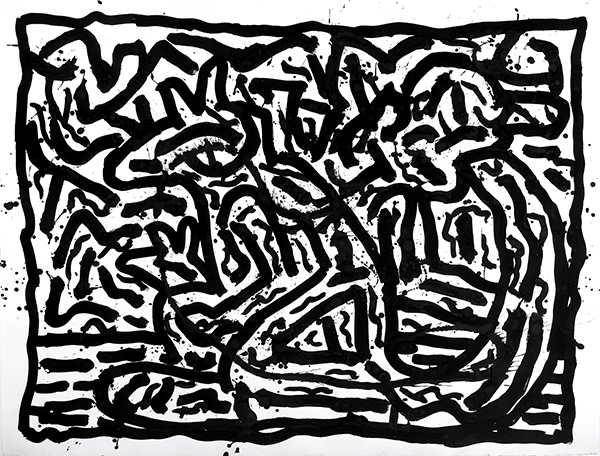 Keith Haring (1958–1990, U.S.), Untitled, 1982. Ink on paper, 38" x 50" (96.5 x 127 cm). Courtesy of the Albright-Knox Art Gallery, Buffalo, NY. © 2021 The Keith Haring Foundation, New York. (AK-365)
Haring began his career in the early 1980s with graffiti drawings made in subways and on sidewalks of New York City. Cartoonish creatures were combined with highly stylized abstract patterning to create a dense, rhythmic carpet of imagery. In many of those works, figures and other objects were caught up in a swirling screen of contour lines of various lengths.
Untitled would, at first glance, seem to be a total abstraction. Closer inspection reveals several figures—one sitting, one walking, and one with a dog's head—that seem to have come apart and become one with a mishmash of thick contour lines. Haring has maintained a sense of depth by including horizontal parallel lines toward the bottom of the composition that seem to establish a shallow space. In spirit, this gestural work recalls the work of the Abstract Expressionists in the 1950s.
Born and raised in Pennsylvania, Haring moved to New York to study at the School of Visual Arts. He soon became part of the 1980s art scene with Andy Warhol (1928–1987) and Jean-Michel Basquiat (1960–1988). Haring wanted to break down the barriers between public (street) art, which was free and accessible to all, and the privileged world of art galleries and wealthy collectors. As his signature style developed, he created paintings and drawings in subway tunnels and on advertising marquees. Haring's strong graphic figures are insightful, often funny, and deliver social messages.
Haring began to paint large public murals and design graphics for clothing, in addition to working with children in schools and creating paintings on canvas. In 1988, he was diagnosed with AIDS, and he passed in 1990. He established the Haring Foundation in 1989 to help raise money for AIDS research and spread awareness of the epidemic. Many of his images advocate for people with AIDS.