Curator's Corner
HIV/AIDS Awareness Month: Donald Moffett
Let's commemorate the beginning of HIV/AIDS Awareness Month with the work of AIDS activist artist Donald Moffett. His artwork He Kills Me sums up how the first years of the epidemic went and why. This work was created in 1987, a year that Moffett marked as significant.
---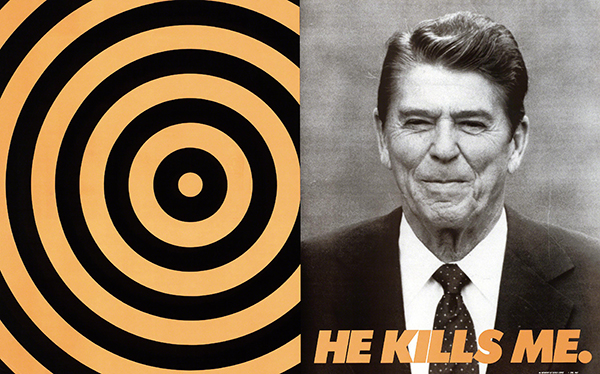 Donald Moffett (born 1955, U.S.), He Kills Me, 1987. Color offset lithograph on paper, 23 ½" x 37 ½" (59.5 x 95 cm). Courtesy of the Museum of Modern Art, New York. © 2021 Donald Moffett. (MOMA-P3073)
President Ronald Reagan did not mention AIDS until May 31, 1987, after there had already been 40,839 deaths from the epidemic. Moffett and other activists laid the blame squarely on this president's administration and prejudice against gay people. Moffett believed that specific, graphic public art was a way to activate public opinion for government action against the epidemic. The message of this poster—which Moffett posted in locations on the streets of New York—holds Reagan accountable for a slow response to the epidemic.
AIDS first emerged in urban, gay male communities in 1981. Those communities were centers of gay activism and of the arts. The first wave of AIDS activism combined dramatic graphics and political action to demand a response from the government and medical institutions. Artists also grappled with the AIDS deaths that ravaged their communities. Their work helped to shape the public's perception of AIDS.
Moffett was born in San Antonio, Texas, and now lives and works in New York. He studied art and biology at Trinity University (BA, 1977). Typically, Moffett's artwork explores the multi-faceted ways to blur the lines between painting and sculpture. Influenced by Francisco de Goya (1746–1828) and Édouard Manet (1832–1883), his work is a blending of the subtle with the outrageous. Moffett's work is often politically and socially critical while also dealing with overarching issues of love, loss, alienation, and death. He was one of the founding members of Gran Fury, the artistic arm of the AIDS activist group ACT UP.
Correlations to Davis Programs: A Community Connection 2E: 1.1, 8.1; A Personal Journey 2E: 6.1, 6.6; A Global Pursuit 2E: 3.1