Curator's Corner
Hispanic Heritage Month: Mixtec Culture
The final post in my Hispanic Heritage Month series features the Mixtec culture. Throughout Mesoamerica, the great cultures of the Classic period (ca. 250–900 CE), the Mayan, Teotihuacán, and the Zapotecs, all disintegrated. The Zapotecs, centered in the city of Monte Albán in Oaxaca, were supplanted by the Mixtecs in the 800s CE. The Mixtec created a strong, wealthy culture and were skilled in sculpture, ceramics, and goldsmithing. They also continued the Mayan practice of painting books. At some point in the 1400s, the Mixtec were conquered by the Aztecs.
---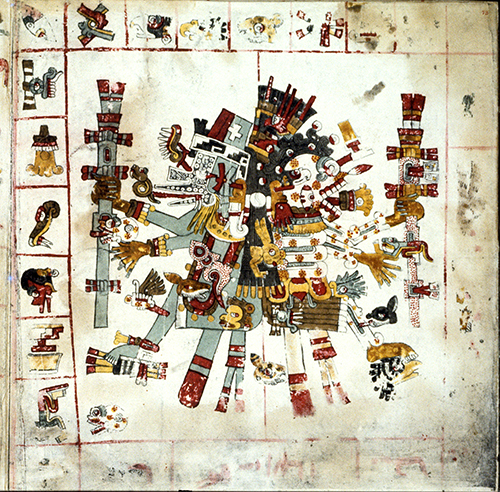 Mixtec Culture, Quetzalcoatl (left, the life god) and Mistlantecuhtli (right, the death god), surrounded by symbols of 26 days and 20 day signs, page 69 from the Borgia Codex, ca. 1400 CE. Pigments on deerskin, 10 5/8" x 10 5/8" (27 x 27 cm). Vatican Libraries, Rome. Image © 2019 Davis Art Images. (8S-9426)
And, no, Western European monks and nuns were not the inventors of illustrated manuscripts of faith. The Mayan of the Classic period (see last Friday's post) were preeminent in the art of writing and painting books. Later cultures such as the Mixtec and Aztec continued the Mayan technique of book making, if not the style of illustration.
Mixtec and Aztec books served two purposes, ritual and genealogical/historical. The Borgia Codex is a ritual text pertaining to cosmology (theories on the nature of the universe) and the religious beliefs and practices based on the 260-day calendar. It is one of only seven surviving codices. The name "codex" itself was a Spanish misnomer of the works, because they compared them to the illuminated manuscript (which was an actual book, or codex with individual pages) from Western Europe.
The Borgia Codex was a portrayal of the various divisions of the sacred 260-day calendar into trecenas, 20 months of thirteen days. Each division was presided over by different gods. On this page, the two gods are surrounded by symbols for the beginning and ending days of the months over which the two gods divided oversight. It represents the gods of life (Quetzalcoatl) and death (Mictlantecuhtli), symbolic of the creation of humanity. At the beginning of the Fifth Era (each preceding era ended in total death and destruction), in order to repopulate the world, Quetzalcoatl went to the lord of the dead to "borrow" the bones of the dead from previous eras to repopulate Earth.
This codex is painted on a piece of deerskin that was stretched and dried, then coated with a thin layer of lime plaster to create a white ground. The deerskin was then accordion-folded to open like a book. They were protected by carved wooden covers. Some scholars believe that such codices as this were meant to be unfolded and displayed on a wall like a mural.