Curator's Corner
Hispanic Heritage Month: Marisol
Central and South American artists who moved to America during the 1900s made important contributions to the evolution of modern art in America, from Minimalism and Op Art to Pop Art and total abstraction. Marisol Escobar was certainly no exception. Peripherally associated with Pop Art because of her use of American cultural imagery, her works soooo transcend the cool irony of Campbell's soup cans or American road signs.
---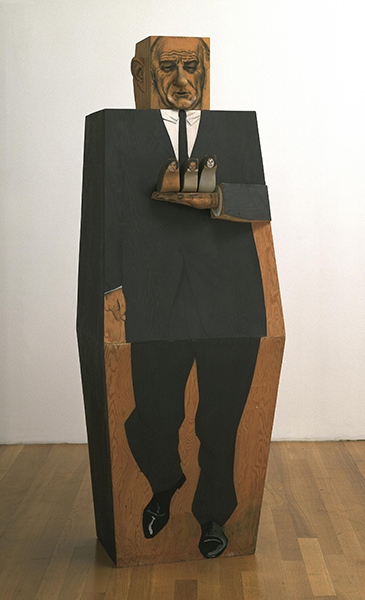 Marisol (Marisol Escobar) (1930–2016, U.S., born Venezuela), LBJ, 1967. Paint and pencil on wood construction, 6'8" x 28" x 24 ¼" (203 x 71 x 62 cm). Courtesy of the Museum of Modern Art, New York. © 2021 Marisol/Licensed by VAGA at Artists Rights Society (ARS), New York. (MOMA-S1042esvg)
Although Lyndon Baines Johnson's (1908–1973) presidency (1963–1969) achieved major civil rights legislative victories, he is unfortunately remembered mostly because of his insane escalation of the Vietnam War (1955–1975). Marisol sculpted LBJ during the nadir of Johnson's unpopular presidency. She presented him literally as a block-headed, coffin-bodied dope. In contrast, she represented his wife, Claudia Alta Johnson (1912–2007), and daughters, Lynda Bird Johnson Robb (born 1944) and Luci Baines Johnson Turpin (born 1947), smiling. The women's small forms are based on gray house wrens, a reference to the first lady's nickname, Lady Bird. The massive scale of the sculpture not only recalls American wooden folk sculpture, but also the massive carved stelae of rulers of ancient Mexican cultures.
Marisol was raised in Caracas, Venezuela, until she was eleven, when she was sent to a boarding school in New York. After studying art in Los Angeles and Paris, she moved to New York permanently in the early 1950s. At the time, Abstract Expressionism was the dominant style. Marisol studied for a time under Abstract Expressionist mentor Hans Hofmann (1880–1966). While painting, she taught herself how to sculpt. She exhibited small terracotta pieces modeled on ancient American and Mexican folk art in a gallery in New York.
In 1955, after exposure to the rough wooden folk sculpture of Maine, Marisol dropped painting as her primary medium to concentrate on sculpture. Her work in the late 1950s and early 1960s was composed primarily of rough-hewn wooden core. Starting in the early 1960s, like pop artist Jasper Johns (born 1930), she began incorporating everyday objects with her subjects. Her work was perceived as Pop Art, because, like that movement, many of her pieces seemed to be parodies of American middle-class culture. However, her works involved sophisticated carving and painting, and critics soon recognized that her pieces were less satirical and superficial than other Pop artists.
Marisol had her first one-person show at the Leo Castelli Gallery in New York in 1958. The Castelli Gallery was the major representative of many of the Pop artists as well. That show was followed by at least ten solo exhibits between the years 1962 and 1978. She also showed regularly at the Estudio Actual in Caracas. In 1963, her work was included in the exhibit Americans 1963 at the Museum of Modern Art in New York.
Correlations to Davis Programs: A Global Pursuit 2E: 5.5; Beginning Sculpture: Chapter 6; Experience Painting: Chapter 9; The Visual Experience 4E: 10.12