Curator's Corner
Hispanic Heritage Month 2022: Oscar de la Renta
Oscar de la Renta was an internationally renowned fashion designer who established a personal aesthetic that combined European couture elegance with practical ready-to-wear forms. He is best known for his women's evening wear and suit designs, clothing that graced numerous first ladies of the U.S. starting with Jackie Kennedy.
---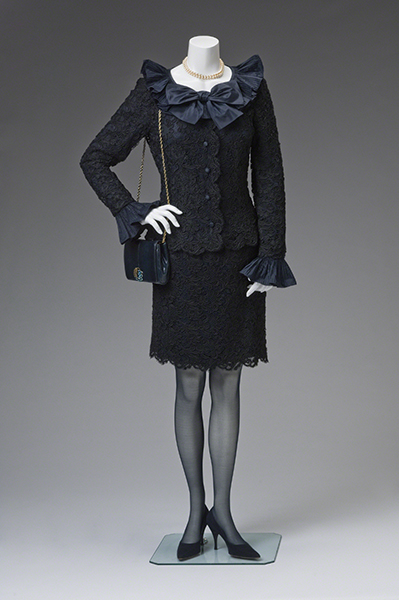 Oscar de la Renta (1932–2014, U.S., born Dominican Republic), Cocktail Suit, 1980s. Lace, silk georgette. Courtesy of the Mint Museum, Charlotte, NC. © 2022 Artist or Estate of Artist. (MIN-115)
After the hippie fashions of the late 1960s and the awful polyester-fueled styles of the 1970s, the 1980s ushered in a reboot in women's fashion characterized by a more traditional feminine aesthetic. Silhouettes were softer with a variety of romantic influences from distinctly different sources such as 1940s America, Empire period France (ca. 1804–1814), and a variety of ethnic influences.
De la Renta pioneered these romantic fashions in the 1960s—combining bohemian influences, modern styles, and sophistication—and it defined his work throughout his career. Although the dresses and suits he designed varied greatly from the 1960s into the 2000s, much of de la Renta's work is characterized by his use of color, prints, and softer lines through elements such as ruffles.
Clothing has been in a constant state of change ever since body coverings were first devised by prehistoric people as a form of protection from the elements. These changes are affected by the structures of societies, technological innovations, aesthetics, and cultural uses. When prehistoric garments evolved into costumes with decoration, so began the world of fashion.
Throughout history, fashion has been a way to identify status, as well as show an individual's sophistication or taste given the means and access. Social concepts are reflected in both subtle and blatant ways in the ever-changing aesthetics of fashion. In essence, fashion is a way in which individuals can make aesthetic judgments or statements.
De la Renta was born in Santo Domingo, Dominican Republic. An avid draughtsman and illustrator from a young age, at 18 he went to Spain to study painting at the Academy of San Fernando in Madrid. While in Spain, he aspired to become an abstract painter in the manner of Picasso. He was, however, drawn into the world of fashion design. His talent for illustration got him noticed, and he received an apprenticeship in the fashion house of Cristobal Balenciaga (1895–1972, firm 1919–1968/1986–present, Madrid, Barcelona, and Paris).
In 1961, while on vacation in Paris, de la Renta secured a design position with the Lanvin-Castillo House (active Paris 1950–1962). By 1963, he moved to New York and designed clothing for Elizabeth Arden (firm 1915–present). In 1965, de la Renta started his own ready-to-wear label. This transition from Paris to New York may contribute to the persistence of de la Renta's fashions through the decades, exuding an unaffected elegance based in European couture combined with the ease of the American lifestyle.
The evening gown below from the 2000s shows that de la Renta's sophisticated, elegant aesthetic endured throughout his career. The resort-wear gown is classically elegant, featuring a crinoline skirt that reflects his nostalgia for the "glamour" of the 1950s silhouette.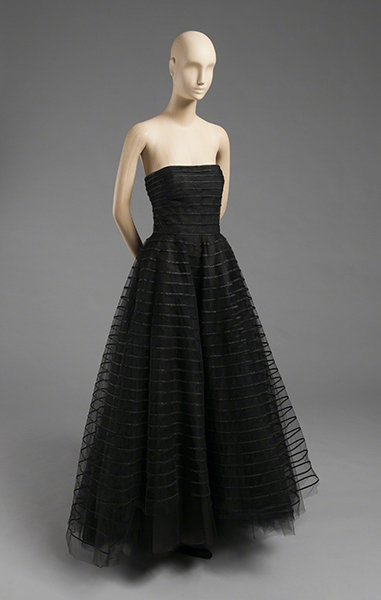 Oscar de la Renta, Evening Gown, 2007. Black nylon tulle, black braid, center back height: 53" (134.6 cm). Courtesy of the Philadelphia Museum of Art. © 2022 Artist or Estate of Artist. (PMA-8222)
Correlations to Davis programs: Experience Art: 1.5; Fashion Fundamentals: chapter 2; A Personal Journey 2E: 3.1, 3.3; Experience Painting: p. 108; The Visual Experience 3E: 12.4