Curator's Corner
Hispanic Heritage Month 2022: Martha Boto
This Hispanic Heritage month, I'll be featuring artists who are pioneers in all sorts of art and who have had a major impact on Western art. For this post, let's take a look at the work of Martha Boto, an early pioneer of the Space-Motion-Light art movements that took off starting in the late 1950s. Boto joined the first abstract artist groups in Argentina, including the Asociación Arte Nuevo.
---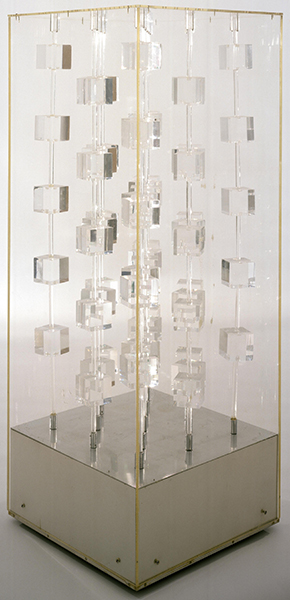 Martha Boto (1925–2004, Argentina), Transparent Structure, 1969. Plexiglas, motorized, 48 ½" x 18 ½" x 18 ½" (123.2 x 47 x 47 cm). Courtesy of the Albright-Knox Art Gallery, Buffalo, NY. © 2022 Artists Rights Society (ARS), New York. (AK-538botars)
During the early 1960s, Boto developed kinetic works that included the addition of colored lights and motors. The focus was on the effects of movement on illumination and color. Boto's overriding interest was in the reflection and absorption of light. She also began experimenting with industrial materials such as aluminum and steel. In early shows of works such as Transparent Structure, critics compared her works to science fiction and the visual effects of space travel.
One direction explored periodically in sculpture since the early 1900s is motion, literal movement rather than painted or sculpted illusion. Motion in sculpture was seen in the found objects of Marcel Duchamp (1887–1968) and the Constructivist-inspired machine sculptures of Naum Gabo (1890–1977). László Moholy-Nagy (1895–1946) experimented with combinations of light and motion with his Light-Space Modulator sculptures.
The Spanish group Equipo 57 (founded 1957) was a collective of artists who worked as an anonymous team producing works involving motion and vision. Several other groups emerged in Milan, Padua, and Düsseldorf, but the theoretical enthusiasm of the 1950s dimmed as several artists emerged individually in the 1960s.
In Argentina, at a time when political liberties were increasing in the late 1910s into the 1940s, most modernist art was influenced by European artists such as Expressionists, Surrealists, and Fantasy artists like Paul Klee (1879–1940). After World War II (1939–1945), a growing number of Argentinian artists studied not only in Paris, but also in New York, where Abstract Expressionism was just taking off. The 1946 Manifesto Blanco, written by a number of Argentinian artists organized by Lucio Fontana (1899–1968), argued for nonobjective abstraction. From that period on, Argentinian modernists participated in every avant-garde movement in Western art.
Boto, born in Buenos Aires, was drawn to art as a child. Supported by her parents in her interest, she joined early abstract art movements in Buenos Aires as a teen, including the Association of New Art. In 1944, she studied painting and drawing at the School of Fine Arts in Buenos Aires. She exhibited in galleries in Buenos Aires in the 1950s, creating transparent mobiles and structures of Plexiglas with colored water, probably influenced by the artist Gyula Kosice (1924–2016). Kosice was a founder of kinetic and luminescent sculpture in Argentina, pioneering luminance sculpture in 1946 and hydraulic sculptures with water in 1949.
In 1956, Boto cofounded the group Non-Figurative Artists of Argentina. She moved to Paris in 1959, where, in 1960, she began exploring movement in sculpture. She investigated many aspects of movement, light, and color into the 2000s.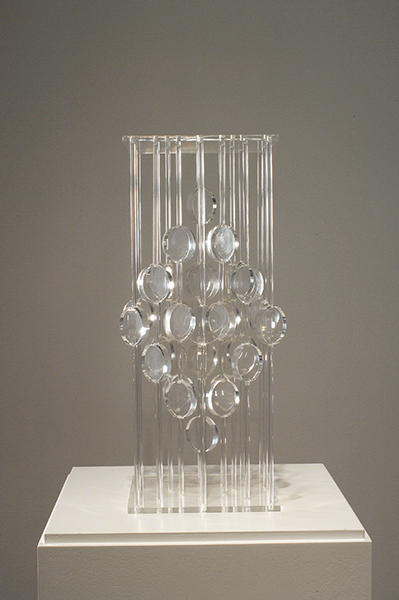 Martha Boto, Untitled, 1966. Plastic, 19 ¼" x 8 1/2" x 8 ½" (48.9 x 21.6 x 21.6 cm). Image © 2022 Hirshhorn Museum and Sculpture Garden, Smithsonian Institution, Washington, DC. © 2022 Artists Rights Society (ARS), New York. (SI-526botars)
Objects suspended in space were of particular interest to Boto. In works such as this untitled sculpture, walking around the piece provides a different view of the suspended forms, which move from existing air currents. The suspended objects also distort light and color as they move.