Curator's Corner
Hispanic Heritage Month 2022: Lari Pittman
The 2022 Hispanic Heritage Month series continues with the work of Lari Pittman. Pittman's complex works examine fantastic, personal narratives about love, sex, death, religion, citizenship, and many other topics. His work is emblematic of the flourishing art scene in Los Angeles that evolved during the 1980s.
---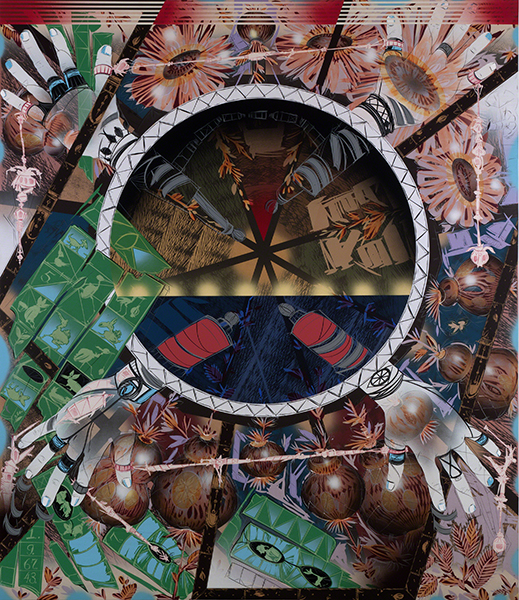 Lari Pittman (born 1952, U.S.), Untitled #2, 2010. Acrylic, cel-vinyl, and aerosol lacquer on gessoed canvas over wood panel, 101 7/8" x 88" (258.76 x 223.52 cm). Courtesy of Buffalo AKG Art Museum. © 2022 Lari Pittman. (AK-2925)
Pittman's work is an energetic combination of Pop Art, Postmodernism, and Pattern and Decoration aesthetics. His extraordinarily dense compositions such as Untitled #2 mimic the complexity of collage using a variety of painting media. His works are methodically planned, deriving inspiration from several visual sources—advertising, interior design, graphic design, Victorian silhouettes, cartoons, and wallpaper and textile patterns. They are layered in what seems, at first glance, to be a hodgepodge.
Although such works appear narrative, the full meaning is understood only by the artist. The narrative is expressed through complex imagery that, in groupings, might be symbols of religion, gender, race, sexuality, and economic injustice. The entanglement of images in Pittman's work represents the artist's concern for the very society (U.S.) that gave rise to the source imagery. That notwithstanding, Pittman's work is insistent in its ambiguity, humor, and refusal to relegate itself to existing categories.
The period of the 1980s in the West proposed that there was very little that had not already been explored in art. Aside from the eclectic Postmodernism movement, the 1980s ushered in a period of "neo" (new) movements: Neo-Expressionism, Neo-Dada, Neo-Pop, Neo-Geo, and a number of other aesthetics that took their inspiration from earlier art history. The vibrant art scene that emerged from that period in Los Angeles embraced the revivalist impulse, and what grew from that period has helped keep Los Angeles a vital center of contemporary art developments to the present day.
Pittman is a Colombian American painter born in Los Angeles. When he was 5, his family returned to Colombia. There, he had a tutor who was a painter of religious art. One of Pittman's earliest artistic influences may have been the decorative, pattern-filled santos (saint) paintings of Hispanic tradition. At 11, Pittman's family moved back to California. In 1971, Pittman studied first at UCLA (where his work was overly criticized due to his sexuality), then transferred to California Institute of Arts, where he earned an MFA in 1976.
Some of Pittman's earliest experiments were the application of collage and decoration to his paintings. Although he briefly worked in interior design in the late 1970s, he committed himself to painting in the 1980s, ultimately becoming a faculty member at UCLA, at the time transforming into a vibrant, progressive fine arts institution. Pittman's affinity for Pattern and Decoration came early in his works of the late 1970s, influenced by the Feminist Art Program at Cal Arts. An out gay man, Pittman appropriated pattern because he felt, at the time, that it was still gender-bound.
In the 1990s, Pittman produced major monumental works examining the U.S. response to the AIDS epidemic and works that countered the conservative culture wars against gay rights. His works also acquired edgy aspects, influenced by the thriving LA punk scene. Pittman continues to find influences for his recent work in diverse sources, all encapsulated in his decorative surfaces full of symbolic references to personal memories and causes.
Correlations to Davis programs: Explorations in Art 2E Grade 3: 2.4; Explorations in Art 2E Grade 4: 6.9; Explorations in Art 2E Grade 5: 5.3, 5.7; Explorations in Art 2E Grade 6: 5.1; A Personal Journey 2E: 7.3, 7.4; Exploring Visual Design 4E: pp. 148-149