Curator's Corner
Hispanic Heritage Month 2022: Emilio Cruz
The works of Emilio Cruz form a counterpoint to the Abstract Expressionist style that dominated the art world when Cruz first went to New York. His work is important not only because it was figurative during a period dominated by abstraction, but it also expresses personal narrative rather than intuitive creation, a hallmark of many of the abstract styles of the late 1950s into 1960s. In the 1980s, Cruz's expressionistic figuration fit comfortably within the category of the Neo-Expressionist style.
---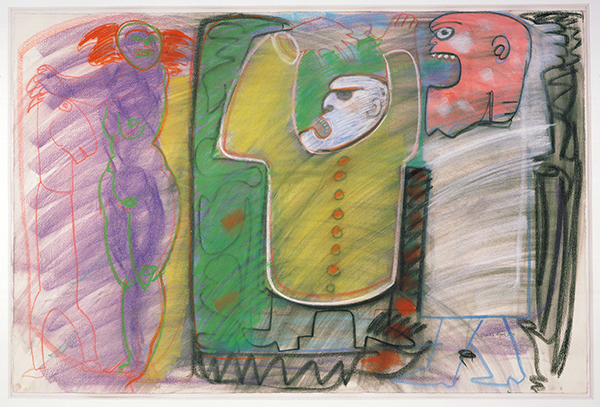 Emilio Cruz (1938–2004, U.S.), Disguises of the Muse, 1983. Pastel on paper, 31 ¾" x 47 ½" (80.6 x 120.7) cm. Courtesy of Buffalo AKG Museum, Buffalo, NY. © 2022 Artist or Estate of Artist. (AK-374)
The majority of Cruz's body of work represents a fusion of human experience, classical mythology, and systems of belief. His works often involve archetypes from modernist and classical beliefs around the world. In Disguises of the Muse, Cruz alluded to the mythology of the ancient Hellenistic world in the sculpture-like female figure on the left. The gestural rendition of the forms is reminiscent of the abstract figures of Willem de Kooning (1904–1997), while the flattened, stylized figures on the right recall ancient Mexican ceramic figures, and even farther back, the combined profile/frontal view of figures in ancient Egyptian and Middle Eastern reliefs.
Working in many creative fields, including painting, performance art, theater, music, and poetry, Cruz's characteristically expressionistic figures cover mythological, allegorical, and historical subjects. These subjects reflect his study of science, philosophy, and religion. Cruz's art was a style based in fantasy and imagination, tempered by gestural line and bright color.
Born in the Bronx, New York, of African and Cuban heritage, Cruz's father, a trained artist, was his first art teacher. Cruz continued his art studies at the Art Students League and the New School in New York. This was during the period when Abstract Expressionism dominated modernist experiment in the U.S. His earliest experiences with contemporary art were largely based in abstraction. Later in his career, Cruz taught drawing and painting at the School of the Art Institute of Chicago (1970–1983), the Pratt Institute, and New York City University.
In 1957, Cruz studied in Provincetown at the Seong Moy School of Painting and Graphics. There he met Bob Thompson (1937–1966), whose expressive, figurative style was a major influence on Cruz's mature style. On sharing a studio with Thompson in Louisville, Kentucky, Cruz and Thompson both evolved styles that combined the gestural brushwork and brilliant color of Abstract Expressionism with figuration. This combination informed his art the rest of his career.
Correlations to Davis programs: Explorations in Art 2E Grade 1: 3.2, 3.3; Explorations in Art 2E Grade 3: 4.9; Explorations in Art 2E Grade 5: 6.5, 6.6; A Community Connection 2E: 1.1; A Personal Journey 2E: 1.1, 1.2, 1.3, 6.1; A Global Pursuit 2E: 1.1