Curator's Corner
Never "Pin" an Artist to One Art Form!
The word "pin" was entirely accidental in the title of this posting, but I'm sticking with it. In the 1980s, I received a broken-down version of Harry Bertoia's (1915–1978) Diamond armchair as a gift from dear friends, and subsequently gifted it to an artist friend of mine who fixed it up and sold it. I never really liked sitting in it, and my mother couldn't get out of it once she did. However, it is a beautiful design, so elegant and (almost) aerodynamic. My point is that when most people hear the name Bertoia, they think of his revolutionary furniture designs. But, like Alexander Calder (1898–1976), he was also a brilliant designer of jewelry. Did you know that?
---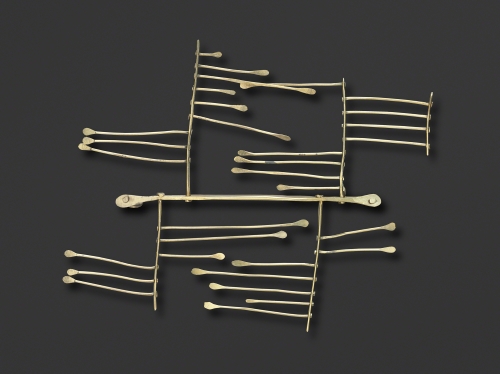 Harry Bertoia (1915–1978, US, born Italy), Brooch, ca. 1947. Silver-electroplated gold, 3 ½" x 4" (8.9 x 10.2 cm). Philadelphia Museum of Art. © 2018 Estate of Harry Bertoia/Artists Rights Society (ARS), New York. (PMA-8425btaars)
Bertoia's most avant-garde chair designs were made during his period with Knoll, Inc. from about 1950 to 1953. Between 1953 and 1978, he produced more than fifty public sculptures, many of them commissioned to adorn architecture. However, his interest in metal sculpture and metalworking began during the 1930s, long before he ever participated in designing furniture or sculpture.
Born in San Lorenzo, Friuli, Italy, he was recognized as an accomplished artist while he was a young man. Some of his early work was designing wedding linen embroidery patterns for brides in his hometown. At fifteen, he moved to Detroit to live with his brother and further study art. A one-year scholarship to the Detroit Society of Arts and Crafts was followed by the pivotal event for his artistic development: a scholarship to the Bauhaus-of-the-Midwest, the Cranbrook Academy of Art in Bloomfield Hills.
Although he studied painting and drawing, at Cranbrook he was asked by the director, architect Eliel Saarinen (1873–1950), to reopen the metalworking shop in 1939. Because of the scarcity of metal during World War II (1939–1945), Bertoia was forced to concentrate on jewelry. In 1943, he moved to California to work with furniture designers Charles (1907–1978) and Ray (1912–1988) Eames to solve the mass-production problems of Eames' avant-garde molded plywood chairs. During the same period, doing war work designing airplane parts, he took a welding class.
Between 1945 and 1950, jewelry making was one of his main sources of income, while he continued his monoprinting, painting, and sculpture on the side. In the late 1940s, his jewelry had become part of the "art to wear" movement, which included such noted artists as Margaret de Patta (1903–1964) and Fanny Hillsmith (1911–2007). Along with these two artists, his work was featured in the second major "art to wear" exhibition (titled Modern Jewelry Under Fifty Dollars!) at the Walker Art Center in Minneapolis in 1948. The elegant, organic lines of his jewelry made it very popular, and Bertoia actually designed wedding rings for Charles and Ray Eames in 1941.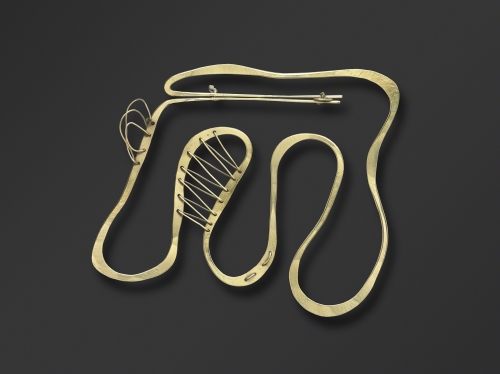 Harry Bertoia, Brooch, ca. 1947. Silver-electroplated gold, 3" x 3 1/2" (7.6 x 8.9 cm). Philadelphia Museum of Art. © 2018 Estate of Harry Bertoia/Artists Rights Society (ARS), New York. (PMA-8426btaars)
These post-war pieces of jewelry clearly owe a debt to his learning how to weld, but they also prefigure his welded sculptures starting in the 1950s. His first chair collection was introduced by Knoll in 1952, and his first architectural metal sculpture commission came a year later.
Here's a reminder of the chair that made Bertoia a household name in the early 1950s. He designed many variations on the basic diamond (I used to call it "butterfly"), including open, non-upholstered versions that consisted of welded grids of steel wire.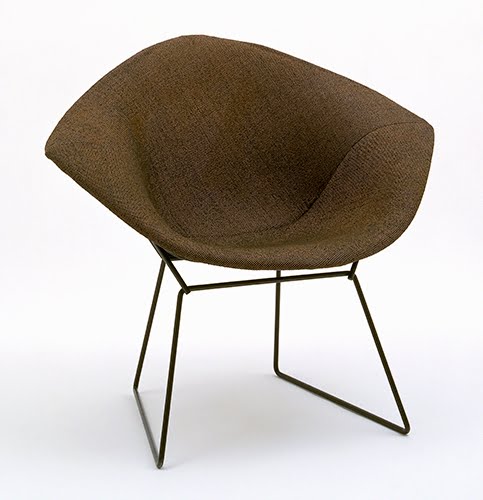 Harry Bertoia, "Diamond" Armchair, 1952. Chromed steel wire and upholstery, 30" x 33 1/2" x 28" (76 x 85 x 71 cm). The Museum of Modern Art, New York. © 2018 Estate of Harry Bertoia/Artists Rights Society (ARS), New York. (MOMA-D0084btaars)
Correlations to Davis programs: Explorations in Art 2E, Grade 2: 2.7; Explorations in Art 2E, Grade 6: 5.7; A Personal Journey: 7.connections; The Visual Experience: 10.7