Curator's Corner
Global Sleep Under the Stars Night: Henri Rousseau
This unusual national day (or night, rather), Global Sleep Under the Starts Night, was founded in 2020 to encourage people around the world to experience the same night sky. Of course, we don't all share the night sky at the same time, but I think this is a charming idea. Let's take a look at an artwork by Henri Rousseau to celebrate it.
---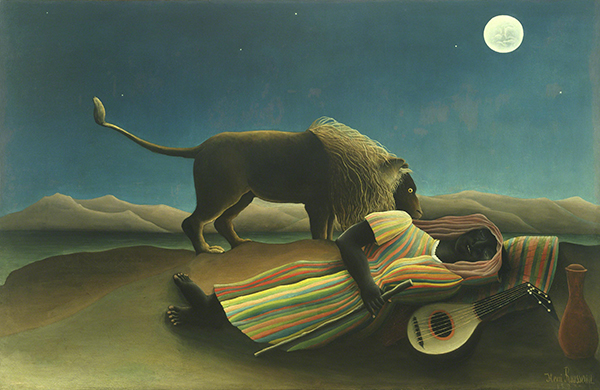 Henri Rousseau (1844-1910, France), The Sleeping Gypsy, 1897. Oil on canvas, 51" x 79" (129.5 x 200.7 cm). © 2022 The Museum of Modern Art, New York. (MOMA-P2000)
After retiring from his toll collection job in 1893, Rousseau devoted himself full time to painting. Although he considered himself a painter on a par with academics, he did not experience financial or critical success. Rousseau was, however, slowly becoming noticed by young, avant-garde artists and writers in Paris who appreciated the nonconformity of his work.
The Sleeping Gypsy was one of the most important paintings of this period in Rousseau's art. The painting is not only typical of his style but displays traits common to most visionary artists—a naively constructed space, attention to acute detail, awkwardly rendered anatomy, and a naïve approach to the subject. However, Rousseau managed to create an almost lyrical mood with the childishly rendered expressions and atmospheric lighting of the moon. This charm pervades all his work.
When this painting was exhibited, it was admired by a young Pablo Picasso (1881–1973), Robert Delaunay (1885–1941), and their advocate, the poet Guillaume Apollinaire (1880–1918), who became Rousseau's principal supporter. Although Rousseau never achieved his dream of official recognition and glory in the art world, he was a seminal influence on many other young avant-garde artists in the years following his death. He was particularly influential on the work of the Surrealists and pioneer abstractionist Vasily Kandinsky (1866–1944).
Throughout the history of art, there has been a vein in painting and sculpture known alternately as "naïve," "primitive," or "folk art." Traditionally, these terms refer to unsophisticated art, usually decorative arts such as textiles and ceramics. These terms gradually came to describe any art forms produced by self-taught artists who expressed unique personal visions.
In the 21st century, the term has been corrected to Visionary Art to show respect for art throughout the world that has had a valuable impact on the history of art during the period in which it was created. Most Visionary artists produce work that does not reflect prevailing stylistic or subject matter trends of the period (although they may be aware of them), but pursue personal interests often characterized by a naïve, imaginary, or uninformed view of the world.
Most Visionary artists do not achieve widespread success during their lifetimes, especially in Western cultures with a strong academic (classical) tradition. The thing that separates Visionary artists from groups of artists who consciously go against academic tradition is a matter of technical ability in elements of art and principles of design.
Rousseau was born of modest background. He never finished secondary school, enrolling in the military. While in military service, he met soldiers who had served in Mexico during France's failed attempt to create a satellite empire (1862–1865). Their stories of the subtropical climate probably influenced his later jungle paintings.
After his military service, in 1871, he became a toll collector in a little shack on the Seine River just outside of Paris. Although there are no records, it is thought he might have practiced drawing and painting since childhood, and he continued to do so while working as a toll collector.
By the early 1880s, Rousseau's stated goal was to become a painter in the style of academy artists of his period. In 1884, he obtained permission to copy paintings in the Louvre. He exhibited his first paintings in the Salon des Indépendants in 1886. This venue was established by young artists—whose works did not meet Academy standards of style and subject matter—to afford themselves public exhibition.
Although Rousseau exhibited more than twenty paintings in the Salon over the years, he never achieved critical or monetary success. A great influence again on his tropical works was the Paris Exposition Universelle of 1889, where displays depicting places in Africa and the South Pacific were on view. Experiencing these glimpses of far-off lands served to confirm Rousseau's preference for exotic subject matter.
Correlations to Davis Programs: Explorations in Art 2E Grade 2: 3.3; Explorations in Art 2E Grade 3: 2.7, 2.9; Explorations in Art 2E Grade 5: 6.5, 6.6, 6.7; A Personal Journey 2E: 7.3, 7.4; Discovering Art History 4E: 13.3