Curator's Corner
Gems of the Month: Aizuri-e
This month, I'm celebrating aizuri-e, or "blue prints," from Japan's ukiyo-e style that flourished during the Edo Period (ca. 1615–1868). The color Prussian blue was introduced to Japan by Portuguese traders as early as the 1780s. It was a synthetic color invented by Johann Jacob Diesbach (ca. 1670 –1748) in Berlin in 1704. Previously, indigo blue was the only blue available in Japan, made from the petals of the dayflower (tsuyukusa). Printing in various tones of Prussian blue is termed the aizuri technique. It gained great popularity in the first third of the 1800s.
---
Ukiyo-e artists were thrilled with Prussian blue's brilliant hue, although it was expensive to use because of the high taxes placed on imported goods by the Tokugawa shogunate (1603–1868). When prices came down and availability went up, the production of prints predominantly in blue became a fad. The color was especially favored by landscape print artists, who depicted large sections of sky or water in this rich hue. The various values of blue help create unified compositions.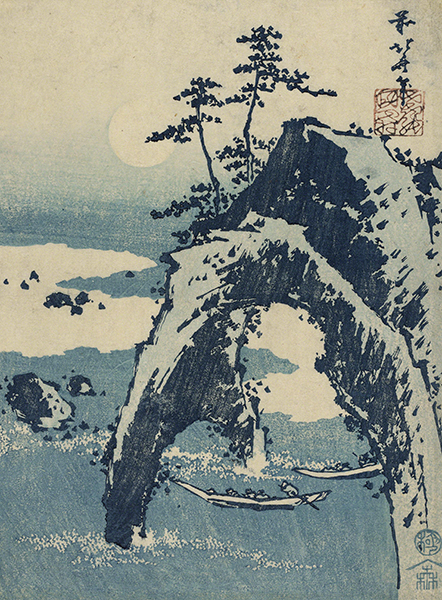 Katsushika Hokusai (1760–1849), Moonlit Landscape, from an untitled group of aizuri prints, ca. 1831. Color woodcut on paper, 8 5/8" x 6 3/8" (22 x 16.3 cm). © 2022 Museum of Fine Arts, Boston. (MFAB-1007)
While there may be examples of Prussian blue in woodblock prints from the 1820s, it was not widely utilized until around 1830. At that time, the costs decreased and the quantities increased, apparently as a result of competition between Dutch and Chinese importers. By 1830, the landscape series Thirty-Six Views of Mt. Fuji by Katsushika Hokusai was underway, a landmark series that was initially advertised as aizuri-e because of his heavy use of the color. This included the first print, Great Wave at Kanagawa.
Hokusai was clearly delighted with the nuances he was able to guide the printers to obtain with Prussian blue, because he produced many independent prints in the pigment, such as the stunning Moonlit Landscape. Typical of his landscapes, a major geological or arboreal element dominates the foreground of this composition. There is a certain abstract quality to this print in Hokusai's graphic simplification of forms and his reliance on color to define form. In the simplification of forms to color shapes, Hokusai's print reflects the painting style known as "boneless" (mokkotsu, meaning rendered without defining contour lines).
Born in Edo (Tokyo), Hokusai was perhaps the preeminent landscape woodblock artist next to Utagawa Hiroshige (1797–1858), and is credited with creating the importance of landscape and bird-and-flower prints in ukiyo-e. Born the son of an artisan, Hokusai began drawing in earnest at the early age of 5. He is thought to have learned drawing and painting from his father, who painted designs around mirrors for the shogun.
Apprenticed to a woodcarver at 14, where he worked until the age of 18, Hokusai was accepted into the studio of Katsukawa Shunshō (1726–1793). Shunshō was an artist of ukiyo-e and head of the so-called Katsukawa school. Shunshō focused on images of the courtesans and Kabuki actors who were popular in Japan's cities at the time. Upon the death of Shunshō in 1793, Hokusai began exploring other styles of art, including European styles he was exposed to through French and Dutch copper engravings.
Impatient from producing actor prints, Hokusai studied the landscape tradition of the rival Kanō School—one based in the great tradition of Japanese landscape painting—and was expelled from the Shunshō School. When he struck out on his own, it was landscapes that made him famous, so much so that at times he had as many as fifty pupils. It was a catalyst for incorporating landscapes into the ukiyo-e style.
Taking on different names during periods of an artist's career was common practice in Japan, but Hokusai did it more than any other Japanese artist, upwards of thirty times. He also moved ninety times in his life. This is all evidence of an impatient, brilliant artist who constantly sought to improve his work. The artist himself claimed that he had not produced anything of consequence until the age of 70.
Hokusai's lasting contribution to Japanese art was the introduction woodblock print series featuring landscapes. His Thirty-Six Views of Mount Fuji had a major impact on the younger Hiroshige and was so popular that it was published numerous times.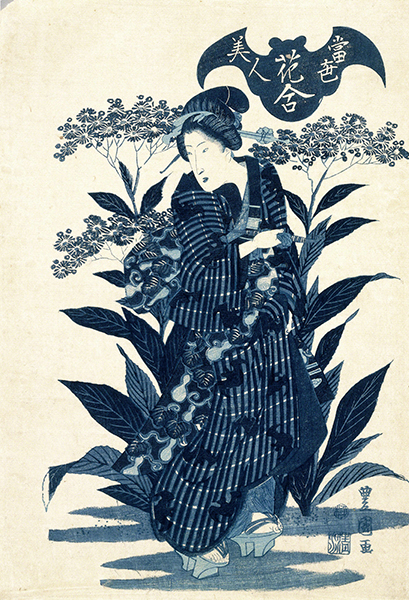 Gosotei Toyokuni II (1777–1835), Beauties of the Latest Fashion Compared to the Beauty of Flowers, from the series Flower Playing Cards, 1830–1835. Woodcut on paper, 15 ¼" x 10 ½" (38.7 x 26.7 cm). © 2022 Brooklyn Museum. (BMA-2721)
Gosotei Toyokuni II's style was very similar to that of his father-in-law, ukiyo-e master Utagawa Toyokuni I (1769–1825). In the overemphasis on luxury and fashion, the figure's twisted posture is typical of late ukiyo-e prints, as is the jumble of patterns in the center of the print. The bat cartouche, which bears the work's title, is repeated as a kimono pattern. This in turn mimics the pointed leaves in the background. The bat was a symbol of good luck and appeared in many forms of the decorative arts. It is unusual used as a cartouche in this print. The woman holds an opium pipe in her hand.
Toyokuni II was born in Hongo, Edo, and began his life as a ceramics dealer. He became a pupil and son-in-law of Utagawa Toyokuni I and assumed his name after the master's death. He largely portrayed actors and beautiful women, while also creating some landscape prints and book illustrations.

Utagawa Hiroshige I (1797–1858), Kinryūzan Temple at Asakusa, from the series Cutout Pictures of Famous Places in Edo, 1857. Woodcut on paper, 8 5/16" x 2 3/4" (21.1 x 7 cm). © 2022 Museum of Fine Arts, Boston. (MFAB-997)
After Hiroshige produced his renowned One Hundred Famous Views of Edo series, he created his Cutout Pictures of Famous Places in Edo, a series noted for the reduction in scale and presence of the human figure. It is remarkable in the novel and beautiful compositions the aging master produced.
The subject of this print, Kinryūsan Sensōji, is a famous temple at Asakusa dedicated to the bodhisattva Kannon (Avalokiteshvara in Sanskrit). It was the most popular venerable Buddhist temple in Edo. Hiroshige also produced a beautiful snow scene of this temple precinct in the One Hundred Famous Views, but it does not equal the stunning reduction of the temple pagoda to positive and negative shapes. The positive space depicts the building and tree trunks, and the negative space indicates a snow covering.
In 1856, the artist took vows as a Buddhist monk, promising to mostly "retire from the world." After his retreat from the world, Hiroshige produced many "cutout" series of images, often based on views from his previous landscape series. Cutouts are so-called because the artist produced multiple small-scale scenes on a single block, and then printed on a single sheet and cut into small prints, which were even cheaper than the regular sized ones. This type of print is known as harimaze-e, which became popular around the time this was printed. It is thought to have been inspired by harimaze screens, painted screens with prayer or poem slips of paper attached (like a giant collage). These small prints were sold as greeting, holiday, or poem cards.
Hiroshige was one of the most famous landscape artists of the first half of the 1800s. He showed a propensity for art from childhood, and his father arranged for him to have lessons by an amateur painter. At 15, he desired to become a pupil of the ukiyo-e master Toyokuni (1769–1825), but instead trained with Utagawa School master Toyohiro (1773–1828), a landscape painter, print designer, and illustrator. While with Toyohiro, Hiroshige produced actor prints. His progress was so rapid that he was admitted into the Utagawa fraternity within a year and given the name Utagawa Hiroshige.
Until 1830, Hiroshige produced prints mostly of kabuki actors and beauties. However, the publication of Hokusai's Thirty-Six Views of Mount Fuji between 1826 and 1833 showed Hiroshige the possibilities of landscapes. His first landscape series, produced in the late 1820s, was Famous Places in the Eastern Capital, simple views of popular spots in Edo. The series was so successful that it encouraged Hiroshige to pursue landscapes as his main subject matter.
In 1830, Hiroshige set out on a six-month trip on the Tokaido, the highway joining Edo, the Tokugawa seat, and Kyoto, the seat of the imperial court. This trip resulted in the famous Fifty-Three Stations of the Tokaido, a landscape series that established his fame. Late in his career, in 1853, he produced further landmark series such as Famous Places in the Sixty-Odd Provinces, and then in 1856, One Hundred Famous Views of Edo.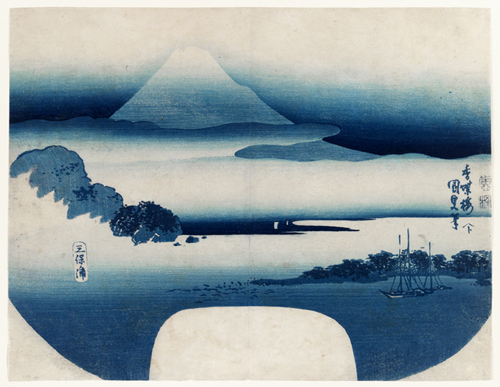 Utagawa Toyokuni III (Kunisada I, 1786–1864), View of Fuji from Miho Bay, 1830. Woodcut print on paper, 8 13/16" x 11 7/16" (22.4 x 29.1 cm). © 2022 Brooklyn Museum. (BMA-2799)
The use of Prussian blue allowed a certain amount of abstraction to creep into some ukiyo-e prints. The printer's sophisticated manipulation of the color created compositions like View of Fuji from Miho Bay, in which there is a dramatic contrast in positive and negative shapes. The negative shapes are the highlights in the clouds and on the water, while nuances of blue form the positive shapes. The Miho Peninsula extends from Shizuoka City into Suruga Bay and is known for its views of Mount Fuji combined with the pine-tree lined Miho Beach.
Kunisada, the son of a relatively well-known poet in Edo, showed artistic talent from a young age copying actor prints. In 1800, he became an apprentice under Utagawa Toyokuni I, whose name Kunisada adopted in 1842 to honor the master. Kunisada became a great master in his own right, portraying the range of popular ukiyo-e subjects. Like Toyokuni, Kunisada favored actor prints, a specialty of the Utagawa school.
Although Kunisada started out producing primarily actor prints, he eventually branched out into bijin-ga (pictures of beautiful women) and, in the 1830s, he dabbled briefly in landscapes. He is known to have collaborated with the landscape master Hiroshige and bijin-ga master Utagawa Kuniyoshi (1798–1861). These two artists are considered the greatest of the late Edo period ukiyo-e artists.
Correlations to Davis programs: Experience Printmaking: p. 4; Discovering Art History 4E: 2.3, 4.1; The Visual Experience 3E: 3.5, 13.5; The Visual Experience 4E: 7.9, 8.6