Curator's Corner
Gem of the Month: Udomsak Krisanamis
Whenever I uncover an artist whose work makes me stop and say "Wha--? Wow?" then you know I am going to post about that artist. This artist's work reminds me of the union between Abstract Expressionism, l'Art Informel, and First Nations quillwork! Visually, it's quite a spectacular combination of elements that really work together.
---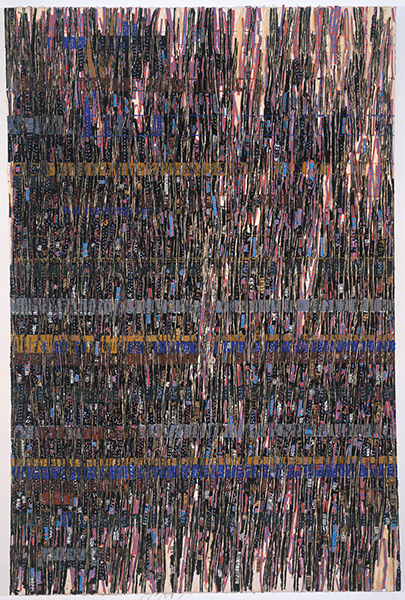 Udomsak Krisanamis (born 1966, Thailand), Heineken, 2000. Collage, Thai noodles, acrylic, and marker on canvas, 72" x 48" (182.9 x 121.9 cm). Image © 2020 Albright-Knox Art Gallery, Buffalo, NY. Art © 2020 Udomsak Krisanamis. (AK-3665)
Born and still working in Bangkok, Udomsak Krisanamis studied at Chulalongkorn University, Bangkok, and the School of the Art Institute of Chicago. Krisanamis's art has for some time been associated with collage, creating complex patterns made from newspaper, noodles, cellophane, and paint. Over the past two decades, Krisanamis's work has maintained a consistent vision and formal practice. His works tend to not rely on any sort of narrative, despite this work's reference to a beer brand that is popular in Thailand and now brewed there.
From initially restricted palettes, these paintings evolved to incorporate Op art-like bands of texture and color, resembling abstract cityscapes. In recent works, Krisanamis has introduced what he describes as "shims," brightly colored canvases of layered acrylic paint and newsprint embedded with bits of found materials. This continues his career-long experimentation with modernist ideas such as the Mondrian-like grid, abstraction, and Minimalism. In his emphasis on texture and what he applies to the canvas over narrative, Krisanamis's work could be considered a type of Process Art.
Thai modern art is thought to have begun to evolve around 1924 when Corrado Feroci (1892–1962), an Italian sculptor, was invited to Thailand by King Rama VI (1910–1925) to teach sculpture in the Fine Arts Department at the Ministry of Palace Affairs. He produced bronze statues dedicated to Thailand's past heroes. In 1943, he founded Silpakorn University, now the University of Fine Arts. The purpose of this new school was to instruct a new generation of sculptors and painters in ideas from Western modern art. Feroci, later named Silpa Bhirasri, devoted the rest of his life to this goal. Bhirasri is regarded by many as the Father of Modern Art in Thailand.
Following the introduction of Western modern art in Thailand, Thai painters began experimenting with Impressionism and Cubism. Some Thai painters chose nature themes or depicted rural scenes, often devoid of human presence. Others have chosen works displaying Buddhist themes rendered in a Surrealistic realism. In the 2000s, contemporary Thai artists work in the full range of art forms, including media arts, and many are recognized internationally for their contributions to novel forms of contemporary aesthetics.