Curator's Corner
Gem of the Month: Lori Weitzner
Some of the major developments in the design world during the 2000s have involved the use of sustainable materials, ecologically friendly production processes, and upcycling otherwise wasted materials. This is true almost across the board when discussing the miscellaneous arts (once called, ugh, "decorative"). It is especially true in the fields of interior design and furniture design.
---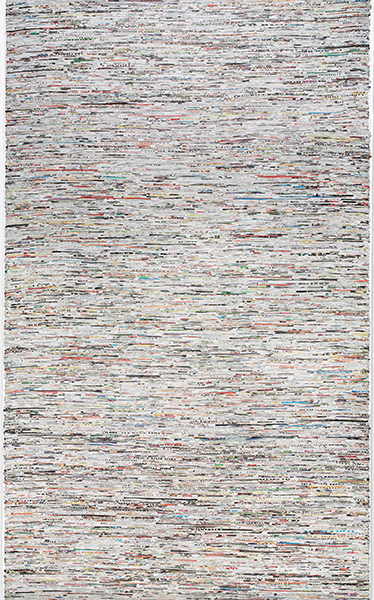 Lori Weitzner (born 1961, U.S.) for Weitzner International (New York, 2004 to the present), Newsworthy wallpaper, 2009/2010. Upcycled newspaper strips and nylon thread, 47" x 180" (119.4 x 457.2 cm). Courtesy of the Philadelphia Museum of Art. © 2023 Lori Weitzner. (PMA-6695)
Lori Weitzner's designs are renowned for her use of modern techniques and unconventional materials. One of her personal epiphanies, which led to the design of the Newsworthy wallpapers, occurred when she was outfitting an 1885 miner's cabin. The only insulation for the cabin was crumpled newspapers on which the text was still clearly legible. Admiring the retro aesthetic, she created Newsworthy wallpaper, which is made from 100% recycled newspapers.
Newsworthy reflects Weitzner's inclination for textured surfaces, which she explores in such formats as pleating, origami, and voided velvet. The Newsworthy design is created by taking strips of newspapers and weaving them together on a hand loom. The process is similar to grass cloth that involves weaving grass on a loom and layering it on paper. Newsworthy is sewn together with nylon thread and covered with a waterproof coating that protects the paper strips from fading or yellowing. Her process ensures that the headlines on the strips of paper can still be read. After the success of Newsworthy, Weitzner created a similar product made from old movie posters called Cinema Posters wallpaper.
Raised in New York, Weitzner attended Syracuse University, graduating with a BFA in textile design in 1983. After working as an independent designer for Swiss and Italian fabric makers, she became the design director of the Jack Lenor Larsen (1927–2020) design firm in New York in 1993. Seven years later, she became the first woman and first American to design fabrics for the German firm Sahco Hesslein. She opened her own design firm, called Weitzner, in 2004. Today, she is the founder and creative director of Weitzner Design, Inc., in New York.
Weitzner combines traditional and innovative materials and techniques, finding inspiration for her products from a variety of sources around the world. Her efforts to merge aesthetics and sustainability have earned her more than thirty design awards. In her book Ode to Color: The Ten Essential Palettes of Living and Design (2016), Weitzner explores the significance of color in design and the power of color to affect style and mood.
View Newsworthy before it's made and after it is installed on the Weitzner website.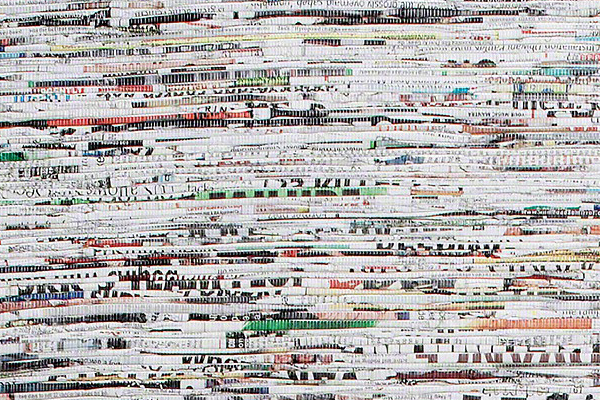 Lori Weitzner, Newsworthy wallpaper, detail, 2009/2010. Upcycled newspaper strips and nylon thread, 47" x 180" (119.4 x 457.2 cm). Courtesy of the Philadelphia Museum of Art. © 2023 Lori Weitzner. (PMA-6695)
Correlations to Davis Programs: Explorations in Art 2E Grade 3: 6.1; Explorations in Art 2E Grade 4: 5.4, 3.6; Explorations in Art 2E Grade 6: 4.7; Experience Art: 8.3; A Personal Journey 2E: 3.4; Exploring Visual Design 4E: Chapters 1, 6, 11; Fashion Fundamentals: pp. 56–57, Chapter 6