Curator's Corner
Gem of the Month: Kim Bong-Ryong
I have long held a big "Wow!" for lacquer in East Asian arts. That was especially true when I recently came upon this piece, which is why I'm featuring it as my Gem of the Month. It is such an amazing, time-consuming technique. Lacquer is harvested as the sap of the lacquer tree (Toxicodendron vernicifluum). It is applied to an object with a brush or spatula, often in multiple layers. Each thin layer needs to dry completely before the next is applied. Lacquer hardens to a waterproof finish in a controlled environment of high humidity and temperature. It can be carved, incised, and even mixed with pigment to use in painting.
---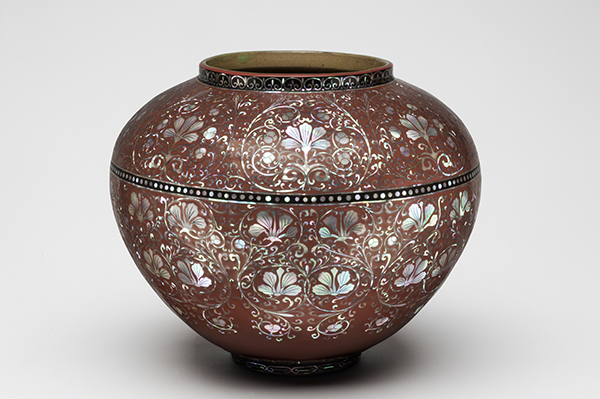 Kim Bong-ryong (1902–1994, South Korea), Vase, ca. 1960. Lacquered ceramic with inlaid mother-of-pearl, 8 ½" x 10 ¼" (21.6 x 26 cm). Courtesy of the Philadelphia Museum of Art. © 2021 Artist or Estate of Artist. (PMA-7083)
As in China and Japan, lacquer has been an important element in Korean art since the Neolithic period (ca. 6000–1000 BCE). Lacquerware is the technique of layering the processed sap of the lacquer tree onto a core of wood, bamboo, or other material. Because several layers are required in order to either carve or inlay the lacquer, a single piece can take months or up to a year to complete.
The najeonchilgi technique of inlaying mother-of-pearl into lacquer has become a rare commodity in contemporary Korea. This technique originated in China and is thought to have come to Korea by the 700s CE. Today it is the dominant feature of Korean lacquerware. In 1966, South Korea named najeonchilgi as the no. 10 Intangible Cultural Heritage, a list of traditions and art forms meant to be preserved.
The process of najeonchilgi involves applying pieces of mother-of-pearl over several layers of lacquer, then covering it in several more layers. The surface is then sanded down to reveal the mother-of-pearl pattern. Alternately, some artists, like Kim Bong-ryong, incise designs into the finished layers of lacquer, painstakingly applying the mother-of-pearl into the incised pattern.
Kim Bong-ryong was highly regarded for his skill in this honored technique. His intricate inlaid patterns decorate furniture, bowls, vases, and many other objects. He used the ancient—developed during the Goryeo period (936–1392)—technique of connecting the "petals" of mother-of-pearl with inlaid copper wire. This is unique to Korean lacquerware.
Kim was born in Dongcheon-dong, South Korea. He began exhibiting his lacquer art at age 22, exhibiting in Paris, Tokyo, and Seoul all before World War II (1939–1945). He founded the Ancient Art Lacquerer Center in Seoul in 1930. In the 1950s, he began teaching najeonchilgi, and opened a lacquerer factory in Chungmu City (now Tongyeong) in 1953. He continued to exhibit his works up until his death.