Curator's Corner
Gem of the Month: Classic Maya, Jaina Island
Classic refers to something that, over time, has been judged to be outstanding and of the highest quality of its kind. That would certainly be a good way to describe the magnificent Maya culture in Mesoamerica. By the time of the Mesoamerican Classic Period, ca. 250–900 CE, the Maya flourished in cultural and artistic development that was never equaled. It was one of the greatest civilizations of the Western Hemisphere. Maya territory stretched from El Salvador and Honduras into Guatemala and Belize, north to the entire Yucatán, and west as far as Tabasco and Chiapas. The Maya developed a sophisticated society, which included a very precise calendar, a complex hieroglyphic script, water conservation and irrigation techniques, a system of mathematics, and an accurate method of astronomical predictions.
---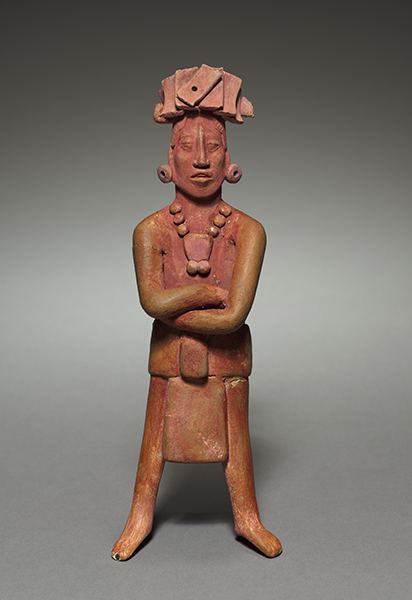 Maya Culture, Mexico, Male Figure, from Jaina Island, 317–987 CE. Terracotta, 9 ¼" x 4 1/8" x 2 15/16" (23.5 x 10.5 x 7.5 cm). © 2022 Cleveland Museum of Art. (CL-558)
An indication of the wealth and sophistication of the Maya is reflected in the marvelous figures found on Jaina Island. Jaina is a small limestone island in the Yucatán Peninsula about 50 miles (80.5 km) north of the city of Campeche. The island was first settled around 300 CE and was abandoned by 1200.
Jaina was once an elite Maya burial site with an estimated 20,000 graves, of which about 1,000 have been excavated. It is famous for ceramic figurines that are found in the graves. The graves contain human remains with one or more ceramic figurines on their chest or held in their hands, as well as glassware, slate ware, pottery, hand-woven cotton mats, or other ceremonial objects.
The majority of the small ceramic sculpted figures come from tombs. Some of these figures were also either whistles or rattles placed in the hands of the deceased. Although their function in the tomb is not certain, it is probable that they had the same function as the human ceramic figures of ancient Chinese burials—to serve the needs of the deceased in the afterlife. They may have also represented the status of the deceased, particularly in details of clothing and jewelry.
The bejeweled male above probably represents a nobleman rather than a warrior because of the lack of warrior's accoutrements and scarification. This standing lord or chieftain is adorned with a tall headdress, earspools, and beaded necklace. The long nose, almond-shaped eyes, parted lips, and sloping forehead are common in Mayan sculpture. These attributes were the Mayan perception of ideal beauty. Like many of the funerary figures on Jaina, this piece was modeled from a single piece of clay, possibly from a mold.
Here are two other examples. Both have traces of paint that would have been applied to the entire figure.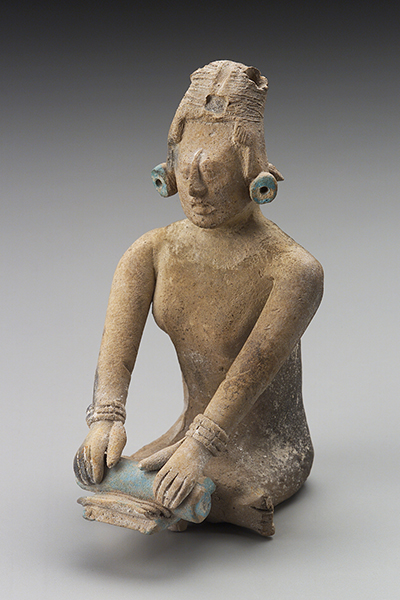 Maya Culture, Mexico, Seated Female Figure with Metate (Grinding Bock) and Mano (Stone "Rolling Pin"), 600–750 CE. Earthenware with pigments, 5 3/16" x 3" x 3 ¾" (13.5 x 7.6 x 9.5 cm). © 2022 Museum of Fine Arts, Boston. (MFAB-501)
Women were often shown engaged in mundane household tasks such as grinding corn for the daily bread. Judging by her jewelry, this elegantly dressed lady is an aristocrat. Even noble women busied themselves with preparation of food and production of clothing. Figures in this pose were often the product of molds, but the faces were ultimately sculpted into likenesses of the deceased.

Maya Culture, Mexico, Male Figure Emerging from a Water Lily, 600–900 CE. Painted ceramic, 8 1/4" x 1 9/16" (21 x 4 cm). © 2022 Brooklyn Museum. (BMA-119)
This male figure adorned with jewelry and a headdress—probably a nobleman or maize god—and placed in a lily was a common grave figure on Jaina Island. Because the water lily closes at night and reopens in the morning, it is associated with the underworld in Maya cosmology. Similar figures have been found in the hundreds on the island, perhaps due to the imagery symbolizing life after death.
Correlations to Davis Programs: Explorations in Art 2E Grade 2 5.9; Explorations in Art 2E Grade 5" 1.3, 1.6 studio; Explorations in Art 2E Grade 6: 6.3 studio, 6.5 studio; The Visual Experience 4E: 7.7