Curator's Corner
German Expressionist Christmas
What better way to enjoy Christmas than to give yourself the gift of German Expressionist color in the work of Gabriele Münter? Who needs to listen to Christmas carols when you have this beauty to regard? During the period of Nazi takeover of the German government (1933–1945), when Expressionists and modernist German artists were called "degenerate," Münter produced a number of Christmas still-life subjects, some of the few subjects the Nazis deemed acceptable.
---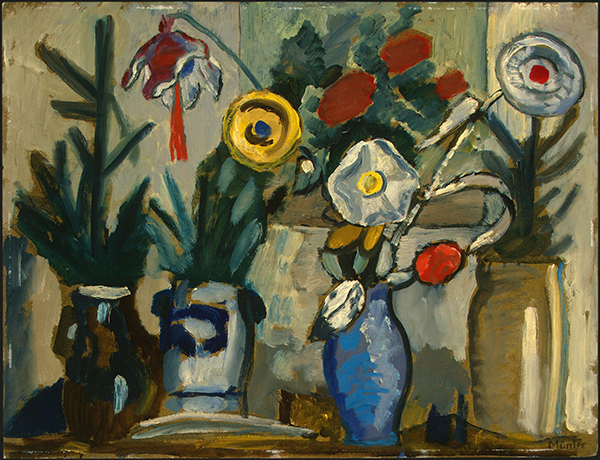 Gabriele Münter (1877–1942, Germany), Christmas Still Life, 1937. Oil on cardboard, 19 ½" x 38 3/16" (49.5 x 64.7 cm). National Gallery of Art, Washington, DC. © 2019 Artists Rights Society (ARS), New York. (NGA-P0697mbars)
Münter first studied painting when she was twenty at a school in Düsseldorf for young women, since women were not allowed in German state academies. She was dissatisfied with traditional academic painting and enrolled in Russian expressionist painter Vasily Kandinsky's (1866–1944) Phalanx School in Berlin in 1901. In that school men and women were taught side-by-side. She and Kandinsky became close friends and they traveled Europe together between 1903 and 1908, a trip that included a two-year stay in France.
While in France, they saw the work of the Fauves, the bright, jarring colors of which greatly influenced them. On returning to Germany, Münter, Kandinsky, and other artists settled in the Bavarian town of Murnau. The group of artists painted in similar, expressionist styles and encouraged each other. Unlike other expressionists in Germany who stressed pathos and the dark side of life, Münter and the other Murnau painters produced more lyrical works.
Like other Expressionists, the Murnau artists stressed the need for artists to express inner vision, but used jarring color, expressive line, and form to relay content, rather than subject matter. Along with Kandinsky and Franz Marc (1880–1916), Münter formed the group Der Blaue Reiter, which was meant to promote expressionist painting. After the final break up with Kandinsky in 1917, Münter stopped painting for about 10 years. When she picked it up again in 1927, she continued in the style she had pioneered earlier in compositions dominated by expressive color and strong line.
One of my favorite works by Münter, even though it isn't "Christmassy":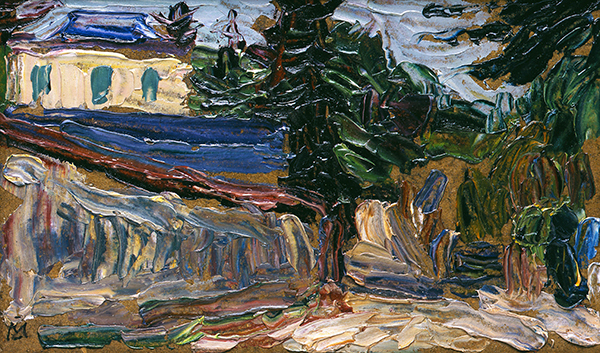 Gabriele Münter, Nightfall Near Saint-Cloud, 1906. Oil on board, 3 15/16" x 6 11/16" (10 x 17 cm). Brooklyn Museum. © 2019 Artists Rights Society (ARS), New York. (BMA-279mbars)
This little landscape is decidedly Fauvist in its color, but definitely Expressionistic in the brush work (possibly palette knife?). Two years after this work was painted, Münter took up the rustic German folk art of glass painting, which involved painting a scene from the top layer down on the underside of a piece of glass. This direct, simple method led to a simplification of form in her oil painting, as well as that of Kandinsky's. While Münter encouraged Kandinsky's progression toward complete abstraction, her own work never swayed from the objective.
Correlations to Davis programs: Discovering Art History 4E: 14.1; Discovering Art History Digital: 14.1; The Visual Experience 3E: 16.6